13 Off The Beaten Path Destinations You MUST Visit This Summer
We can all name 10 or 20 popular travel destinations to visit this summer, but have you considered the less popular destinations? The under-the-radar, off the beaten path destinations where you can beat the crowds? We have, and we dug deep to discover the best summer destinations that aren't on your bucket list. They're not on your radar, but these places will surprise you with their stunning landscapes, amazing food, and wonderful people, all while beating those big summer crowds! Here they are, the 13 off the beaten path destinations you MUST visit this summer.
#13 OFF THE BEATEN PATH DESTINATION: ST JOHN'S, CANADA
Looking to get away to a place with an amazing blend of history and adventure? St. John's is your spot. Visit this picturesque small town with colourful clapboard houses clinging to steep hills, full of scenic drives and hikes along coastal trials. Get up close and personal with humpback whales – only here during summer – or have close encounters with Newfoundland's own Atlantic puffins and floating icebergs.
There's even more action downtown. Go for a stroll along the coast or take a detour to the beautifully located Quidi Vidi, a brewery that prides itself on being different. Visit the Cabot Tower gracing Signal Hill, a site that pays tribute to John Cabot's voyage of discovery, or take a boat and visit the rural communities of the neighbouring islands.
From night clubs, lounges and martini bars where you can indulge in port and wine tasting, St John's has plenty to offer. George Street is the happening street, filled with bars and great music. If you love live music, every summer St. John's hosts the Indie festival Lawnya Vawnya, where you can hang out at Quidi Vidi and listen to your favorite bands. The Masonic Temple is another unique venue for music lovers.
The Rocket Bakery and Fresh Food is the place to begin your day, while O'Reilly's Irish Pub truly reflects the Irish influence in the region. There are plenty of seafood restaurants to try, or you can check out St John's Fish Exchange right on Water Street, a unique spot that offers great value for money. And of course, don't miss the fish-and-chips places and sushi restaurants lining the harbourfront.
Outdoor adventure, live music, shopping, beer tasting and beautiful scenery – St. John's has it all.
#12 OFF THE BEATEN PATH DESTINATION: PORTO, PORTUGAL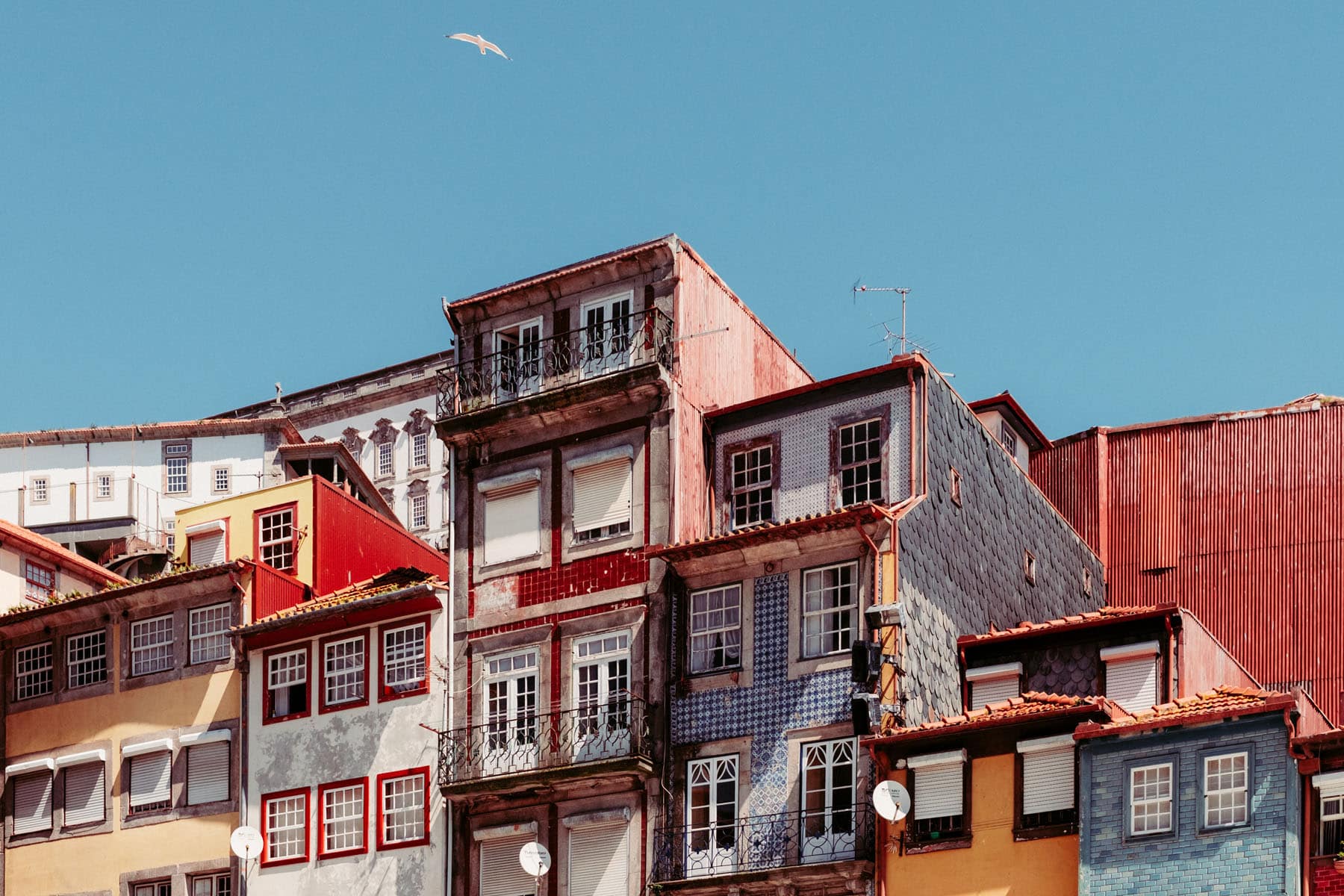 If you're a wine lover, Porto is probably already on your bucket list. But even if not, Porto is very backpacker-friendly as well, so when summer rolls around, the city becomes even more lively than normal.
June is a popular month for festivals in Porto. Fireworks, musical balls, boat regattas, and open air concerts, this is how the ancient port city celebrates the festival of Saint João.
With its lavish Baroque architecture, Porto will impress you with its grandeur and style. Begin with the magnificent Palácio Da Bolsa before moving on to the period churches and cathedrals, Clerigos Tower, São Francisco Church and the twin towered Sé Do Porto, a fortress-like cathedral. Modern marvels like the Casa Da Musica and the 12 storey-high irregularly-shaped building housing the Serralves Museum are equally extravagant. Cordoaria Gardens hosts an art and camera museum housed in an old prison, a must-visit for those curious about one of the world's most complete collections of espionage cameras.
Stop by the sandwich shop Stash in the morning. You can also go along with the trend of having petiscos during the day. For Portuguese cuisine, Cantinho do Avillez is a good place. But book ahead if you want to eat at the popular restaurant and beer garden, Brasão Cervejaria.
Do take time to shop for antiques and souvenirs at A Vida Portuguesa, and then take a stroll across the Ponte de Dom Luís Bridge at night for some amazing views of the city and waterfront. Candelabro Porto bookstore café is also a must-do.
Of course, the best attractions of Porto are the wine tasting lodges located across the river in Vila Nova de Gaia. With brash names and neon signs, you just cannot miss them, and here's a good guide to ensure you do it right. Caves Croft offers the best of Portuguese wines, with some amazing experiences like chocolate pairings, while Real Companhia Velha walks you on a tour from 100 years back with the Vintage Port Wine Museum. The Cave Sandeman has one of the best views overlooking the river. For elegant wine tasting and fabulous views, try Churchill's, or Graham's for a wide variety of Port wines.
#11 OFF THE BEATEN PATH DESTINATION: CHIANG MAI, THAILAND
Built as the mighty capital of the Lanna Kingdom over 700 years ago, Chiang Mai has never been one to forget its roots. The iconic moat, once the city's primary defense, is now dotted with fountains twinkling joyfully beneath the starlit sky. During holidays, locals light and release thousands of floating lanterns to pay homage to the Lord Buddha, a jaw-dropping spectacle that can be seen for miles. And with over 300 ancient temples within the city limits, Chiang Mai truly earns its title: The Rose of the North.
Begin by paying homage to the magnificent 700-year-old Buddhist temples, which house gigantic statues of Buddha in emerald, marble, crystal and even jade. From the top of Doi Suthep, the mountain overlooking the entirety of Chiang Mai, climb a few hundred more steps to Wat Phrathat for an even more spectacular view.
For a cool respite from the heat, visit Doi Inthanon, Thailand's highest peak boasting 360-degree views of the surrounding rice and banana farms: it's the closest you'll get to heaven in a very long time. Or, set among the thickly-forested mountains just a few kilometres outside of Chiang Mai is Huay Tung Tao Lake, the secret afternoon getaway for locals. Hike the never-ending mountain trails in the afternoon, and then retire to one of a hundred or so stilted lake huts for a freshly-prepared sunset meal on the water.
In Thailand, street food is just as prevalent, or even moreso, than restaurants, so venture to Warorot Market to savour the local Thai dishes at cheap prices. AUM Vegetarian is a favourite amongst locals and travelers alike, as is NORI Sky Terrace. Take the glass elevator up, start with the edamame, and let the scents of soy and salt mix into the sweetness of the evening breeze. If you're within the Old City, try out the beautiful Graph Table or re-energize at its perfectly-tiny sister café Graph Café.
The Nimmanhaemin neighbourhood is where Chiang Mai's hipsters and entrepreneurs hang out, so of course there's no shortage of coffee. 8 Days a Week, sitting down a quiet Nimman alley, is an architect's dream — quite literally, in fact. Designed by architecture students at the nearby Chiang Mai University, concrete wall greys contrast with rustic tabletop browns to form a palette that will have your palate coming back for more. There are seats for fourteen in the off-the-radar SS1254372 Café, but everyone knows which two fill up first: the sills in the larger-than-life circular windows. Each month brings a fresh showcase of local art in the connected gallery, or if you're hungry, try the avocado grilled chicken. A few steps away, Khao Soi 13 is another great choice for the iconic northern Thailand noodle dish.
Though the used-tires-turned-new-fashions brand is sold around the world, each one of Rubber Killer's products is made right here in Chiang Mai. The showroom itself is a bit hard to find — navigate past the Harley-Davidson and old VW van parked in the driveway — but inside it's full of pleasant surprises.
Other top breakfast spots include Overstand, The Hideout, The Larder, and Blue Diamond, while favourite coffee shops include The Barn Eatery & Design, Ristr8to, My Secret Café in Town, Khagee, and Food4Thought.
When you think of the word paradise, there's a good chance that something close to Veranda High Resort comes to mind. Boardwalk trails wind through swampy rice terraces, rocky outcrops offer unique lookouts, and an infinity pool skies above it all. No luxury is spared here.
Southeast Asia is known for its markets, but none of them are quite like Chiang Mai's South Gate Evening Market next to the iconic moat. As the sun sets along the city's south wall, a bustling food market appears, full of locals buying and selling dishes prepared before your eyes. Cross the outer moat and you'll find a local's goods market of handmade clothing and accessories, Thai cooking supplies, and, of course, another round of delicious food.
#10 OFF THE BEATEN PATH DESTINATION: DUBLIN, IRELAND
On top of being named one of the top 12 beer cities in the