Digital Nomad Day Trading While Traveling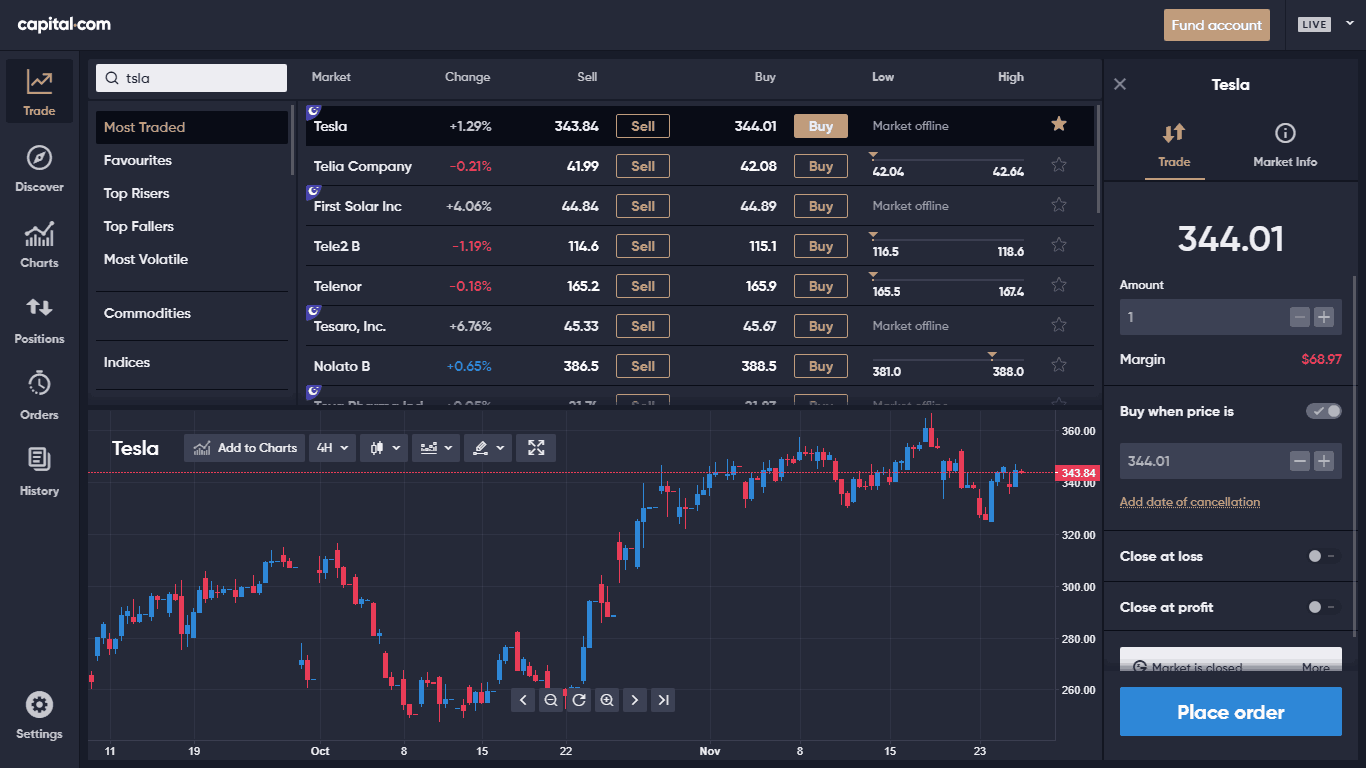 After researching dozens of online platforms and personally testing the most highly recommended of them, we strongly believe Capital.com is the best online trading platform for most digital nomads and frequent travelers. With zero fees on intra-day trading, a lightning fast web platform and their proprietary Negative Balance Protection, Capital.com gives you the best chance at financial success with a clean, easy-to-use interface.
Day trading while you travel is a great way to make a living as a digital nomad. It's easy to do on the road, it's fun, and if you do it right, it can be highly lucrative.
As a day trading nomad myself, I've done a lot of research into the best setup, and most specifically, the best online trading platform for digital nomads. This guide will walk you through the research I've done, and ultimately recommend one platform that sits head and shoulders above the rest when it comes to robustness, ease of use, and having the lowest fees.
If you're ready to lever up and start making online trades in the next 15-30 minutes, this guide is for you. Let's get started.
#1 Who This 'Digital Nomad Day Trading' Guide Is For
This post is geared at a few specific groups of people:
Digital nomads running existing businesses looking to amplify their wealth
Prospective digital nomads seeking an income stream to sustain their traveling lifestyle
Current or past professional traders looking to trade and profit outside of the office
Frequent travelers looking to trade part-time while on the road
Anyone else interested in learning about the best way to trade CFDs, forex, equities, cryptocurrency, and the ins and outs of day trading while traveling
If you fit into one (or several) of these groups, read on. If not, this probably isn't the right guide for you, and you may want to do some more Googling around.
#2 Who This 'Digital Nomad Day Trading' Guide Is Not Written For
There's one group of people that the recommendations in this guide are not appropriate for: absolute beginners. If you don't know what "forex" means, you're in the wrong place. I can't recommend anyone lacking a base understanding of financial knowledge—whether you've gained that understanding through your career, courses at university, or by teaching yourself online and with books—to start trading, since the odds are very high that you'll lose money. If you don't know the basics of trading equities, forex pairs and CFDs, go do your homework and come back later. You'll be in a much stronger position when you're ready to actually start trading, and you'll be glad you waited.
(Note: Many online trading platforms, including the one I highly recommend, allow beginners to trade with paper (fictional) money while they get the hang of things. Still, please do not trade with your hard-earned money if you aren't confident that you know what you're doing. Losing money is not fun.)
#3 Our Selection Process
If you're like most people, you want a few specific things out of your online trading platform:
Low or Zero Fees: This is key for day trading, where bid-ask spreads can already take a big chunk out of your profits.
Speed: Since you'll be day trading, having up-to-the-second prices is extremely important. Any platform that has delayed pricing or causes your laptop to run slowly is no good.
Ease of Use: Ease of use is crucial. When you're in the heat of a trade, with thousands of dollars on the line, the last thing you want is a clunky trading platform that causes you to make a mistake. As such, we've only considered trading platforms that have intuitive, easy-to-use interfaces combined with robust back-ends that are powerful enough to handle all of the transactions you want to make.
With these three primary criteria in mind, we dug into dozens of online reviews about these platforms to see what long-time users were saying. We used these reviews to select the top eight for our own round of testing, where we tested them on just about everything we could think of.
One early thing we noticed was that just about every platform was bound by a lot of regulatory oversight, which makes for a horrible signup process, or it had high/hidden commissions and fees. There were a few that performed well, though, and one that stood out from the pack as being far better than the rest.
The Metrics
We ranked each platform on more than a dozen metrics. We found these to be the most telling:
Price Accuracy: Using a script that logs equity prices in real-time, we retroactively compared each platform's prices over multiple intervals with the prices provided by a Bloomberg terminal, which was used as our control. The closer a platform's prices were to the Bloomberg terminal, the more accurate we deemed the platform to be.
Bid-Ask Spread: At the same time as we captured prices, we also captured bid-ask spreads and compared them in real-time to the price of the underlying equities. Lower bid-ask spreads are better, of course.
Commissions & Fees: We looked at commissions and fees on everything: funding your account (using various methods), per-trade fees, bid-ask spreads, overnight fees, withdrawal fees, monthly or annual membership fees, and any other miscellaneous fees we could find that would be relevant to a regular user. Some platforms had extremely high fees (eg. $200 USD) to solve very unlikely circumstances, but we opted to ignore these fees, since 99+% of users would never find themselves in those situations
Customer Support: Each of our testers was given a unique set of scripts to simulate common and uncommon problems they would pose to each platform. They measured response time and indicated the quality of support they received.
Ease of Use: This is a subjective metric, but still an important one. We measured ease of use by having each of our testers perform a series of tasks (buying an equity, setting a stop-loss, funding their account, and more) and recording both how long those processes took and whether they encountered serious difficulty or frustration in doing so.
Signup Speed: We had multiple digital nomads hailing from multiple different countries sign up for each of the platforms and logged how much time it took them to be approved, from when they first reached the website to when they were in a position to make their first trade.
After looking at all of this data, both qualitative and quantitative, we identified three online trading platforms that stood out from the rest. Here's a side-by-side comparison of those three.
Comparing The Best Online Trading Platform For Digital Nomads
| | | | |
| --- | --- | --- | --- |
| | Capital.com | Interactive Brokers | eToro |
| Minimum Initial Deposit | $0 | $0 | $200 |
| Inactivity Fee | $0 | $10/month | $5/month (after 12 months) |
| Funding & Withdrawal Options | Excellent | Poor | Excellent |
| Withdrawal Fee | $0 | $0 | $25 |
| Intra-Day Trading Fee | $0 | $0.005 per share (minimum $1 per trade) | $0 |
| Price Accuracy | Excellent | Excellent | Excellent |
| Bid-Ask Spread | Excellent | Excellent | Average |
| Commissions & Fees | Excellent | Good | Average |
| Customer Support | Excellent | Excellent | Average |
| Ease Of Use | Excellent | Poor | Good |
| Signup Speed | Fast | Slow | Fast |
A quick look at this chart makes one thing extremely clear: Capital.com is the best online trading platform for most digital nomads and frequent travelers. With an easy-to-use web and mobile interface, extensive (and free) funding and withdrawal options and zero fees on intra-day trading, it's an ideal choice for most people.
Capital.com vs. eToro
We like Capital.com over eToro for a number of reasons, but mainly because it has much lower fees:
Zero Withdrawal Fees: eToro charges a $25 fee on every withdrawal regardless of size. Capital.com never charges a withdrawal fee.
Zero Inactivity Fees: eToro has an inactivity fee of $5/month after 12 months of inactivity. Capital.com never charges an inactivity fee.
Zero Currency Conversion Fees: eToro's currency conversion fees are high when you fund your account with a currency other than USD. Capital.com allows you to hold currency in any of British Pounds (GBP, £), Euros (EUR, €), U.S. Dollar (USD, $), or Polish Zloty (PLN, zł), so you probably won't need to convert currency to fund your account. I recommend funding your Capital.com account with your N26 Black or N26 Metal account to ensure your account gets funded ultra-fast and with zero fees.
eToro is good, but it imposes a lot more fees than Capital.com, including fees that don't provide any value to users (eg. inactivity fees). That, combined with Capital.com's tighter bid-ask spread and better customer support give us full confidence that Capital.com is a better choice than eToro.
Capital.com vs. Interactive Brokers (IBKR)
We like Capital.com over Interactive Brokers (IBKR) for a number of reasons:
Funding & Withdrawal Options: Probably the biggest pain-in-the-ass when it comes to IBKR is that you can only fund and withdraw money from your account by way of a wire transfer. This was fine a number of years ago when banking was done in branches, but today, it's completely unacceptable. Interactive Brokers won't accept funds from debit cards, credit cards or PayPal, nor will it pay out in any way other than a bank wire. Capital.com works with just about every payment you can imagine, and I regularly fund my Capital.com account from my N26 bank account, where the money arrives in less than thirty seconds.
Ease Of Use. Anyone who has used IBKR knows that their interface is powerful, but far from intuitive. The app often has users going in circles, and doesn't make it clear how to perform simple transactions like buying and selling an equity. The web interface is no better. By contrast, both Capital.com's app and web interface are extremely intuitive and easy to use.
Zero Inactivity Fees. IBKR charges a $10 monthly inactivity fee, and even if you use your account in a given month, they'll still charge you at least $10. For example, if your trades for the month add up to $4 in commissions, IBKR will charge you $6 more on top to ensure they get their $10 per month. Capital.com never charges any monthly fees.
Interactive Brokers is a fine option, but it can be both difficult and expensive to fund your account with them, since you can only pay with a bank wire. This is a particularly big problem for digital nomads, who can't walk into a bank branch in their home country, and may not have the required documentation (eg. utility bills) that are often needed to verify identity. Plus, IBKR's clunky, non-intuitive interface feels archaic next to Capital.com's sleek, modern user experience. We're very confident that most people will prefer Capital.com over Interactive Brokers.
#4 Capital.com Is The Best Online Trading Platform For Digital Nomads
Founded in 2016, Capital.com is one of the largest investor-centered financial technology ("fintech") companies in the world. It serves more than 300,000 clients of all experience levels, who buy and sell millions of financial instruments through contracts-for-difference, also known as CFDs.
Capital.com's artificial intelligence-based app allows traders to leverage the power of artificial intelligence to trade CFDs on a range of financial instruments, including stocks, cryptocurrencies, indices, forex pairs, commodities and more. For traders looking for a more sophisticated way of approaching the markets, Capital.com's AI-driven platform has the answer.
Other Capital.com review posts only seem to mention a few of the site's features, and are quite brief when comparing its advantages and disadvantages. I prefer to be much more thorough, so the information below should help guide anyone looking for a better, smarter way to trade financial instruments through CFDs.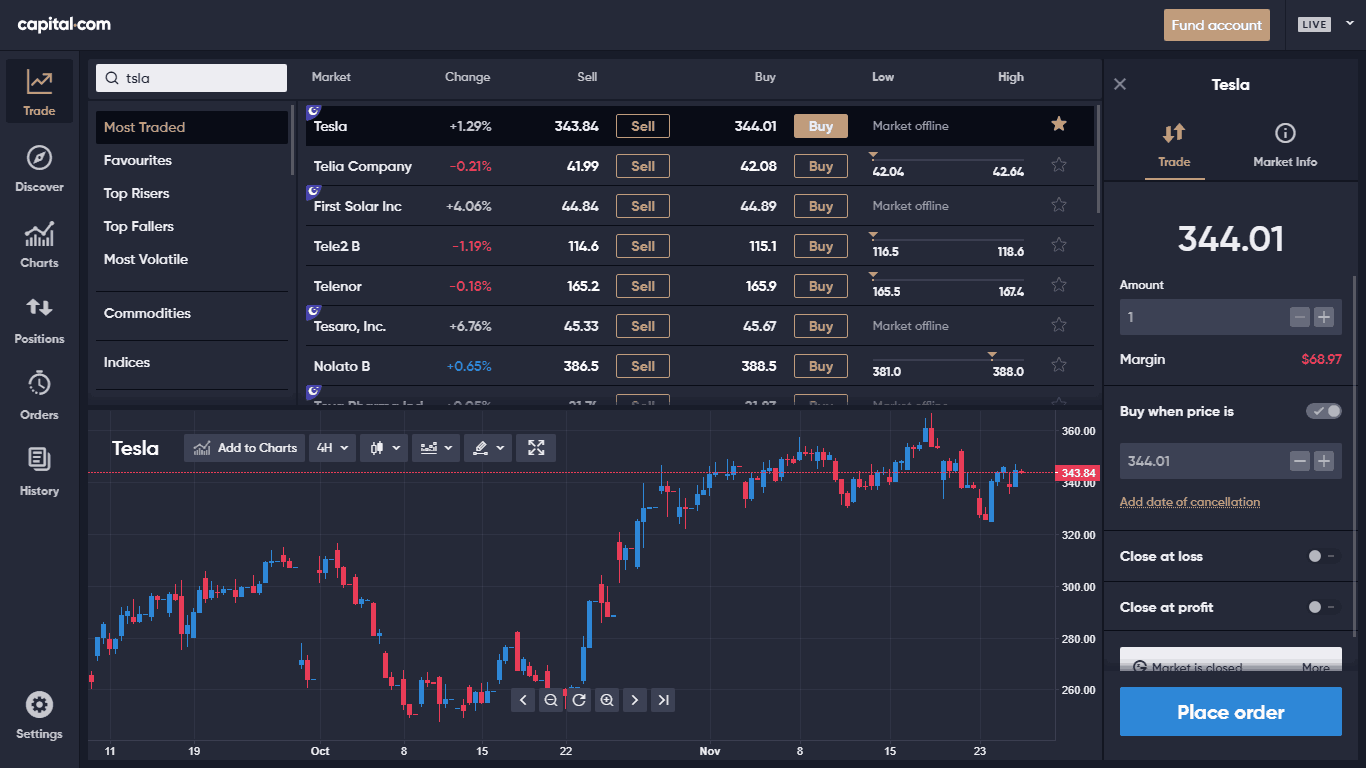 #5 Features Of Capital.com
Most people find themselves falling into one of two distinct modes on Capital.com: Learning Mode and Trading Mode.
In Learning Mode, you can study the markets, learn the basics of trading CFDs, and brush up on breaking news in your specific areas of interest. These are the features you'll enjoy in Learning Mode:
Free financial webinars
Educational courses for traders
Extensive markets glossary
Comprehensive CFD trading guide
Cryptocurrency trading tutorial
Investmate, Capital.com's investor education app
In Trading Mode, Capital.com's artificial intelligence helps you to confidently navigate through market ups and downs and decide what and when you want to trade. In short, Capital.com lets you trade from a position of both power (based on its AI) and knowledge (based on its financial tutorials and materials). These are the features you'll enjoy in Trading Mode:
Mobile trading app
Robust web trading platform
Real-time prices
Real-time financial news
Stops & limits
Negative Balance Protection on levered trades
Competitive swap rates
Hedging mode
Risk management tools
70+ tech indicators
Trader sentiment
What is it like to trade on Capital.com?
If you're familiar with the look and feel of a Bloomberg terminal, then you'll feel right at home with the Capital.com trading platform.
If not, though, you certainly won't be left in the dark.
When I first began trading on Capital.com, I was truly surprised with how easy and simple using the site was. I learned my way around the platform in a matter of minutes, and made my first successful trade less than 10 minutes after beginning the signup process.
What's even better is that as I used the platform over the ensuing days and weeks, I discovered additional depth and functionality that surprised me even more. The trading platform has managed to be simple without being simplistic.
Three Quick Benefits Of Trading On Capital.com:
No Fees: That's right, there are no fees when you day trade with Capital.com. If you hold your positions overnight, you will be charged a very small (0.001% to 0.05%) fee, which is extremely good when compared to the fees and commissions many other platforms charge, which are often 0.5% or more per trade.
Easy To Use: This couldn't be more important to me. I'm not a professional trader (ie. I don't work at a bank or hedge fund), so I like my trading platform to be straightforward enough that I can understand it easily, yet robust enough that it can do everything I need it to do. Capital.com strikes this balance perfectly.
Lightning Fast: My laptop is getting older, so it slows down quite a bit when I overload it, especially in Google Chrome. Yet Capital.com's trading platform has never slowed down or frozen my laptop. Not even once. I see up-to-the-second price updates coming in all the time, and I have no problem whatsoever trading with real market data in real time.
You can try out the Capital.com trading platform completely free before verifying your identification or funding your account. Just sign up below to take a look around.
What equities and financial instruments can you trade on Capital.com?
The short answer: all of them.
The entire marketplace is at your fingertips at Capital.com. For clarity and ease of use, each type of security has its own page on the website, but here's the general breakdown:
Stocks/Equities: Stock CFDs are one of the best ways to take advantage of general or niche market trends. Capital.com gives traders the ability to personalize your experience and deal with targeted areas of the market or whole swaths of economic activity at once. Currently you can trade on equities from stock markets in the following countries: United States, United Kingdom, Germany, France, Hong Kong, Italy, Norway, Russia, Spain, Sweden, Switzerland.
Indices: Trade CFDs backed by indices, with nearly 20 of the most heavily-traded global indices—including the S&P 500, the NASDAQ 100, the Dow Jones 30 and the FTSE 100—sorted however you want to see them: based on volatility, biggest gainers, biggest losers, or most traded. Configure charts for any time frame that makes sense for you: hourly, daily, weekly, monthly, etc.
Forex: It's easy to trade global currencies via CFDs when you have access to nearly 100 of the most-traded currency pairs. Each pair listed on Capital.com features up-to-the-minute buy/sell data and change percentages. Every instrument listed comes with a full range of functionality so you can use targeted charting, view volatility and examine risers and fallers, or hone in on trading volume.
Commodities: Play the popular world markets like oil, natural gas, gold, silver, and copper, as well as less popular markets like orange juice, carbon emissions and palladium all from a single platform, all based on real-time data and 100% functional capability.
Cryptocurrency: Trade more than two dozen of the world's most relevant cryptos, including Bitcoin (BTC), Ethereum (ETH), Ripple (RPL), Litecoin (LTC) and Bitcoin Cash (BCH) with the added security of not owning them, not having to fret about liquidity, and having access to a wealth of trading data before making a move.
#6 Other Relevant Products For Digital Nomads
Aside from Capital.com, which is a brilliant way for building wealth on the road, there are two other highly relevant products we think every digital nomad should be familiar with:
N26. N26 is the online bank taking the digital nomad world by storm. Why? N26 offers free ATM withdrawal worldwide. All of your transactions are processed at the inter-bank exchange rate, no matter where you are in the world. You'll never, ever need to walk into a branch, as the entire banking experience is online. Millions of people, including tens of thousands of digital nomads, have made the switch to N26. Read our full N26 review here and open your own account here.
SafetyWing. SafetyWing is completely changing the game when it comes to travel and medical insurance. With its totally transparent $37/month policy, you save hundreds of dollars per year over similar insurance providers. Plus, our research showed that it was a clear winner in a head-to-head comparison between SafetyWing and World Nomads. You can sign up for SafetyWing directly here.
#7 Cryptocurrency Trading As A Digital Nomad
You can trade dozens of the most popular crypto pairs via Capital.com. That means Bitcoin, Ripple, Ethereum, Litecoin and dozens more. It's as easy as checking out the latest market data on a given pair and then making a trade.
Keep in mind that because you're trading CFDs and not the actual underlying cryptocurrency itself, you won't need a cryptocurrency wallet to execute these trades (nor will you receive the keys to your crypto assets). This works the exact same way as trading in the commodities markets: when you buy a million kilograms of wheat in the commodities market, no one has to actually deliver the wheat to you. Instead, the option on the wheat is known to be yours, and you can sell it at whatever time you choose.
#8 My Experience With Capital.com
My personal experience with Capital.com has been extremely positive for a number of reasons:
Extremely easy to get started: I made my first trade within 10 minutes of beginning the signup process, which is absolutely unheard of when it comes to joining a new trading platform. Normally it can take days or even weeks to get set up with someone like Interactive Brokers, but Capital.com has streamlined this process in an impressive way.
Total transparency: I like that whenever I make a trade, everything is laid out in front of me: a description of what I'm buying, how much I'm paying for it, what price I need to sell it for to make my intended profit, etc. Many trading platforms used by professional traders are too overwhelming for the non-professional, but Capital.com caters to both groups very well.
An incredible app: Of all the apps I've tried over the years, Capital.com has the best trading app hands-down. It's both intuitive and powerful, and gives you AI-led suggestions to help aid you in your trading. I used to do 100% of my trading from my laptop, but more and more I now find myself buying and selling my positions from within the Capital.com trading app.
I've been using Capital.com to trade stocks (5:1 leverage) and a few forex pairs (20:1 or 30:1 leverage) for the past number of months, and I haven't encountered any problems yet, big or small.
#9 Pricing & Fees
One of the things I like most about Capital.com's fee structure how clear it is:
0% fees on day trading
0% fees for deposits, withdrawals, real-time quotes, trade opening/closing, educational materials, charts, or use of indicators
Very small fees (0.001-0.05%) fees on overnight positions
Let's unpack these individually.
0% fees on day trading: This is exactly what it sounds like—absolutely no fees outside of the bid/ask spread. Capital.com's commission is baked into the bid/ask spread, which is always made clear before you execute a trade, so they'll never surprise you with an unexpected fee. Bid/ask spreads can be as low as $0.00002.
0% fees for deposits, withdrawals, real-time quotes, trade opening/closing, educational materials, charts, or use of indicators: Deposits and withdrawals are completely free, meaning you can pay $1,000 from your credit card and have $1,000 show up in your account moments later (funding your account really is instant like this). In rare instances, Capital.com does charge fees for inactivity of more than one year ($10 USD for maintenance).
Very small fees (0.001-0.05%) fees on overnight positions: The only time you pay trading commissions with Capital.com is when you hold your positions (either long or short positions) overnight. Then they charge an extremely low nightly fee, such as 0.001%. For reference, most other trading platforms charge something like a 0.5% commission per trade, which means in this example, Capital.com's fee is 1/500 that of the other platforms.
#10 How To Sign Up
There are a few things you need to sign up for Capital.com:
You must reside in one of the following countries: Argentina, Armenia, Austria, Azerbaijan, Bahrain, Bulgaria, Cambodia, Chile, Croatia, Czech Republic, Denmark, Estonia, Finland, Georgia, Germany, Greece, Hungary, Iceland, India, Indonesia, Ireland, Italy, Kuwait, Kyrgyz Republic, Latvia, Liechtenstein, Lithuania, Luxembourg, Malaysia, Mexico, Monaco, Norway, Oman, Pakistan, Philippines, Poland, Portugal, Qatar, Romania, Slovakia, Slovenia, Sweden, Switzerland, Tajikistan, Thailand, The Netherlands, Turkmenistan, United Arab Emirates, United Kingdom, Uzbekistan.
You must select one of these four currencies: British Pound (GBP, £), Euro (EUR, €), U.S. Dollar (USD, $), or Polish Zloty (PLN, zł).
You need to verify your account. Read below for instructions on verifying your account with a proof of identity and a proof of address.
Verifying Your Capital.com Account
Once you've opened your account, you'll be eligible to invest up to $2,000. If you want to invest more, though, you'll need to verify your account within 15 days after opening it with both a proof of national identity (passport, national ID or driver's license) and a proof of address. For proof of address, you can use any of the following documents, provided they show your full name, address and have been issued in the past six months:
A bank statement
A letter from your bank with the bank's logo
An online banking screenshot complete with bank logo
A credit card statement
A household utility bill for electricity, water, gas, TV or your landline phone
A tax statement or local authority tax bill
A residence certificate
I uploaded my documents (my Canadian passport and a statement from my N26 bank account) on a Wednesday afternoon, and my account was verified within 10 minutes.
If you don't verify your identity within 15 days, your account will be automatically suspended and only unlocked once your required documents have been uploaded and verified.
#11 FAQs
Are There Any Geographic Restrictions On Capital.com? Do I Need To Use A VPN?
For security purposes, your IP address needs to be in one of the countries mentioned above when you sign up for Capital.com. If you're abroad when you sign up, you can use a VPN to redirect your Internet traffic to somewhere in Europe so that you're able to sign up. If you don't do this, you'll see a blank screen when you click on the Capital.com website.
Once your account has been approved, things are much easier. You can freely use the Capital.com trading platform anywhere in the world without needing any sort of VPN. For example, I'm Canadian, and while I can't sign up for Capital.com from Canada (I get the blank screen), I can trade in real-time using their online platform there.
To sign up for Capital.com, you need to live in one of the ~50 countries mentioned earlier. However, citizens of any country can sign up for an account with Capital.com, which makes it great for us digital nomads, since we're often living in countries where we aren't full-fledged citizens. Here's the list of accepted countries:
Why Do I See A Blank Screen When I Try To Sign Up For Capital.com?
This means you're not in a country where Capital.com is available. There are two ways to fix this:
Wait until you are in one of the countries listed above, or
Use a VPN to redirect your Internet traffic to one of those locations.
Where Should I Live While Day Trading As A Digital Nomad? How Much Should I Think About My Timezone?
This is a good question, but it totally depends on the way you work. I know plenty of digital nomads who love having their days open for activities, and then they work at night. These people tend to position themselves in Asian timezones and trade on the US markets, which are about 12 hours behind. Other nomads prefer a more traditional work-life balance, where their work hours are similar to the markets they're trading on. They tend to live in places like Europe (if they're trading on European markets) or South and Central America (if they're trading on North American markets).
It's up to you to know which sort of person you are, but that's the great thing about living the digital nomad life: the choice is yours.
---
---