Gareth Pon believes that everyone should have at least one ridiculous dream they believe can come true, and since he can remember, his has been to go to space. Growing up, he maintained his dream of space travel yet avoided it becoming a career, opting out of becoming an astronaut and choosing instead to be a filmmaker and photographer.
Until Gareth can one day fulfill his dream of space travel, he will continue making pixels, appreciating the simple things in life, inspiring others, occasionally blogging for Huffington Post, loving the colour yellow, enjoying delicious food, and refusing to live a mediocre life, all the while keeping up the hope of one day meeting a girl whose dreams are as ridiculous as his.
Follow Gareth's never-ending adventures on his world-famous Instagram page, @garethpon.
I'm Gareth Pon, and this is How I Travel.
What do you love most about traveling?
Besides being able to discover new places and spaces, what I really love about traveling is being able to meet up with so many inspiring people around the world. I find that a lot of people travel very "safely" – they do the rounds, see the sights and then leave without really getting into the culture of the country. I find that when you step into the shoes of the locals, that's when you really begin exploring.
How has travel changed you as a person?
I find myself dreaming more. South Africans traditionally don't travel all that much, which may be because we are so far from the rest of the world, or it could be our fear of traveling that keeps us in SA. Either way, as I've traveled I've found that my desires become fueled with the energy to dream and dream big.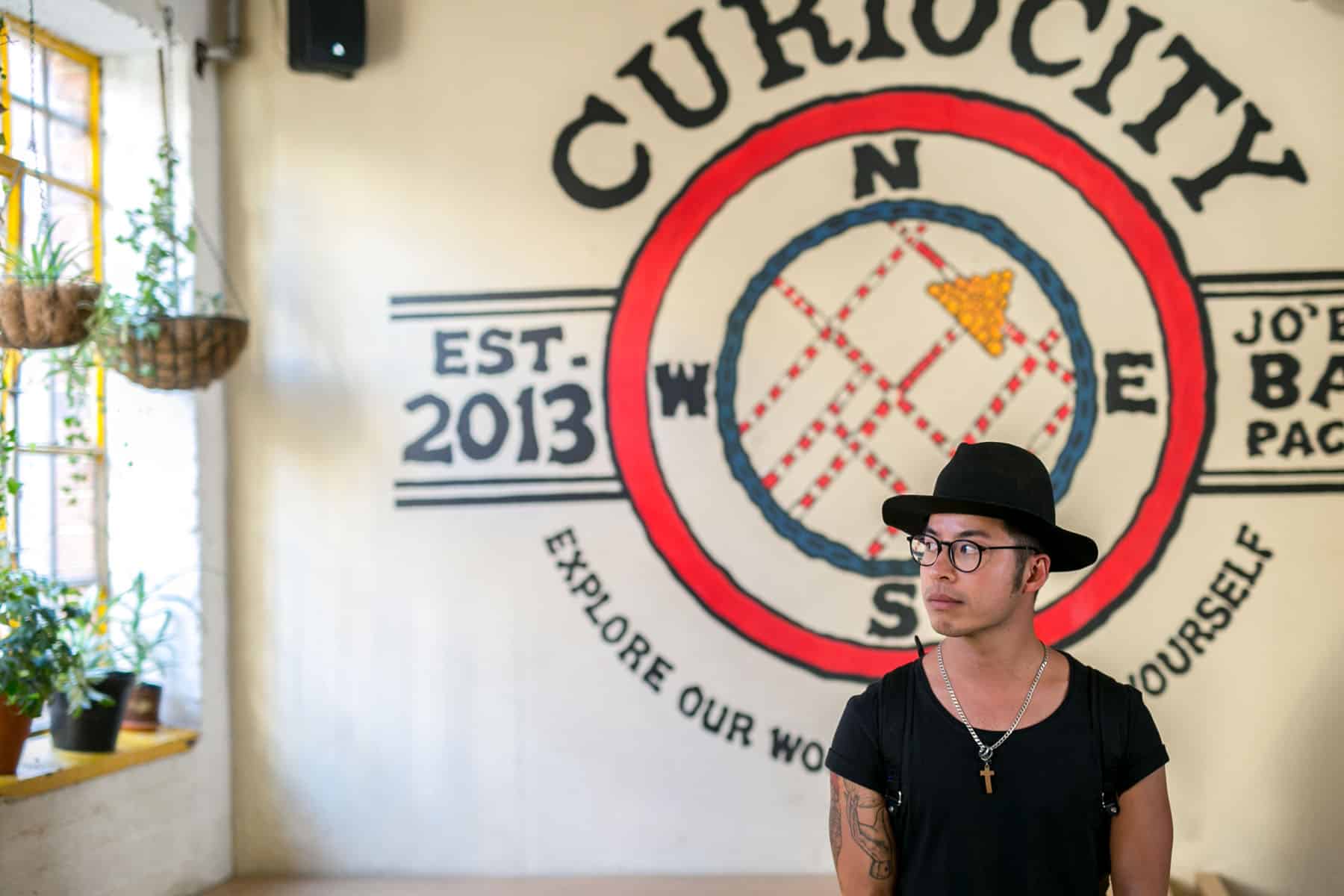 What's the biggest lesson you've learned through all your travels?
No amount of money can buy an experience. I've spent money on various personal trips, extending a few days here and there and booking that extra flight at the last minute, just because I know that if I didn't do it now, I may never get the chance to do it again. Too many people, myself included, live in fear of making the wrong decisions, but the sooner we realize that each decision we make carries a unique story, the sooner we can live free from the worry of what life throws at us.
What's the one travel-related purchase under $100 that has had the biggest positive impact on you in the last 12 months?
It may sound cliche, but I recently bought a Kindle. I've never been much of a reader, but as you travel you have a lot of time in transit, which actually gives you a ton of reading time. Being able to soak in the knowledge of others through reading has given me insight into so many worlds of wisdom.
[bctt tweet="'With travel, I've found that my desires become fueled with the energy to dream big.' @garethpon"]
---
Gareth's 10 Favorite Travel Items

I always have this book with me; it keeps me young and reminds me that my dreams are attainable. When I was younger, a friend gave me this book to inspire me, because at that time I was feeling really discouraged and had very little direction about what I wanted to do with my life. This book has served as a piece of a very clear path into seeking out adventures, not only in the physical world, but also internally within myself.

I travel with these little lights because they're simply amazing for lighting subjects in various situations. They double as the ideal practical lighting solutions, and make for great tools for light painting at night!

I've always been a huge fan of wearing a watch that speaks about travel, so when I received my LIV watch I was really amazed at both its build and its design. It's since become my go-to travel watch so I can keep track of time when I'm running to catch my connecting flight.

This strap is honestly the best and most beautiful camera strap I have ever used. I may shoot with multiple cameras, but the one thing I always take with me is my Lucky strap. It's become the only camera accessory that I have with me at all times.

Not only is the Moment brand amazing, but their products are of the highest quality. I take my Moment lenses with me just about everywhere, knowing that I can rely on them if I ever need a change in perspective when shooting with my mobile phone.
My Passports

I travel with two passports, since I was born in South Africa but am also half Mauritian. Luckily for me, the combination of these two passports has let me fluidly travel to 90% of all the places I've been.
When you travel, you'll find yourself walking A LOT, so if you don't have the perfect pair of kicks to keep your feet happy, you'll end up getting sore feet and really hating your travel experience. I kill two birds with one stone with my Pumas, looking stylish and staying comfy as I explore new spaces.
I always have a backpack full of gadgets and pieces here and there. Whenever I travel to different countries, instead of buying a curio I'll try to find myself a rad backpack that reminds me of the country I'm visiting. This particular backpack is from Switzerland, and right now it's my favourite brand of backpack in the world.

There's nothing worse than waking up and having a bad hair day. Lately that seems to happen to me all the time, so I'll just throw on this hat to dodge the bullet and still look stylish. It makes for a great way to cover up on a lazy morning.

These noise-canceling headphones have saved me hours and hours of beauty sleep when I'm flying. I seem to have this curse of always getting the seat next to the loud guests on the plane, but luckily for me, my Level over-ears let me block out everything at the flip of a switch.
---
Gareth in 60 Seconds
Fav Place to Travel Amsterdam

Fav Travel App Facet

by Tastemade

Next Travel Purchase Most likely a backpack from somewhere

Next Destination Dubai
Also, since so many of you have been asking us for them, here's our full list of country-specific posts outlining how to ship anything from Amazon to any country in the world. Our 2-step method makes it as simple as humanly possible, and takes about 3 minutes total: Austria, Bahrain, Belgium, China, Cyprus, Denmark, Finland, Greece, Hong Kong, Hungary, Indonesia, Israel, Kuwait, Japan, Malaysia, New Zealand, Norway, Oman, Philippines, Poland, Portugal, Qatar, Russia, Saudi Arabia, Singapore, South Africa, South Korea, Sweden, Switzerland, Taiwan, Thailand, Turkey, Asia as a whole, Europe as a whole and the United Arab Emirates.
And here's another post on how to log out of Amazon.
While you're at it, international travelers should read our N26 review for the best way to get free ATM withdrawals the best rates on currency conversion - anywhere in the world.
Take Control Of Your Financial Future
Get the 5 personal finance tools every frequent traveler needs in 2020.

Today's Five Most Popular Posts: