Johnny FD started his journey like any other typical American, with a 2-week vacation and a rolling suitcase packed to the weight limit. But after falling in love with the simplicity of traveling light, the freedom of minimalism, and hobbies like Muay Thai and scuba diving, Johnny ditched the rolling suitcase for a backpack and has been traveling across Asia, Australia, South Africa, and Central America ever since.
Although today you can catch Johnny flying business class and lounging at beach resorts, he still travels light and only carries with him what truly makes him happy. You can find out more about Johnny at his travel and business blog, JohnnyFD.com, or listen to the Travel Like a Boss Podcast.
I'm Johnny FD, and this is How I Travel.
What do you love most about traveling?
I love the freedom it gives me to live a different life than the standard issue we have back home. Aside from meeting incredible people from around the world and seeing beauty everyday, travel has allowed me to arbitrage my location by making US dollars while living on a Thai budget. I love the fact that I've saved over $100,000 cash while seeing the world, which would have been spent on rent and expenses if I had lived back in California.
How has travel changed you as a person?
I've become so independent that I've actually started scaling it back now that I'm in a serious relationship and need to start thinking as a couple instead. I am no longer afraid of taking risks when it comes to striving towards happiness.
What's the biggest lesson you've learned through all your travels?
No one knows anything and the normal rules of society are often wrong. Life is an adventure that is meant to be explored and as long as you do what you think will make you happy, regardless of what society says, you'll be rewarded.
What's the one travel-related purchase under $100 that has had the biggest positive impact on you in the last 12 months?
It may seem strange but I recently bought a set of juggling balls. I have no desire to become a professional juggler, but it's always been one of those skills that I never thought I'd had the time or skill to learn. It's also been a great way to get some blood flow in your arms and relax your eyes after working at your computer for 30 minutes to an hour.  The balls itself weren't the impact, but the fact that we have the time and confidence to try random things.
[bctt tweet="'The normal rules of society are often wrong. Life is an adventure to be explored.' @johnnyfdk"]
---
Johnny's 7 Favourite Travel Items
When I first came to Thailand in 2008, I lived and trained at a Muay Thai gym, and even though my days of fighting in the ring are done, I still keep a basic set of gear with me whenever I travel to just in case I feel the need to release some testosterone hitting some pads or the heavy bag. It also keeps me humble whenever I spar a Thai guy half my size that throws me around – it reminds me how important it is to stay consistent with fitness.
When I first started traveling, scuba diving was something reserved for people on the Discovery Channel or rich, retired dentists. 'Till this day, even after over 800 dives underwater, I'm still fascinated by the richness of life under the sea and make it a point to go scuba diving wherever I travel.
Even though I travel and live abroad full-time, I still have businesses to run and having a laptop stand has allowed me to have the ergonomics of a proper desk while being ultra lightweight and portable. The stand also helps raise your laptop to be perfectly eye level to let you comfortably watch movies if you're ever sitting in coach on a flight without a screen.
I love my coffee, and I love good coffee, which is why I travel with an AeroPress wherever I go. I also keep a hand grind coffee maker with me so I can have fresh beans as well as go through the ritual of making coffee in the morning, which starts my day. [Editor's Note: Mishie loves her AeroPress as well, and she even uses the leftover coffee grounds as a natural skin treatment!]
Even though I hardly go anywhere that forces me to dress up fancy while traveling, having a gold wristwatch transforms my solid v-neck t-shirt and casual shorts from a backpacker into an outfit of a someone who is comfortably enjoying life because he can. Only the readers of my book Life Changes Quick would know this, but the gold watch you find me wearing wherever I am is the dream that I've been working towards ever since I started traveling and working online. It's the symbol of me retiring from normal work, knowing that I'll never have to work for anyone else but myself ever again. It's a symbol of freedom.
You may think I'm just wearing standard flip flops, or think I'm crazy for spending $90 on a pair of sandals, but once you get a pair of Lunas you'll never wear anything else. Wearing barefoot running sandals have allowed me to successfully sprint after a bus that left me at a Thai rest stop in the middle of nowhere, allowed me to hike mountains without shoes, and have been the ultimate token of freedom for my feet.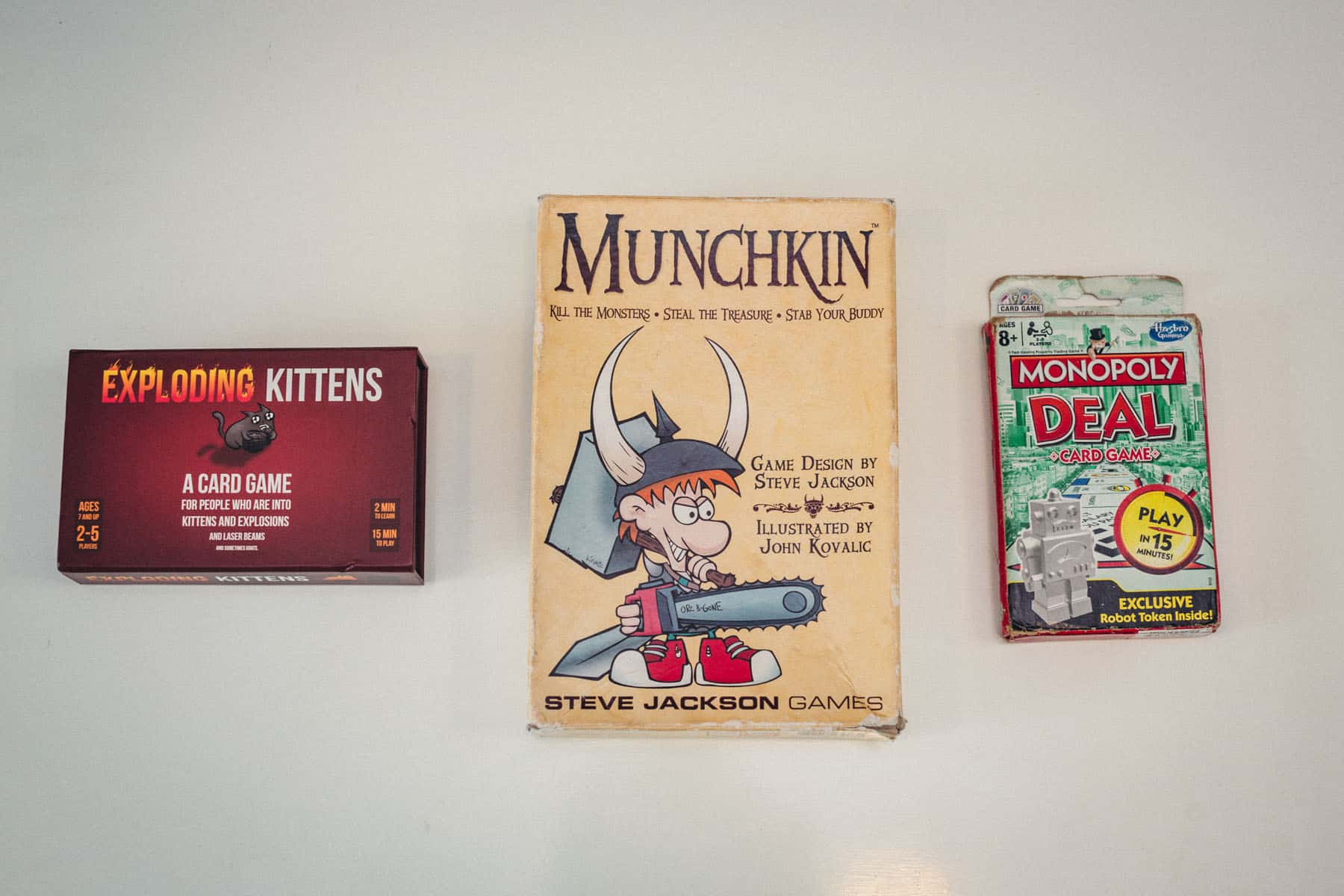 They're small and lightweight and allow you to get a group of new friends together and play something wholesome and fun just like you would have with close friends or family back home. It's a great alternative to going out to a bar or club to drink and party, as you can hang out at the hostel or your apartment and have a night in.
---
Johnny in 60 Seconds
Fav Place to Travel

Chiang Mai, Thailand

Plus anywhere in Borneo

Ideal Trip CompanionAnthony Bourdain

Next Travel Purchase

Latest

iPhone

For stunning photos

Next DestinationSouth African Safari
Also, since so many of you have been asking us for them, here's our full list of country-specific posts outlining how to ship anything from Amazon to any country in the world. Our 2-step method makes it as simple as humanly possible, and takes about 3 minutes total: Austria, Bahrain, Belgium, China, Cyprus, Denmark, Finland, Greece, Hong Kong, Hungary, Indonesia, Israel, Kuwait, Japan, Malaysia, New Zealand, Norway, Oman, Philippines, Poland, Portugal, Qatar, Russia, Saudi Arabia, Singapore, South Africa, South Korea, Sweden, Switzerland, Taiwan, Thailand, Turkey, Asia as a whole, Europe as a whole and the United Arab Emirates.
And here's another post on how to log out of Amazon.
While you're at it, international travelers should read our N26 review for the best way to get free ATM withdrawals the best rates on currency conversion - anywhere in the world.
Take Control Of Your Financial Future
Get the 5 personal finance tools every frequent traveler needs in 2020.

Today's Five Most Popular Posts: