Photography by Nick Smith (Web / Instagram)
Remember that crazy guy who offered anyone who shared the same name as his ex-girlfriend a free plane ticket around the world? Ya, that was Jordan Axani. And that move, which began as an innocently Canadian show of generosity, rapidly turned into the most viral human interest story in the history of the Internet. 4 billion media impressions later, Jordan returned from his trip wiser, full of perspective, and eager to bring the rawness of reality back to the digital world, a reality his larger-than-life story never quite had.
Today, Jordan is the founder of Bounde, the world's first peer-to-peer support mobile app, and The Bounde Foundation, a charity funding innovative, scalable mental health programs for the bottom billion. Through avenues like his recent TEDx Talk, Jordan is quickly becoming the no-nonsense crusader of Internet authenticity, a man with a penchant for letting the real be real. Follow Jordan on Twitter.
I'm Jordan Axani, and this is How I Travel.
What do you love most about traveling?
I love feeling lost.
It's a funny thing for someone that's so accustomed to being in control. Showing up somewhere new, without a plan or a contact, is humbling beyond belief. Life is so predictable, and traveling is a sure way to step beyond that. It serves as a reminder that as much as we think we know, we really know nothing. And as much as we think we understand others and the world, we comprehend very little. Being lost, in a way, is the most human experience of all.
How has travel changed you as a person?
I have slowed down. I grew into my 20s hustling like crazy. But through traveling, and a couple of other lifestyle changes, I have began to take a breath, enjoy the moment, and go onward. I now apply this in my day-to-day life in Toronto, even as I build a business, run a charity, write a book, and do public speaking. Big things happen in small, slow ways. It was a tough lesson, and one that I fought for a long time, but a life-changing one.
What's the biggest lesson you've learned through all your travels?
That we're all the same. Truly.
We all want the same things. We all have the same fears. We're all human and entirely equal, in both our virtues and vices. The extension of that is that we're all vulnerable, thinking creatures. Once I began appreciating that we're all alike, the biggest lesson for me has been to be open and honest with everyone all the time, rather than showcasing the "press release" version of myself and my life. Bullshit is easy; vulnerability is hard.
What's the one travel-related purchase under $100 you've made in the last 12 months that has had the biggest positive impact on you?
That's easy: my Tascam portable audio recorder that allows me to capture broadcast-ready audio in super high quality.
My Tascam is my favourite way to capture moments and people, and it's infinitely better in quality than iPhone audio. I have hundreds of hours of footage of wandering, drunken conversations and unsuspecting moments that bring endless joy. One day I'll do something with a good chunk of it, but for now it sits in a massive Dropbox folder for me and only me – and perhaps it's more enjoyable that way, knowing that, at least for now, it's without a bigger, grander purpose.
Maybe the point is to find meaning in something that isn't broadcast to the world; maybe it's more intimate to just have something that's kept and cherished internally instead.
[bctt tweet="'Being lost, in a way, is the most human experience of all.' @JordanAxani"]
---
Jordan's 8 Favorite Travel Items

My head is massive.
So I grew up literally unable to find hats that fit my massive noggin. My buddies at Lukla (now Oros), an outerwear company that uses NASA insulation (that's right!) gave me this hat last year in Cincinnati – and voila – it fit! Now it's a day-to-day staple, especially as my hair gets longer and I start giving less fucks.

Man, I have an addiction to these watches. They're light, reasonably cheap, and sexy as hell. I've gone through a couple, having lost one in a pub in Colorado and another in a split with an ex. I've even ditched an Apple Watch to go back to these bad boys.

A classic book that I refer to for inspiration. Probably the only writing book that causes me to laugh my ass off, On Writing Well is a treatise to the craft of clear thinking, presence, and capturing the real world with a pen.

This goes everywhere with me. Whether I'm wandering through some market in a random city, on a night out, or keeping warm while crashing in the back of a car, this blazer is my best friend. It's getting a little worn and smelly, but that just adds to its character. I think…

I never got the hype around Molskines. Yes, they're nice. But so are a lot of other notebooks. It's not about the medium, it's about the message – and whatever is rugged enough to be tossed around with you. The cheaper and stronger, the better.

An essential for every guy on the go. Convenience, style, and durability all wrapped into one awesome bag that's built to last.

My boys at Frameri make some damn good eyewear. They're tough, fit well, and they've got interchangeable lenses to suit whatever the day's journey is.

These are the best cheap shoes I've ever had.
Even through the soles are beginning to tear, and even though I've had to replace the inserts a couple of times, these shoes have taken me to more places than I can count and are always there for me when I'm in a pinch – even if they reek.
---
Jordan in 60 Seconds
Fav Place to TravelPrague

Fav Travel App500px

For inspiring people and places

Ideal Trip CompanionLance Armstrong

Next Travel Purchase

New cheap shoes

Mine are too stinky 🙂

Next Destination

Cincinnati

Long story, but it's a great city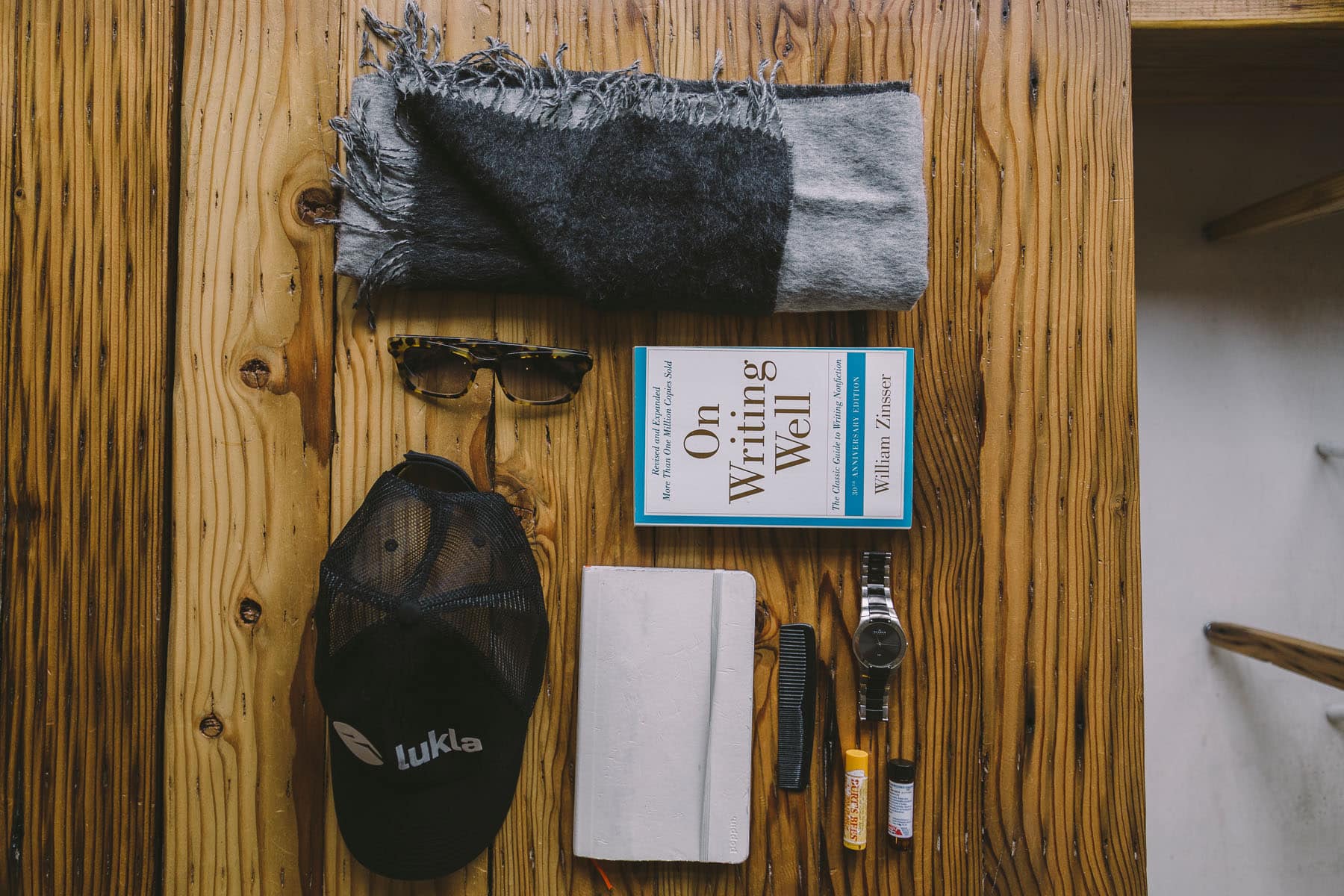 Also, since so many of you have been asking us for them, here's our full list of country-specific posts outlining how to ship anything from Amazon to any country in the world. Our 2-step method makes it as simple as humanly possible, and takes about 3 minutes total: Austria, Bahrain, Belgium, China, Cyprus, Denmark, Finland, Greece, Hong Kong, Hungary, Indonesia, Israel, Kuwait, Japan, Malaysia, New Zealand, Norway, Oman, Philippines, Poland, Portugal, Qatar, Russia, Saudi Arabia, Singapore, South Africa, South Korea, Sweden, Switzerland, Taiwan, Thailand, Turkey, Asia as a whole, Europe as a whole and the United Arab Emirates.
And here's another post on how to log out of Amazon.
While you're at it, international travelers should read our N26 review for the best way to get free ATM withdrawals the best rates on currency conversion - anywhere in the world.
Take Control Of Your Financial Future
Get the 5 personal finance tools every frequent traveler needs in 2020.

Today's Five Most Popular Posts: