Laura Laviani is not your everyday explorer. As a young girl growing up in Indonesia, she traveled all over Asia, currently calling Hong Kong home. On Instagram, she's best known for her discerning eye; Laura finds perspective where others see dead ends. She never stops before she gets the shot.
But Laura is more than a rising photographic virtuoso. Her distinctive travel experiences have granted her unique insights about the self, the virtues of solitude, and practical minimalism. Take a dive into Laura's world – you're sure to like what you see.
I'm Laura Laviani, and this is How I Travel.
What do you love most about traveling?
Both my parents love traveling, so I've been traveling with them for as long as I can remember. Travel has opened my mind and made me a more rounded human being, forcing me into new and refreshing perspectives on all aspects of life. There's always something special about experiencing the world with your family, friends or even alone.
What's the biggest lesson you've learned through all your travels?
Travel has helped me find myself. Travel can be fun with others, but going at it alone is your chance to test yourself – to see what you're made of – and hopefully, to find a sense of contentment with yourself. I learn a little bit more about myself each time I jump on a plane and head to a new destination. I've learned that taking some personal time and not trying to do everything all at once is perfectly fine; sometimes you need to slow down to find the answers you're looking for.
Also, I've learned to travel light, a lesson that has held real-world ramifications in my life. If you can prioritize and pack a suitcase quickly and efficiently, you'll be able to prioritize what's important in your life, too.
How has travel changed you as a person?
I've gained a sense of independence that I don't think I could have learned anywhere else. You come across so many experiences while traveling that you need to be independent to make it.
What's the one travel experience/story that has had the biggest impact on you?
I grew up in the Indonesia, which is a tropical country with hot, sunny weather 365 days per year. That said, I've never experienced snow! Last January, a few friends and I had the idea of going out to "see" snow. We decided to pick Harbin, China for our trip, and we booked the flights just a week before the trip. I only learned later how unprepared we were! Harbin turned out to be -25° C, but it felt more like -40° C, at least to me!
Our phones and other digital devices couldn't even stand the cold weather, and as you can imagine, we all ended up getting sick on the last day of our trip. But seeing snow for the first time and backpacking to the northernmost part of China was definitely worth it. Next time I'll know what to pack and how prepare for that kind of freezing cold weather, but I wouldn't give this first experience up for anything!
[bctt tweet="'Travel has opened my mind and made me a more rounded human being' – @lauralaviani"]
---
Laura's 6 Favorite Travel Items

This Moment lens kit was a gift from a friend for Christmas. I really love it because it has very little distortion and no chromatic aberration in the pictures, and I bring it with me everywhere I go – especially the wide lens – since I'm usually taking photos with my iPhone. Sometimes you wish things were a bit wider, but this lens helps me get more out of my surroundings.

I really love walking – it's the best way to explore new, unexpected places, or places that you wouldn't be able to see while in a car or bus. So since I bought my first pair of Vans, I've been a huge fan of them. They're the most comfiest shoes ever! And here's a bonus: the more worn out they are, the more comfy they are. Happy feet = happy walking 🙂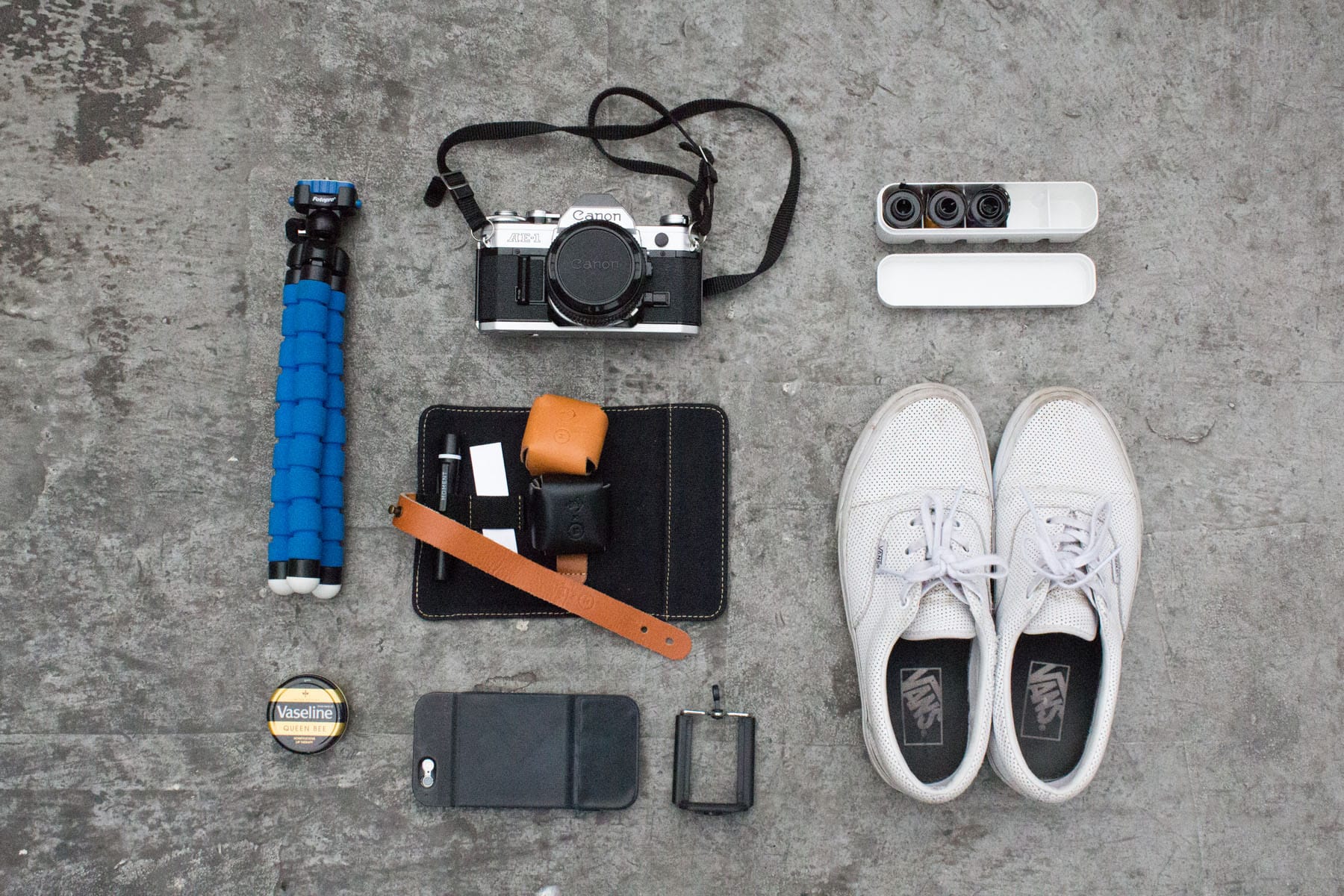 For those times when my lips get chapped, I'm carrying my Queen Bee: Honeylicious Lip Therapy lip balm with me at all times. It's limited edition, and it smells really good – I love it!
My Travel Bracelet

I got this bracelet on my last trip to Indonesia. It symbolizes courage and braveness. I have this thing with bracelets – I don't know why – but every time I travel to a new place I try to look for a bracelet and wear it until my next trip somewhere new. It's my little souvenir for myself.

I have always been a fan of vintage cameras, and I really love the colors and tones that comes out of a film roll. I was using a rangefinder film camera before, but I got bored with it so I've decided to upgrade to an SLR to give that a try.

I recently got this backpack, and it immediately became my fav bag to travel with because it's so light and waterproof, plus it fits all my cameras and other essentials. When you travel, you want to have a bag that can fit all the things you need, and for me, this is the one.
---
Also, since so many of you have been asking us for them, here's our full list of country-specific posts outlining how to ship anything from Amazon to any country in the world. Our 2-step method makes it as simple as humanly possible, and takes about 3 minutes total: Austria, Bahrain, Belgium, China, Cyprus, Denmark, Finland, Greece, Hong Kong, Hungary, Indonesia, Israel, Kuwait, Japan, Malaysia, New Zealand, Norway, Oman, Philippines, Poland, Portugal, Qatar, Russia, Saudi Arabia, Singapore, South Africa, South Korea, Sweden, Switzerland, Taiwan, Thailand, Turkey, Asia as a whole, Europe as a whole and the United Arab Emirates.
And here's another post on how to log out of Amazon.
While you're at it, international travelers should read our N26 review for the best way to get free ATM withdrawals the best rates on currency conversion - anywhere in the world.
Take Control Of Your Financial Future
Get the 5 personal finance tools every frequent traveler needs in 2020.

Today's Five Most Popular Posts: