If you've recently moved to Europe, or are just spending time in Germany, Austria or the Netherlands, you may be wondering…
What Is a Maestro card?
Maestro is essentially a debit card used in some parts of Europe. It allows you to do the two major things debit cards enable in other parts of the world: purchase items (both in-person and online) and withdraw cash from ATMs.
The major benefit of a Maestro card over some other debit cards is that it leverages the Mastercard network, which enables you to make purchases and withdraw cash from ATMs all over the world.
Maestro was launched by MasterCard in 1991. Today, it's accepted at around 15 million point of sale outlets around the world.
Where is Maestro used?
Maestro cards are used widely in Austria, Germany and the Netherlands, and much less everywhere else. If you'll be spending a good amount of time in any of those three countries, it may be a good idea to get a Maestro card, but if not, you may not need to.
Here's a table with a few more details on where Maestro is used, and how:
| | | |
| --- | --- | --- |
| Country | Popularity | Notes |
| Austria | High | In 2019, Austria's largest bank (Erste Group) began replacing Austrian Maestro cards with Mastercards. The N26 Maestro card is also available in Austria. |
| Belgium | Moderate | Co-branded with Bancontact |
| China | Moderate | Maestro is used as the international debit option. |
| Germany | High | The most popular is the N26 Maestro card. |
| India | High | Maestro is issued by most banks. |
| The Netherlands | High | Most banks offer Maestro debit cards. The most popular is the N26 Maestro card. |
| Russia | Moderate | Maestro is issued by several banks, including Sberbank. |
| Venezuela | High | Maestro is the leading debit card in Venezuela, and is extremely popular there. |
Do I need a maestro card?
Maestro cards can be extremely convenient if you live in the countries where they're used the most: Austria, Germany and the Netherlands. But if you aren't living in any of those three countries, you probably won't need a Maestro card. 
What About Cirrus?
Cirrus is Mastercard's global network of ATMs. Many banks around the world are linked into the Cirrus network, and they'll often tell you to look for the Cirrus logo when you're abroad to find an ATM where your card will work. The Cirrus network is made up of millions of ATMs around the world, so you're never far from one. 
Since Cirrus is an ATM network, not a payment card, you can't make payments in-person or online using Cirrus. Your card will either be a Maestro card or a MasterCard.
Maestro Card vs. MasterCard vs. Cirrus


MasterCard
Maestro Card
Cirrus
Logo
Short description
A credit card you can use to make purchases on credit
A debit card you can use to make purchases using your existing bank balance
A prepaid card you can use to make purchases using the card balance
A debit card you can use to make purchases using your existing bank balance
An ATM network you can use to withdraw cash
Withdraw cash at ATMs?
Yes
Yes
Yes
Make online and in-person purchases worldwide?
Yes, using credit or debit
Yes, using debit




Payment authorization
PIN or signature
PIN or signature


What are the benefits of a Maestro card?
For the user (you), the main benefit of a Maestro card is that it's a convenient way to spend and access your money around the world.

For the merchant, Maestro cards have lower fees than credit cards, since debit purchases accept the money from your account right away (unlike credit purchases, which you don't have to pay for 30 or more days).
How can a foreigner get a Maestro Card?
If you're American or otherwise foreign, you can still get a Maestro card by opening a bank account in Europe. Of course, some banks are more welcoming to foreigners than others, so you'll need to be wise when choosing which bank to go with.
After doing hours of research and trying to open several bank accounts, we highly recommend N26. If you want more information on the benefits and features of N26, as well as what you need to open an account, read our full N26 review.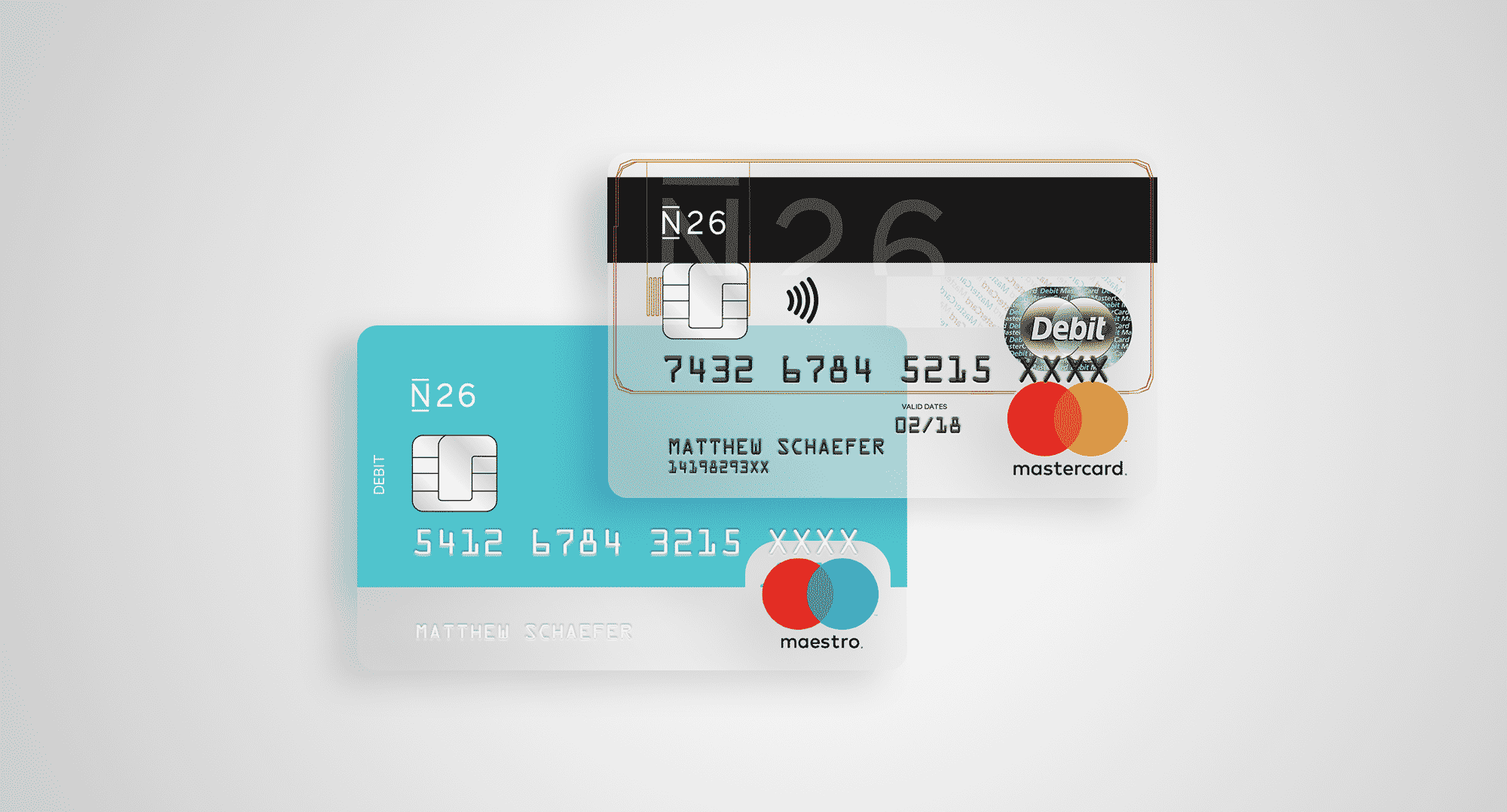 Some of the benefits of an N26 bank account include:
Free ATM withdrawals worldwide
State-of-the-art mobile app and online banking experience
Unlimited insurance coverage for foreign medical insurance, trip cancellation insurance, flight delay and baggage delay insurance,
Mobile phone theft coverage
Cash theft coverage
Extended warranty on purchases
Access to MasterCard World Elite Benefits
Special partner offers with WeWork, Hotels.com, Urban Sports Club and more
Note: Some of these benefits are only available to N26 You and N26 Metal users.

Benefits Of The N26 Maestro Card
Insurance Coverage: Before you scroll away thinking that your Maestro card comes with built-in insurance, it doesn't. What I mean here is that if you're covered by the travel & medical insurance policy that comes standard with N26 You and N26 Metal, every purchase you make with your Maestro card will be covered under those insurance policies, too.
Worldwide Spending: Your Maestro card can be used at retailers all over the world, both online and offline.
Joint Accounts: This isn't an "official" benefit, but go here to see our workaround for creating a joint N26 account using your Maestro card.
In-App Card Control: Toggle online payments and spending limits, reset your PIN, pay with Apple Pay and Google Pay, receive real-time transaction notifications, and a lot more–all in the N26 app.
Real-Time Transaction Notifications: Whenever money goes in or out of your account, whether it's a transfer you've initiated or a pre-authorized payment, you'll get a notification.
In Summary
If you live in Austria, Germany or the Netherlands and need a Maestro card, we suggest you take the easy route and get one with N26. If not, you probably won't need a Maestro card at all.

Also, since so many of you have been asking us for them, here's our full list of country-specific posts outlining how to ship anything from Amazon to any country in the world. Our 2-step method makes it as simple as humanly possible, and takes about 3 minutes total: Austria, Bahrain, Belgium, China, Cyprus, Denmark, Finland, Greece, Hong Kong, Hungary, Indonesia, Israel, Kuwait, Japan, Malaysia, New Zealand, Norway, Oman, Philippines, Poland, Portugal, Qatar, Russia, Saudi Arabia, Singapore, South Africa, South Korea, Sweden, Switzerland, Taiwan, Thailand, Turkey, Asia as a whole, Europe as a whole and the United Arab Emirates.
And here's another post on how to log out of Amazon.
While you're at it, international travelers should read our N26 review for the best way to get free ATM withdrawals the best rates on currency conversion - anywhere in the world.
Take Control Of Your Financial Future
Get the 5 personal finance tools every frequent traveler needs in 2020.

Today's Five Most Popular Posts: