The Most Dangerous Cities In The World
It's a question that comes up a surprising amount:
What are the most dangerous cities in the world?
We're going to look at the question from a traveler's perspective, to see which cities you should avoid visiting (if any), and look deeper into the reasons why that would be the case. If you live in one city for most or all of the year right now, you'll want to approach the question a bit differently, since we're ignoring metrics like local government corruption here.
The four major metrics we do look at are:
City-specific homicide rate
National crime rates for assaults and robberies
City-specific environmental risks
National environmental risks
Without further ado, let's get started.
Metric 1: Homicide Rate Per Capita
This is the first metric that usually comes to mind when thinking about a city's safety, and with good reason: you want to be able to answer the question Will I get killed? with a resounding No before you visit anywhere.
The Brazil-based Igarapé Institute had the most up-to-date information (2015), which The Economist had compiled into the neat graphic below. It's worth noting that of the top 50 cities, only Baltimore, USA, St. Louis, USA and Cape Town, South Africa were outside of the Latin America/Caribbean region.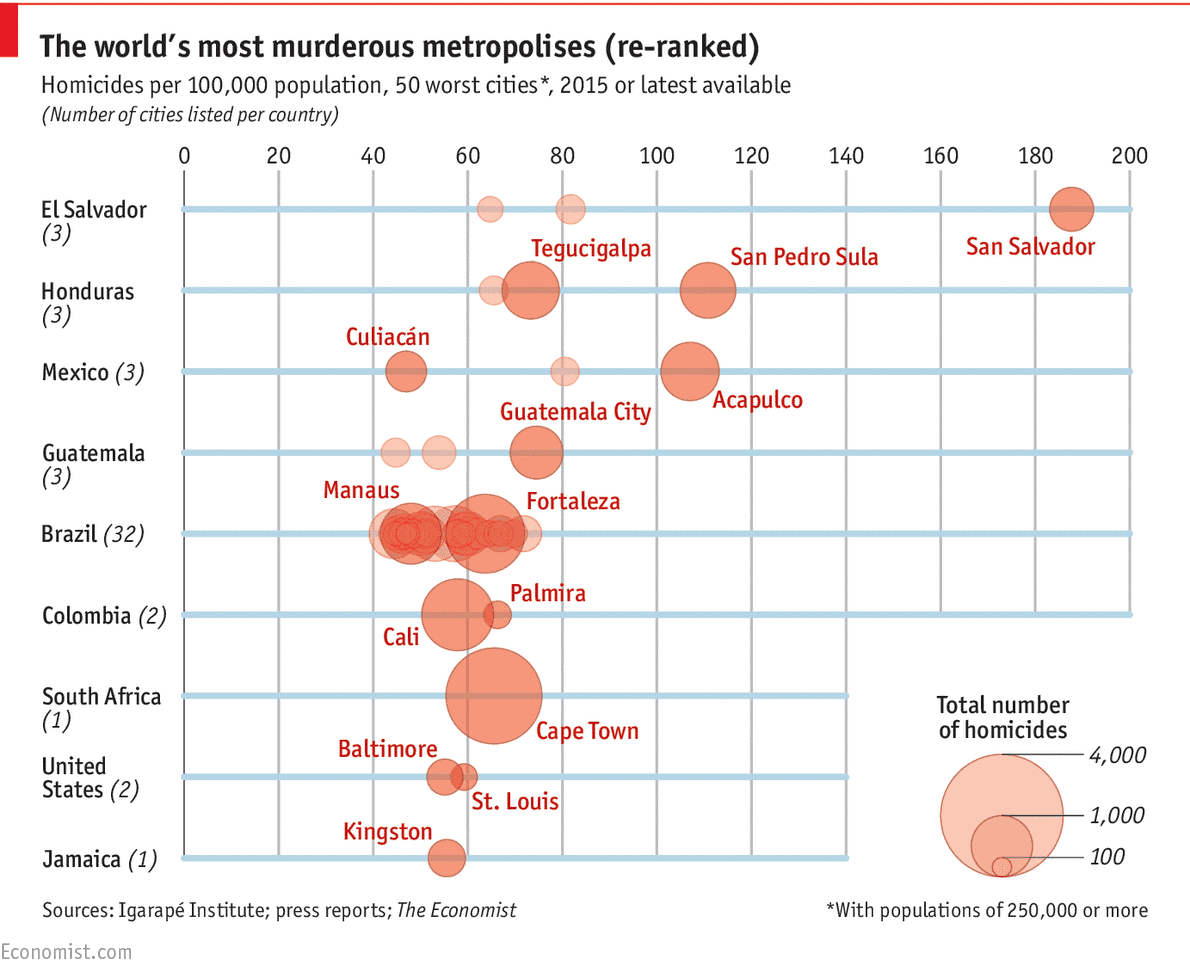 Did you notice something odd? A whopping 32 of the top 50 cities with the highest homicide rates are in Brazil! Thankfully, neither Rio de Janeiro nor Sao Paulo are on that list, so you can feel a bit safer when you're there. Also worth noting: as far as homicide goes, St. Louis is the most dangerous city in America.
While this data tells an interesting story, something even more intriguing comes up with a deeper dive into the homicide statistics provided by the United Nations: countries emerging from conflict actually have significantly lower homicide rates than you may expect. Using all of the data available to the United Nations Office on Drugs and Crime's Global Study on Homicide stretching back to 2007, each of Afghanistan, Sierra Leone, Liberia and Syria have homicide rates at or below the levels of the United States, which means from a purely homicide perspective you're about 10x safer by being in a random place in one of those countries than you are in one of St. Louis, Detroit or New Orleans.
To put these two above graphs in perspective, here's another look at some other major cities around the world.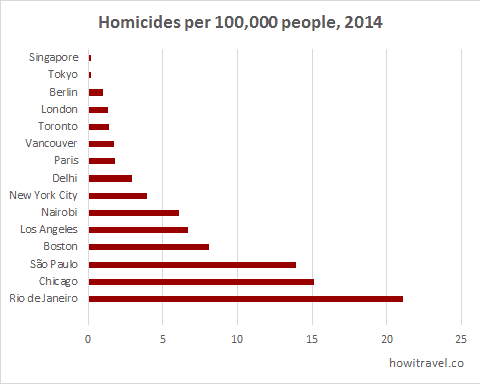 Takeaway: Homicide is still a problem around the world, but rates are much, much lower outside of Latin America and the Caribbean. Not a single city in Asia, Europe or Australia made the top 50, and major cities like Tokyo and Singapore have a homicide rate that's about 600x lower than San Salvador in 2014.
Metric 2: National Crime Rates Per Capita
While organizations like the Igarapé Institute have taken it upon themselves to measure homicide rates on a city level, that data is more difficult to find for other crimes like robberies and assaults. However, we can see those figures on a country level, which still help to paint the picture of which regions are traveler-friendly. Here's a graph showing the 50 countries with the highest robbery rates per capita.
These data aren't perfect, since some countries didn't have data available, but you get the general idea.
Interpreted pessimistically, you could say that you never want to visit Chile because of the high crime there. But interpreted optimistically, you could also say that, aside from the few countries at the top of this list, the other nations are actually doing significantly better. For example, the Dominican Republic, third on the list of most robberies per capita, has less than half the number of robberies as Chile, and the numbers continue to plummet from there. Lithuania, #19 on the list, experiences just 10% of the robberies as happen in Chile.
On top of that, the overall numbers are pretty low. If you were to spend a year in Chile, there's about a 1.3% chance that you'd be robbed in that year, and that's in the country with the most robberies in the world by far. Despite what you may have believed about the dangers of traveling abroad, the numbers are actually extremely low.
And here's a graph showing the 50 countries with the highest assault rates per capita.
The story is similar. Even in Scotland, where the most per capita assaults in the world occurred in 2011, you only face a 1.7% chance of experiencing it if you're there for an entire year.
Metric 3: City-Specific Environmental Risks
The Lloyd's City Risk Index, created by the University of Cambridge, looks at city-specific risk factors for 301 cities around the world to project the GDP at risk for each of those cities for the years 2015-2025. Of the 301 cities, they've calculated that a massive $4.56 trillion is at risk, with a third of that coming from just the top 20 cities. They list over 20 risk factors that put cities in danger, so we looked at the four that we believe to be most relevant to travelers (as opposed to residents) of a certain city: earthquakes, tsunamis, terrorism, and human pandemics/disease. From that data, we looked at the top 20 cities with the most GDP at risk from these particular four threats. Keep in mind that this data is not a perfect proxy for your personal safety in a city, since larger cities have more GDP available and thus hold a larger aggregate risk, but observing the trends is valuable nonetheless.
Category 1: Earthquake
Asian, Middle Eastern and South American cities are the most at-risk cities for earthquakes, with nearly $500 billion at risk from earthquakes across all cities.
Category 2: Tsunami (18 cities)
East Asian and west coast North American cities see the most risk of tsunami, thanks to the volatile fault lines of the Pacific Ocean. There's a great New Yorker piece called The Really Big One that goes in-depth on the specifics of these fault lines, which is definitely worth a read.
Category 3: Terrorism
Middle Eastern cities comprise most of the list here, though many of the top 20 – Kabul, Riyadh, Tehran, Izmir, Kano, Karachi, Ibadan, etc. – aren't on the top of most travelers' destination lists anyway. Also, terrorism plays a much, much smaller role in overall safety than the media lets on.
Category 4: Human Pandemic/Disease
Given how quickly disease spreads in cities of high population densities, it's no surprise that Asian cities dominate this list. Hong Kong, one of the densest cities in the world and where the SARS virus was most prevalent, sits at the top of the list.
Takeaway: While these numbers indicate some general trends, be cautious about putting too much faith in them or making travel decisions based solely on them. While Hong Kong may experience the greatest GDP loss in the case of another pandemic, that definitely doesn't mean you should avoid the city altogether, or even that your odds of catching a disease increase if you spend a month in Hong Kong rather than London. These numbers are speculative and should be taken with a grain of salt.
Metric 4: National Environmental Risks
Every year the United Nations University publishes a World Risk Report that breaks down the most environmentally vulnerable countries around the world. They use this formula to determine how much risk a country faces.
As you can see, it boils down to two things: how exposed is a country to environmental risk (geography and topography play major roles here), and how vulnerable is that country based on the societal measures they've taken to shield themselves from that risk. That's why two neighboring countries who share a lot of topographical features can fall in totally different places on this metric: one of them has taken the necessary measures to protect itself from harm, while the other hasn't.
I've included the top 20 at-risk nations on here, as well as Australia, the United States, the United Kingdom, Canada, and Qatar (the least at-risk nation) for comparability. It's also worth noting that although Japan is in the top 20 list here, that's because of their exposure to environmental risks, not because they've allowed themselves to become a vulnerable nation. In fact, of the 50 countries facing the most environmental risk, Japan does the best job of managing its vulnerability to minimize the damages that may arise from its (perhaps unfortunate) location.
Ranking the most dangerous cities in the world isn't easy
Getting a holistic view of how dangerous a city is is not a straightforward task. We've cut the question up into a few different components, but synthesizing them into a single metric becomes an extremely difficult endeavor that becomes susceptible to all types of error, so we're choosing to abstain. Instead, we think it's more valuable to adjust the way you approach your travel planning to new cities.
For example, should you avoid cities like San Salvador (highest homicide rate in the world), Mumbai (highest terrorism risk in the world), and Hong Kong (highest pandemic risk in the world)? Absolutely not. In a lot of cases, places like New Orleans, one of the most dangerous cities in the US that comes in near the top on both the homicide and the environmental risk charts, can be more of a risk than the cities we've been conditioned to believe are the most dangerous. Medellin, Colombia is a perfect example of the opposite: though it was named the homicide capital of the world as recently as a decade ago, the city has cleaned up its act enough to remove itself from the top 50 entirely. Don't believe everything you see on TV.
How to stay safe when traveling abroad
Regardless of whether you're visiting somewhere known to be dangerous or not, there are some simple steps you can take to stay safe when traveling abroad:
Consult your home government for up-to-date regional advisories before visiting a country. They'll notify you of any climate, political, or economic items you should be aware of, and provide instructions for how to act if something does happen when you're visiting. Here's where to get that information for Canada, the USA, Australia, and the UK.
Get a discreet money belt so you can hold your cash and passports on you safely without having them in your pockets. We like this one made by AmazonBasics.
Stick with friends. This one is obvious: you've got strength in numbers.
At the end of the day, just about every country, and every city within every country, has dangerous pockets, but most parts of most countries are relatively safe to travel to. Be smart, but definitely don't travel in fear – the world is too much of a wonderful place to worry about what's around every corner.
Sources:
Also, since so many of you have been asking us for them, here's our full list of country-specific posts outlining how to ship anything from Amazon to any country in the world. Our 2-step method makes it as simple as humanly possible, and takes about 3 minutes total: Austria, Bahrain, Belgium, China, Cyprus, Denmark, Finland, Greece, Hong Kong, Hungary, Indonesia, Israel, Kuwait, Japan, Malaysia, New Zealand, Norway, Oman, Philippines, Poland, Portugal, Qatar, Russia, Saudi Arabia, Singapore, South Africa, South Korea, Sweden, Switzerland, Taiwan, Thailand, Turkey, Asia as a whole, Europe as a whole and the United Arab Emirates.
And here's another post on how to log out of Amazon.
While you're at it, international travelers should read our N26 review for the best way to get free ATM withdrawals the best rates on currency conversion - anywhere in the world.
Take Control Of Your Financial Future
Get the 5 personal finance tools every frequent traveler needs in 2020.

Today's Five Most Popular Posts: