N26 Black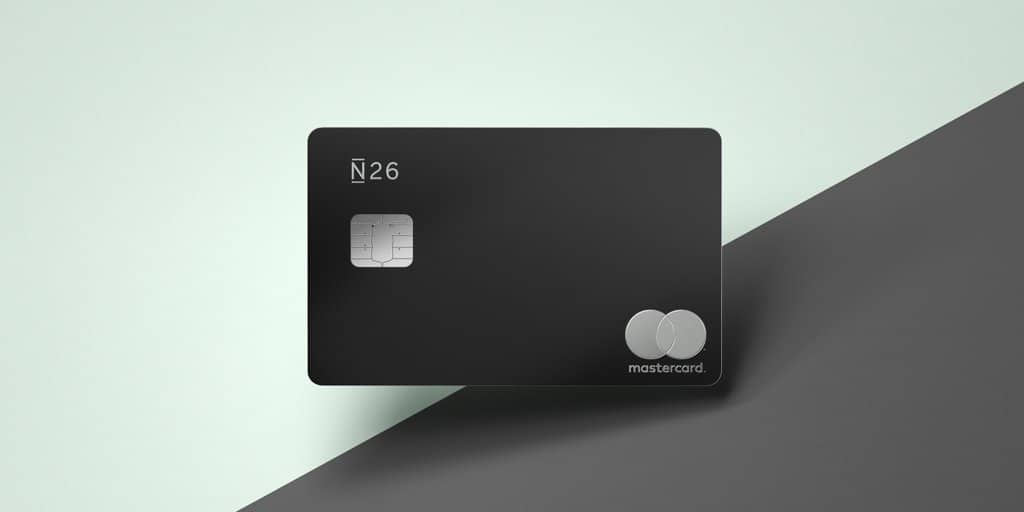 After using N26 Black for several years, as well as testing out dozens of other bank accounts (both traditional and online banks), we believe N26 Black is the best premium credit card and bank account for most users.
With features like free worldwide ATM withdrawals, exceptional travel insurance coverage and fee-free foreign transactions in any currency, N26 Black will change the way you bank in the best way possible.
July 16, 2019 Update: As of today, N26 Black has been renamed N26 You.
N26 Black is probably the hottest banking product in the world right now. The premium account of N26, N26 Black comes with a host of impressive benefits, including travel insurance and fee-free ATM withdrawals anywhere in the world. But as someone thinking of signing up, you're asking yourself: <em>why N26</em>? We've written this post to help you decide whether N26 is right for you.
This review is split into ten distinct sections:
#1 What Is N26?
Put simply, N26 is the best online bank for most people.
N26 offers a host of great features, including:
Free worldwide ATM withdrawals: Wherever you are in the world, N26 Black and N26 Metal members can withdraw from any ATM at the inter-bank exchange rate with zero fees, as if you're still at home.
Free international money transfers: Send an unlimited number of money transfers to friends, colleagues, suppliers, customers–all for free.
An extremely powerful app: Toggle online payments and spending limits, reset your PIN, pay with Apple Pay and Google Pay, receive real-time transaction notifications, and a lot more–all in the N26 app.
N26 Black and N26 Metal, the bank's super-premium account, also come with an exceptional travel & medical insurance plan, which includes:
Medical expenses up to an unlimited amount.
Travel cancellation insurance up to €5,000 per trip.
Flight and luggage delay insurance up to €400.
Stolen cash insurance up to €500.
Stolen mobile phone insurance up to €300.
Extended warranty on purchases up to €500.
There's a lot more to the N26 insurance policy than that–including why we recommend combining N26 with SafetyWing for the ultimate travel & medical insurance combination–but this gives you a good idea of what N26 is all about.
Now that you know the basics of N26, let's dive deeper into their premium account: N26 Black.
#2 Features Of N26 Black
There are two features of N26 Black that are going to change the way you bank: free worldwide ATM withdrawals and its exceptional travel & medical insurance policy.
We're going to look at both of these in detail in the next two sections.
For now, though, here are a few more features worth getting excited about:
Apple Pay. That's right – as of December 11, 2018, Apple Pay is in Germany, and N26 adopted it right away. You can now pay anywhere in Germany that accepts Apple Pay with your N26 card. Google Pay works, too.
Real-time transaction notifications. Whenever money goes in or out of your account, whether it's a transfer you've initiated or a pre-authorized payment, you'll get a notification.
Transaction categories. Every transaction is assigned a category like "Bars & Restaurants" or "Travel & Holidays" to keep track of your spending that way. Just another benefit of having a banking tool built by coders, rather than a piece of technology built by bankers.
PIN resets. Resetting your PIN at any time is as simple as logging into the app and changing it. No calling N26, no trips to the ATM, etc etc. 30 seconds and it's done.
Locking your card. Just like resetting your PIN, locking your card to make it unusable for a period of time is as simple as logging in and pressing the button. Unlocking it is just as easy.
Payments abroad, online payments and cash withdrawals. For your security, you can toggle these on and off at any time.
Spending and withdrawal limits. Another security feature that you can choose and change in the app at any time.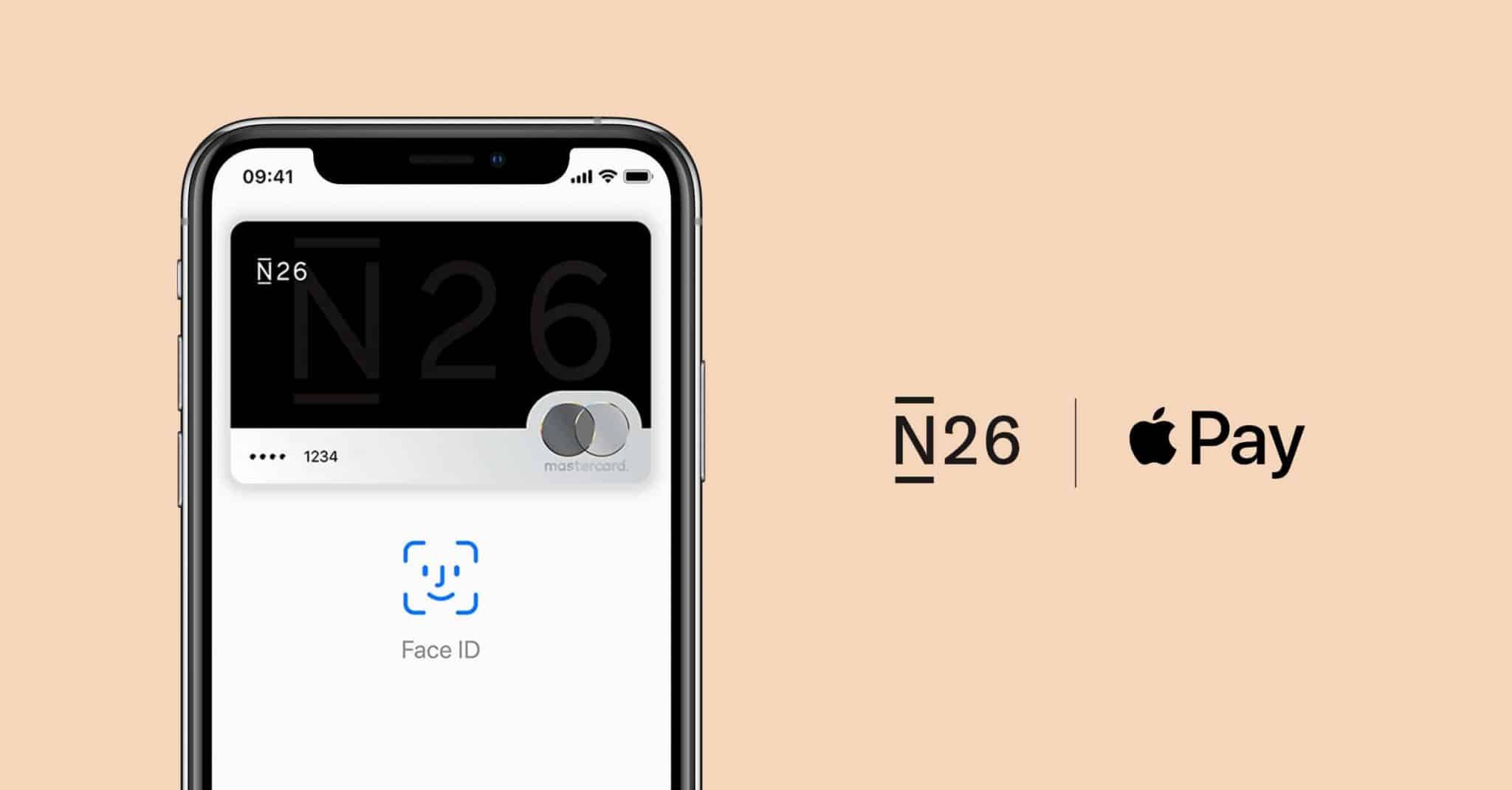 Contrary to what you may have heard, N26 Black does not come with airport lounge access. For that, you'll have to look at something like the American Express Platinum.
#3 Free Worldwide ATM Withdrawals
N26 partners with TransferWise to offer fee-free foreign currency withdrawals all around the world (read our in-depth TransferWise review here). What does that mean? It means that you can withdraw cash at the real exchange rate, which is the up-to-the-second exchange rate that banks use when sending money back and forth across borders. In other words, it's the most accurate – and also the most favorable – exchange rate you'll get anywhere in the world. And you can get it at any ATM that accepts MasterCard, which is just about all of them.
This alone has saved me an insane amount of money. As I described above, before N26 I had been paying about 5% per transaction when using any of my other debit or credit cards, which added up to nearly $100/month for me.
It took me years to realize how much I was paying in ATM and currency exchange fees, but now that I see it, I'm ashamed that I didn't make the switch earlier.
In contrast, here's a screenshot showing the recent withdrawal of 7,220 Thai baht that I made from an ATM in Bangkok, alongside the real exchange rate from xe.com. Since my withdrawal occurred at 7:36pm Thailand time (7 hours ahead of UTC), the closest historical exchange rate I could find was from 24 minutes later, though you can clearly see that I'm paying the mid-market rate.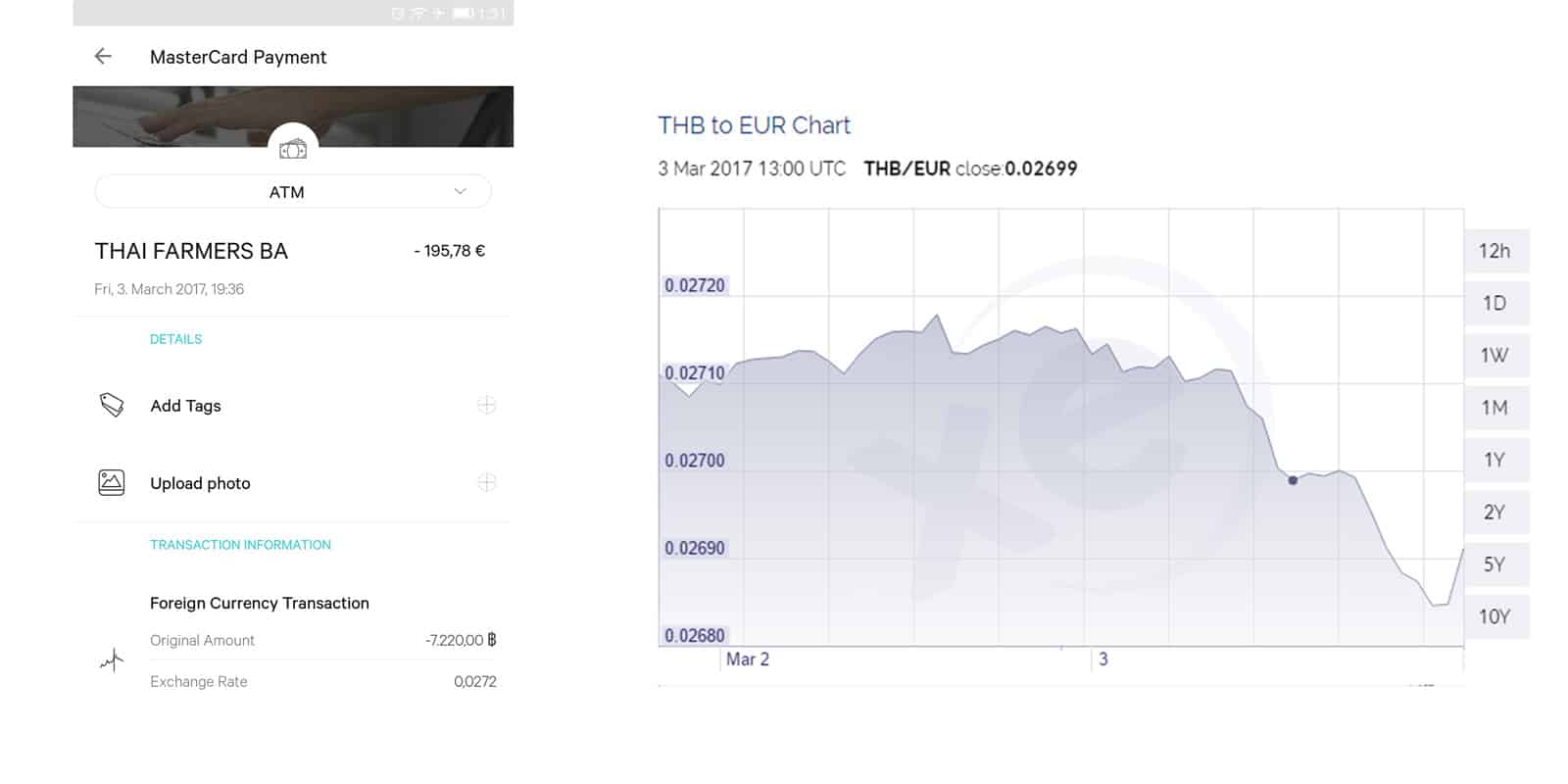 It's also worth noting that with all N26 accounts, including N26 Black, you pay the real exchange rate on every foreign purchase too, so paying by card is a great option anywhere in the world that accepts MasterCard.
#4 Travel & Medical Insurance
One of the most valuable perks of N26 Black is the travel and medical insurance coverage that comes with the card. Here's a quick outline of what's covered:
| | |
| --- | --- |
| Pay-per-day travel insurance | Insurance already included |
| Flight/baggage delay insurance (after 4 hours) | Up to €400 |
| Reimbursement for stolen cash | Up to €500 |
| Reimbursement for stolen mobile phone | Included up to €300 |
| Extended warranty on purchases | Up to €500 |
| Trip cancellation insurance | Up to €5,000 |
| Car rental / public transportation accident insurance | YES |
Note: If you're looking for a truly watertight travel insurance policy, check out our review of SafetyWing insurance, which offers an extremely comprehensive $37/month policy. Our ultimate recommendation? Combine N26 & SafetyWing together for truly incredible coverage.
#5 The Costs
| | |
| --- | --- |
| Monthly Fee | €9.90/month |
| Foreign Currency ATM Withdrawals | Free |
| Account Overdraft | 8.9% per annum |
| Bank Transfers | Free up to an unlimited amount |
If earning cashback on your transactions is important to you, take a look at N26 Business, which pays a flat rate of 0.1% cashback on every transaction made on your account (that's $100 back for every $10,000 spent).
#6 Comparing N26, N26 Black and N26 Metal
| | | | |
| --- | --- | --- | --- |
| | N26 Standard | N26 Black | N26 Metal |
| Monthly Fee | €0 | €9.90 | €16.90 |
| Free ATM withdrawals in Euros | ✔ | ✔ | ✔ |
| 0% Foreign Payments Fee In Any Currency | ✔ | ✔ | ✔ |
| Worldwide ATM Withdrawal Fees | 1.7% | 0% | 0% |
| Travel Insurance | | ✔ | ✔ |
| Extended Warranty | | ✔ | ✔ |
| Cash Protection | | ✔ | ✔ |
| Mobile Phone Theft Insurance | | ✔ | ✔ |
| Access to MasterCard World Elite Benefits | | ✔ | ✔ |
| Dedicated Customer Support | | | ✔ |
| Partner Offerings | | | ✔ |
| Tungsten Card | | | ✔ |
Note: N26 also offers N26 Business, an account designed for freelancers and small business owners.
#7 N26 Black vs. Revolut Premium
If you're doing research on online banks, odds are you've come across Revolut, too. As we learned more about Revolut (and even wrote a full Revolut review), though, we realized that they simply can't compete with N26.
N26 Black has a far-superior insurance plan to Revolut Premium, better currency exchange rates on foreign transactions and ATM withdrawals, and a lot more. As such, we cannot recommend Revolut.
Here's a very quick summary of the differences:
| | | |
| --- | --- | --- |
| | N26 Black | Revolut Premium |
| Monthly fee | €9.90/month | £7/month |
| ATM withdrawal limit | No limit | £400/month, 2% fee thereafter |
| Travel & medical insurance | Excellent | Mediocre |
| Virtual disposable cards | NO | YES |
This comparison doesn't look as lopsided as it actually is. When you factor in just how much better N26's insurance policy is than Revolut's, and how much you'll save on ATM withdrawals (taking out £2,000/month will cost you £32 in fees with Revolut Premium), N26 Black handily beats Revolut Premium every time.
#8 The Quantitative Case For N26 Black
From a purely quantitative standpoint, there is a clear breaking point: when you withdraw €582 of a foreign currency in a given month. Why €582? It's simple.
N26 Black saves money for everyone withdrawing €582 or more of a foreign currency in any given month.
If you are a regular N26 user, you pay 1.7% on foreign cash withdrawals, which is a withdrawal of any currency other than Euros. If you're an N26 Black user, you don't pay any fee for those foreign withdrawals, but you do pay €9.90/month. So, if we divide €9.90 by 1.7%, you get €582, the monthly breakeven point that makes it financially worth it to you to get N26 Black.
Of course, there are a lot of other factors that play in here as well, most notably the travel, medical and purchase insurance coverage that comes with N26 Black. That's a bit tougher to quantify, though, since you can't predict when you'll need to use it, so this €582 breakeven point is a good reference.
#9 How To Sign Up For N26 Black
We're very confident that N26 Black is the best premium banking product for most people, digital nomad or not. It's easy to use, offers a host of relevant benefits, and offers far more value than its €9.90 monthly fee.
You don't need an N26 promo code to sign up for N26 Black–simply click the button below and you're all set.
#10 N26 Black FAQs
Can I use N26 if I'm not a European citizen?
As you can see here, you can open an N26 account from any of the following countries: Germany, Austria, Switzerland, Ireland, France, Spain, Italy, the Netherlands, Belgium, Portugal, Finland, Luxembourg, Slovenia, Estonia, Greece, Slovakia, Poland, Sweden, Denmark, Norway, Liechtenstein, Iceland, and the United States.
For example, I'm Canadian, but I signed up for N26 as soon as I moved to Berlin.
If you live in one of the countries above AND are a citizen of one of the 164 countries below, you can sign up for N26:
Is TransferWise safe to use?
YES. Millions of people, including myself, use TransferWise (the currency conversion platform that N26 has partnered with) to send money to international friends or businesses every month. They're a completely reputable money transfer service, and unlike other banks, you receive regular updates on the status of your transfer as it's being sent. Due to their unique approach to currency conversions, you pay about 8x less in fees than you would by sending money through a traditional bank. There have been zero reported cases of TransferWise fraud. Based in London, we reviewed TransferWise here.
---
---