N26 Business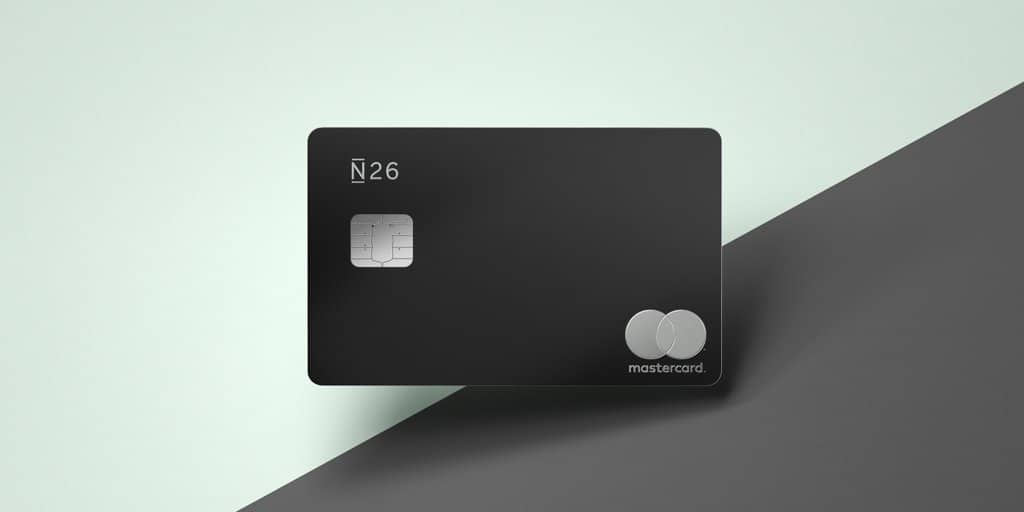 After testing all of the major offerings from the online-only banks, we've found N26 Business to be the best banking option for freelancers and the self-employed.
With features like 0.1% cashback on your purchases, unlimited bank transfers and exportable transaction data, we believe N26 Business is the best bank for small business owners and freelancers.
#1 What Is N26?
Put simply, N26 is the best online bank for most people.
N26 offers a host of great features, including:
Free worldwide ATM withdrawals: Wherever you are in the world, N26 Black and N26 Metal members can withdraw from any ATM at the inter-bank exchange rate with zero fees, as if you're still at home.
Free international money transfers: Send an unlimited number of money transfers to friends, colleagues, suppliers, customers–all for free.
An extremely powerful app: Toggle online payments and spending limits, reset your PIN, pay with Apple Pay or Google Pay, receive real-time transaction notifications, and a lot more–all in the N26 app.
N26 Black, N26's premium account, and N26 Metal, its super-premium account, also come with an exceptional travel & medical insurance plan, which includes:
Medical expenses up to an unlimited amount.
Travel cancellation insurance up to €5,000 per trip.
Flight and luggage delay insurance up to €400.
Stolen cash insurance up to €500.
Stolen mobile phone insurance up to €300.
There's a lot more to the N26 insurance policy than that–including why we recommend combining N26 with SafetyWing for the ultimate travel & medical insurance combination–but this gives you a good idea of what N26 is all about.
#2 What Is N26 Business?
N26 Business is exactly what it sounds like: the business equivalent of N26. It's available in all European countries where N26 already operates. As I write this, the list includes Germany, Austria, Ireland, France, Spain, Italy, the Netherlands, Belgium, Portugal, Finland, Lithuania, Latvia, Luxembourg, Slovenia, Estonia, Greece and Slovakia.
It's designed for self-employed and freelance users doing business under their own name, which means that you can't have your company's name on the account or card.
There are two restrictions to know about when it comes to N26 Business:
You cannot have two N26 accounts at the same time. This means that if you have an N26 Business account and want to charge personal expenses not related to your business, you should sign up for an N26 Maestro Card, which is the easiest way to create an N26 joint account outside of Apple Pay.
You cannot change your N26 account from a business account to a personal account, so you'll want to be sure that N26 Business is right for you before choosing it on your N26 application.
#3 Features Of N26 Business
N26 Business shares nearly all of the features of a regular N26 account, including all of the features included here:
Apple Pay. That's right – as of December 11, 2018, Apple Pay is in Germany, and N26 adopted it right away. You can now pay anywhere in Germany that accepts Apple Pay with your N26 card.
Real-time transaction notifications. Whenever money goes in or out of your account, whether it's a transfer you've initiated or a pre-authorized payment, you'll get a notification.
Transaction categories. Every transaction is assigned a category like "Bars & Restaurants" or "Travel & Holidays" to keep track of your spending that way. Just another benefit of having a banking tool built by coders, rather than a piece of technology built by bankers.
PIN resets. Resetting your PIN at any time is as simple as logging into the app and changing it. No calling N26, no trips to the ATM, etc etc. 30 seconds and it's done.
Locking your card. Just like resetting your PIN, locking your card to make it unusable for a period of time is as simple as logging in and pressing the button. Unlocking it is just as easy.
Payments abroad, online payments and cash withdrawals. For your security, you can toggle these on and off at any time.
Spending and withdrawal limits. Another security feature that you can choose and change in the app at any time.
On top of these features, N26 Business offers two additional benefits worth noting:
0.1% cashback on all purchases. This doesn't sound like much, though if you spend $10,000 on your business each month, that's $100 back in your pocket, a nice bonus. The cashback is deposited directly into your account at the end of each quarter.
Exportable transaction data. Easily export your transaction data in CSV format for easy accounting.
#4 Costs Of N26 Business
N26 Business, just like a regular N26 account, is completely free.
However, this means that you don't get the travel and medical insurance that comes with N26 Black and N26 Metal, a truly impressive offering that we recommend combining with SafetyWing.
Here's a full breakdown of the costs of N26 Business:
| | |
| --- | --- |
| | N26 Business |
| Monthly Fee | Free |
| Euro ATM Withdrawals | Free |
| Foreign Currency ATM Withdrawals | 1.7% fee |
| Account Overdraft | 8.9% per annum |
| Bank Transfers | Free up to an unlimited amount |
| Cryptocurrency Transactions | Not available |
| Foreign Currency Transactions | Inter-bank rate |
#5 N26 Business Black
If you're already a fan of N26 Black, then you'll certainly be a fan of N26 Business Black, too. It offers all the features and benefits of N26 Black at the same monthly price of €9.90/month.
Just like N26 Business, though, the added bonus here is that you'll also receive 0.1% cashback on all your transactions, paid back into your account at the end of each quarter.
#6 How To Sign Up
We're very confident that N26 Business is the best business banking product for most people. It's easy to use, offers a wide variety of benefits, and best of all, is completely free.
You don't need an N26 promo code to sign up for N26 Business–simply click the button below and you're all set.
---
---