Anul trecut, am scris cea mai cuprinzătoare recenzie bancară N26 pe Internet, care a fost citită de zeci de mii de călători, nomazi digitali și entuziaști bancari online din orice colț al lumii.
Și totuși, atât de cuprinzător, am avut o mulțime de cititori români care mi-au pus întrebări specifice cu privire la utilizarea N26.
Deci, aici, vreau să clarific câteva înțelegeri neplăcute pentru toți utilizatorii români care se alătură N26 și să demonstreze de ce N26 este probabil o opțiune bancară mai bună pentru tine decât oricare dintre celelalte bănci moldovenesci și, de asemenea, de ce N26 este o alegere mai bună decât alte companii online bănci precum Revolut, Monzo, Curve și Simple.
Ce este N26?
N26 este o bancă exclusivă online destinată nomazilor digitali, călătorilor frecvenți și oricui altcineva care apreciază simplitatea, designul minunat și cele mai mici taxe posibile din partea băncii.
De exemplu, contul meu N26 mă salvează în fiecare an de mii de euro din retragerile gratuite la nivel mondial de ATM, cele mai bune rate de schimb pe planetă (datorită parteneriatului lor cu TransferWise) și un plan remarcabil de asigurare de călătorie – toate acestea fiind incluse în cartea mea .
De aceea am scris o revizuire bancară de 3000 de cuvinte N26 anul trecut, care detaliază experiența mea. Această revizuire acoperă toate produsele în profunzime, inclusiv N26 Black, N26 Metal, CASH26, INVEST26 și altele.
De asemenea, vă va arăta exact momentul în care aveți sens să vă faceți upgrade la N26 Black și cum să profitați la maximum de toate avantajele de tip avantaj, cum ar fi asigurarea de întârziere a zborurilor, asigurarea telefonului mobil și asigurarea de anulare a călătoriei.
Și am menționat aproape toate aceste avantaje, plus mult mai mult, sunt absolut gratuite?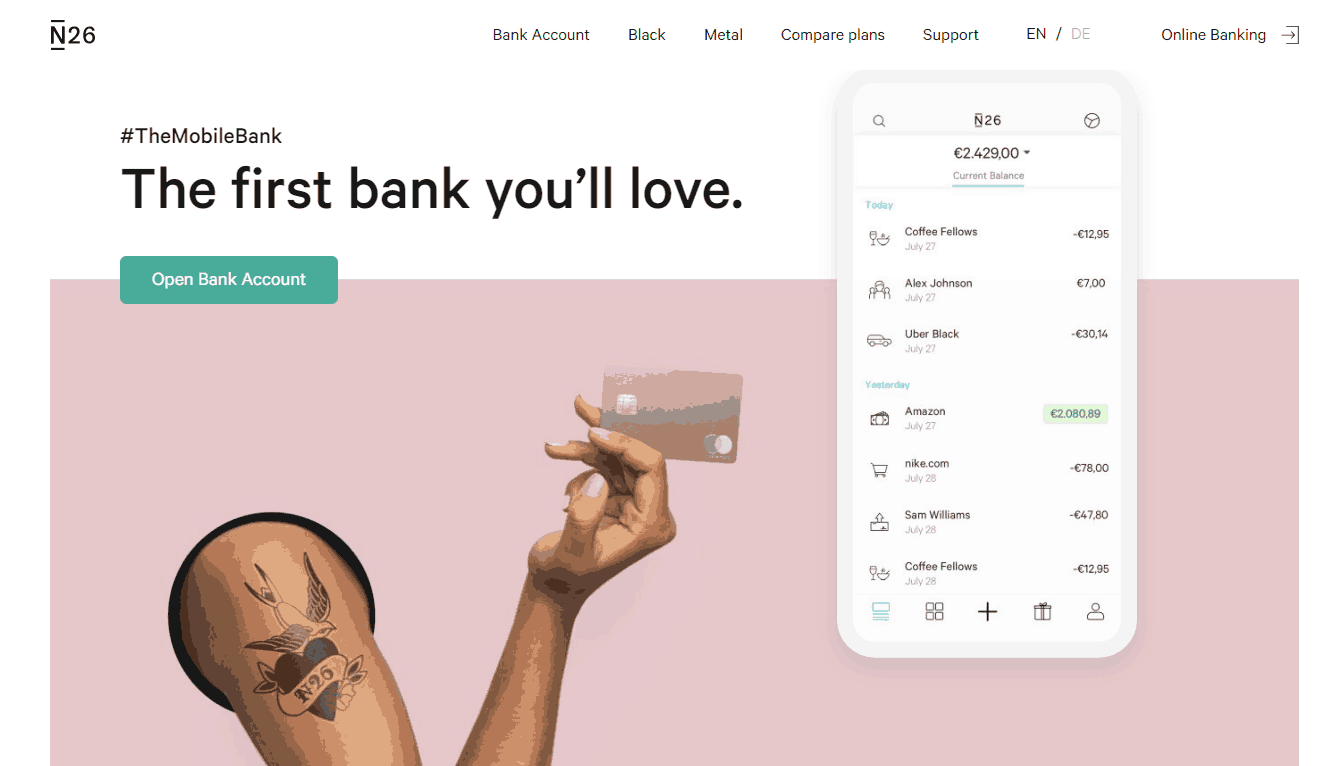 Beneficiile N26
Abonamente gratuite la ATM din întreaga lume. Indiferent unde vă aflați în lume, N26 nu vă va percepe nicio taxă pentru retragerea de numerar de la un ATM (spre deosebire de cele mai multe bănci, care percep taxe de 2-10 USD pe retragere din străinătate prin ATM). Dacă sunteți în planul gratuit al N26, veți plăti o taxă de conversie valută de 1,7% în plus față de rata medie a pieței, ceea ce este mai bun decât ceea ce oferă aproape orice altă bancă de consum.
Notificări privind tranzacțiile în timp real. Ori de câte ori banii intră sau ies din contul dvs., fie că este vorba despre un transfer pe care l-ați inițiat, fie despre o plată pre-autorizată, veți primi o notificare.
Categorii de tranzacții. Fiecare tranzacție are o categorie precum "Baruri & Restaurante" sau "Călătorii & Vacanțe", astfel încât să puteți urmări cu ușurință cheltuielile dvs.
Restabilirea PIN-ului. Resetarea codului PIN în orice moment este la fel de simplă ca și logarea în aplicație și schimbarea acesteia. Nu este apelat N26, nu excursii la ATM, etc etc 30 de secunde și este făcut.
Blocarea cardului. La fel ca resetarea codului PIN, blocarea cardului dvs. (pentru al face inutilizabil pentru o perioadă de timp) este la fel de simplă ca și logarea și apăsarea butonului. Deblocarea este la fel de ușoară.
Plăți în străinătate, plăți on-line și retrageri de numerar. Pentru siguranța dvs., le puteți activa și dezactiva în orice moment.
Limitele de cheltuieli și de retragere. O altă caracteristică de securitate pe care o puteți alege și o puteți schimba în aplicație în orice moment.
N26 este disponibil în Moldova?
Da! După cum puteți vedea aici, puteți deschide un cont N26 din oricare dintre următoarele țări: Germania, Austria, Irlanda, Franța, Spania, Italia, Olanda, Belgia, Portugalia, Finlanda, Luxemburg, Regatul Unit, Polonia, Suedia, Danemarca și Norvegia.
As you can see here, you can open an N26 account from any of the following countries: Germany, Austria, Ireland, France, Spain, Italy, the Netherlands, Belgium, Portugal, Finland, Luxembourg, Slovenia, Estonia, Greece, Slovakia, the UK, Poland, Sweden, Denmark, and Norway.
For example, I'm Canadian, but I signed up for N26 as soon as I moved to Berlin.
If you live in one of the countries above AND are a citizen of one of the 164 countries below, you can sign up for N26:
Pot să retrag bani gratis cu cardul meu N26 când sunt în Moldova?
Da! După cum demonstrez în revistă bancară N26 originală, beneficiați de retrageri gratuite la nivel mondial cu cardul N26 Black, care include și ATM-urile din Moldova. Dacă nu aveți N26 Black și sunteți pe planul gratuit al N26, plătiți o taxă de 1,7% din suma totală de retragere.
Pentru a vă arăta ce vreau să spun, iată o captură de ecran care arată recenta retragere a 7.220 de bahturi thailandeze pe care am făcut-o de la un ATM din Bangkok, alături de cursul de schimb real de la xe.com. Amintiți-vă: oricând retrageți numerar sau efectuați o tranzacție în valută cu N26, plătiți rata medie a pieței și nu un ban mai mult.
Pot să folosesc încă asigurarea care vine cu cardul N26 Black, chiar dacă locuiesc în Moldova?
Da! Condițiile de viață în Moldova nu vă fac mai puțin eligibile să utilizați asigurarea livrată împreună cu cartea dvs. N26 Black. Iată doar câteva exemple despre care va fi acoperită polița de asigurare de pe cardul dvs. N26 Black:
Cheltuieli medicale până la o sumă nelimitată dacă aveți o urgență medicală în străinătate (fără deductibilitate).
Cheltuieli stomatologice de urgență până la maximum 250 EUR (nu sunt deductibile).
Cheltuielile pe care le efectuați din cauza unei întârzieri de zbor de 4 ore sau mai mult, până la maximum 400 € (nu este deductibilă).
Cheltuielile pe care le suportă dacă bagajele dvs. sosesc cu întârziere de peste 6 ore, până la maximum 400 EUR (nu se deductează).
Rambursarea pentru un telefon mobil furat care a fost achiziționat cu contul dvs. N26 Black, până la maximum 300 EUR (50 EUR deductibile).
Rambursare pentru numerar furat dacă vă aflați răpit până la 4 ore după retragerea de numerar de la un ATM cu cartea dvs. N26 Black, până la maximum 500 € (fără deducere).
Garanție extinsă de până la un an suplimentar pentru articolele achiziționate direct cu cardul N26 Black și toate metodele de plată asociate cu cardul dvs., cum ar fi un cont PayPal conectat, până la maximum 500 € (50 € deductibile).
Asigurarea de anulare a călătoriei la fiecare călătorie înainte de începerea călătoriei, până la maximum 5.000 € pe călătorie (10-20% deductibilă).
What insurance comes with N26 Black and N26 Metal?
N26 Black and N26 Metal comes with an impressive travel and medical insurance plan to keep you safe and secure on the road. It's not quite as comprehensive as the SafetyWing insurance plan, which we highly recommend combining with your N26 membership, but it does cover a lot:
Medical expenses up to an unlimited amount if you have a medical emergency while abroad (No deductible).
Emergency dental expenses up to a maximum of €250 (No deductible).
Expenses you incur due to a flight delay of 4 hours or longer, up to a maximum of €400 (No deductible).
Expenses you incur if your luggage arrives more than 6 hours late, up to a maximum of €400 (No deductible).
Reimbursement for a stolen mobile phone that was purchased with your N26 Black account, up to a maximum of €300 (€50 deductible).
Reimbursement for stolen cash if you get mugged up to 4 hours after withdrawing cash from an ATM with your N26 Black card, up to a maximum of €500 (No deductible).
Extended warranty of up to one additional year on items purchased directly with your N26 Black card and all payment methods associated with your card, such as a linked PayPal account, up to a maximum of €500 (€50 deductible).
Travel cancellation insurance on every trip before the trip commences, up to a maximum of €5,000 per trip (10-20% deductible).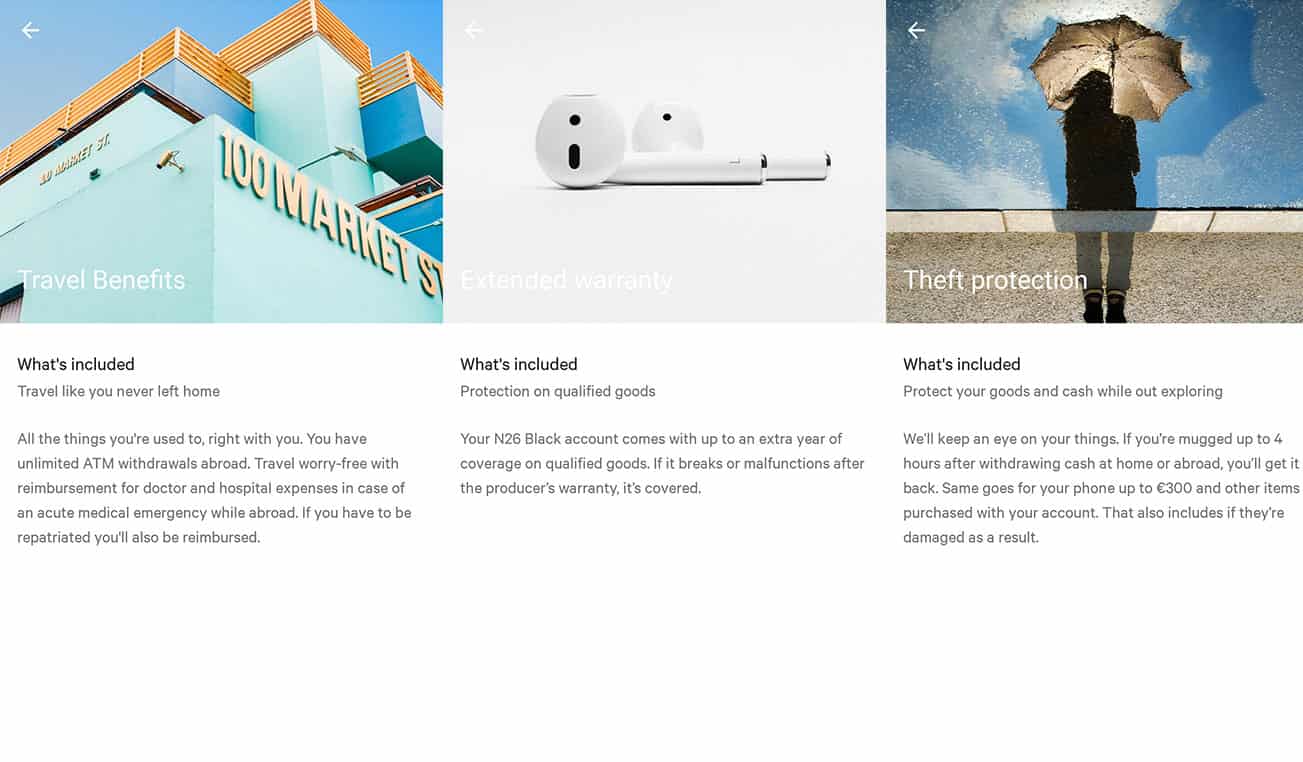 How much does N26 cost?
N26's fee structure is eight pages long and pretty dense, so here's the important stuff:
N26 Black costs €9.90/month, while N26 Metal costs €16.90/month.
Withdrawing foreign currency (any currency but Euros) anywhere in the world: Free for N26 Black and N26 Metal members, or 1.7% for N26 users on the free plan.
N26 Metal
N26 Metal includes all of the benefits of N26 Black listed above, plus dedicated (priority) customer support and, of course, the metal card itself. I recently wrote a 2,000-word N26 Metal review that goes deep into N26's super-premium card.
N26 Metal also comes with a growing number of exclusive partner offers and benefits, which rival the benefits of much more expensive premium credit cards like the American Express Platinum. These benefits include:
N26 Metal currently costs €16.90/month.
How To Sign Up For N26
With its impressive insurance policy, fee-free foreign cash withdrawals, and the app's ease of use, I really couldn't be happier as a member of N26 Black.
It's made banking a lot easier and cheaper for me, and has solved a lot of the messy problems I had before (ie. expensive and vague travel/medical insurance policies, plus spending nearly $100/month on hidden ATM and currency exchange fees).
And you don't even need an N26 promo code to get started (Spoiler: N26 promo codes have gone extinct).
To sign up, you just need to provide standard personal information (name, date of birth, etc.) and a valid ID or passport.
Once you've signed up, verified your ID in the app and paired your smartphone (it takes 8 minutes total), they'll send you your free MasterCard in the mail. Mine took just 2 days to arrive, and it comes in a pretty sleek package.
Comment below if you have questions about N26 and I'll do what I can to answer them, or you can also reach N26's support team via their app or website.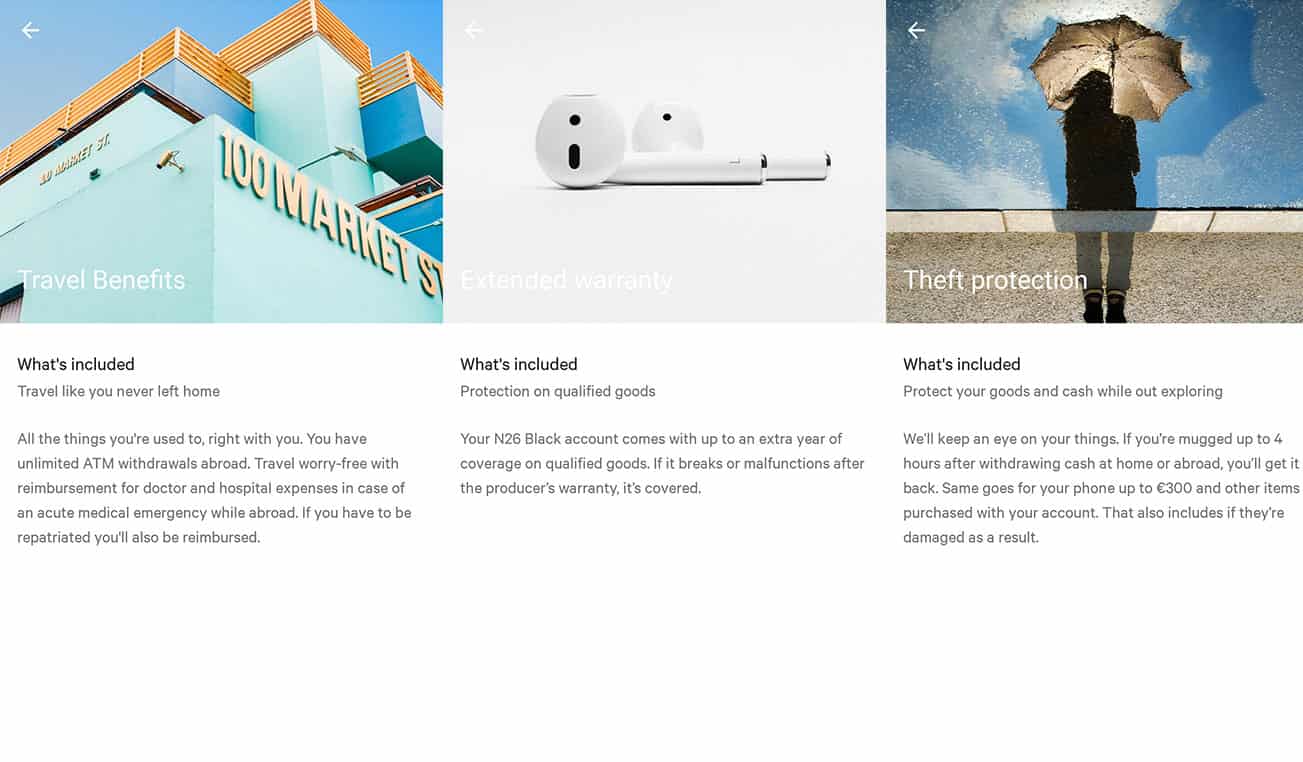 Cât costă N26 în Moldova?
Structura taxei N26 are o lungime de opt pagini și este destul de densă, deci iată lucrurile importante:
N26 Black costă 9,90 EUR / lună, în timp ce N26 Metal costă 16,90 EUR / lună.
Retragerea valutei străine (orice monedă, dar euro) oriunde în lume: gratuit pentru membrii N26 Black și N26 Metal, sau 1,7% pentru utilizatorii N26 pe planul gratuit.
N26 Metal
N26 Metal include toate avantajele N26 Black enumerate mai sus, plus suport dedicat (prioritar) clienților și, bineînțeles, și cartelă metalică. Recent am scris o recenzie de 2.000 de cuvinte N26 Metal care merge adânc în cartea super-premium a lui N26.
N26 Metal vine și cu un număr de parteneri exclusivi care oferă aceleași avantaje ca și American Express Platinum. Aceste beneficii includ:
N26 Metal costă în prezent 16,90 EUR / lună.
Cum se pot înregistra utilizatorii români pentru N26
Cu politica sa impresionantă de asigurare, retrageri de numerar extern fără taxe și ușurința de utilizare a aplicației, nu am putut fi mai fericit ca membru al N26 Black.
Mi sa făcut mult mai ușor și mai ieftin bancar și am rezolvat multe dintre problemele dezordonate pe care le-am avut înainte (de exemplu, polițe de asigurare de călătorie scumpe și vagi, plus cheltuieli de aproape 100 USD pe lună pentru ATM ascunse și taxe de schimb valutar).
Și nici nu aveți nevoie de un cod promoțional N26 pentru a începe (codurile promoționale Spoiler: N26 au dispărut).
Pentru a vă înscrie, trebuie doar să furnizați informații personale standard (nume, data nașterii etc.) și un certificat sau pașaport valabil.
După ce v-ați înscris, v-ați confirmat ID-ul în aplicație și ați împerecheat telefonul smartphone (este nevoie de 8 minute în total), vă vor trimite gratuit cartea MasterCard prin poștă. Mina a luat doar 2 zile pentru a ajunge, și vine într-un pachet destul de elegant.
Observați mai jos dacă aveți întrebări despre N26 și voi face tot ce pot pentru a le răspunde, sau puteți ajunge la echipa de asistență a N26 prin intermediul aplicației sau al site-ului Web.
Also, since so many of you have been asking us for them, here's our full list of country-specific posts outlining how to ship anything from Amazon to any country in the world. Our 2-step method makes it as simple as humanly possible, and takes about 3 minutes total: Austria, Bahrain, China, Cyprus, Denmark, Finland, Hong Kong, Hungary, Indonesia, Israel, Kuwait, Japan, Malaysia, New Zealand, Norway, Oman, Philippines, Poland, Portugal, Qatar, Russia, Saudi Arabia, Singapore, South Africa, South Korea, Sweden, Switzerland, Taiwan, Thailand, Turkey, Asia as a whole, Europe as a whole and the United Arab Emirates.
While you're at it, international travelers should read our N26 review for the best way to get free ATM withdrawals the best rates on currency conversion - anywhere in the world.
Last updated June 26, 2019