Vorig jaar schreef ik de meest uitgebreide N26 bank review op internet, dat sindsdien is gelezen door tienduizenden reizigers, digitale nomaden en liefhebbers van online bankieren uit alle hoeken van de wereld.
Maar toch zo allesomvattend als het is, heb ik veel Nederlandse lezers gehad die mij vragen stelden over hoe N26.
Dus hier wil ik een paar misverstanden ophelderen voor Nederlandse gebruikers die toetreden tot N26, en ook aantonen waarom N26 waarschijnlijk een betere bankoptie voor u is dan welke andere Nederlandse bank dan ook, en ook waarom N26 een betere keuze is dan andere online banken zoals Revolut, Monzo, Curve en Simple.
Wat is N26?
N26 is een bank die alleen online is en is ontworpen voor digitale nomaden, frequente reizigers en iedereen die van eenvoud, geweldig design en de laagst mogelijke vergoedingen van hun bank houdt.
Mijn N26-account bespaart me bijvoorbeeld elk jaar duizenden euro's aan de gratis wereldwijde opnames van geldautomaten, de beste wisselkoersen ter wereld (vanwege hun partnerschap met TransferWise) en een opmerkelijk reisverzekeringsplan – alles is inbegrepen bij mijn kaart.
Daarom schreef ik een woord van 3.000 woorden N26 bank review vorig jaar gedetailleerd mijn ervaring. Die beoordeling omvat al hun producten diepgaand, inclusief N26 Black, N26 Metal, CASH26, INVEST26 en meer.
Het zal je ook de exacte tijd laten zien waarop het zinvol is om te upgraden naar N26 Black, en hoe je het meeste kunt halen uit alle extraatjes, zoals een vluchtvertragingsverzekering, een verzekering voor mobiele telefoons en een annuleringsverzekering, die daarbij horen.
En heb ik al bijna al deze extraatjes genoemd, plus nog veel meer, helemaal gratis?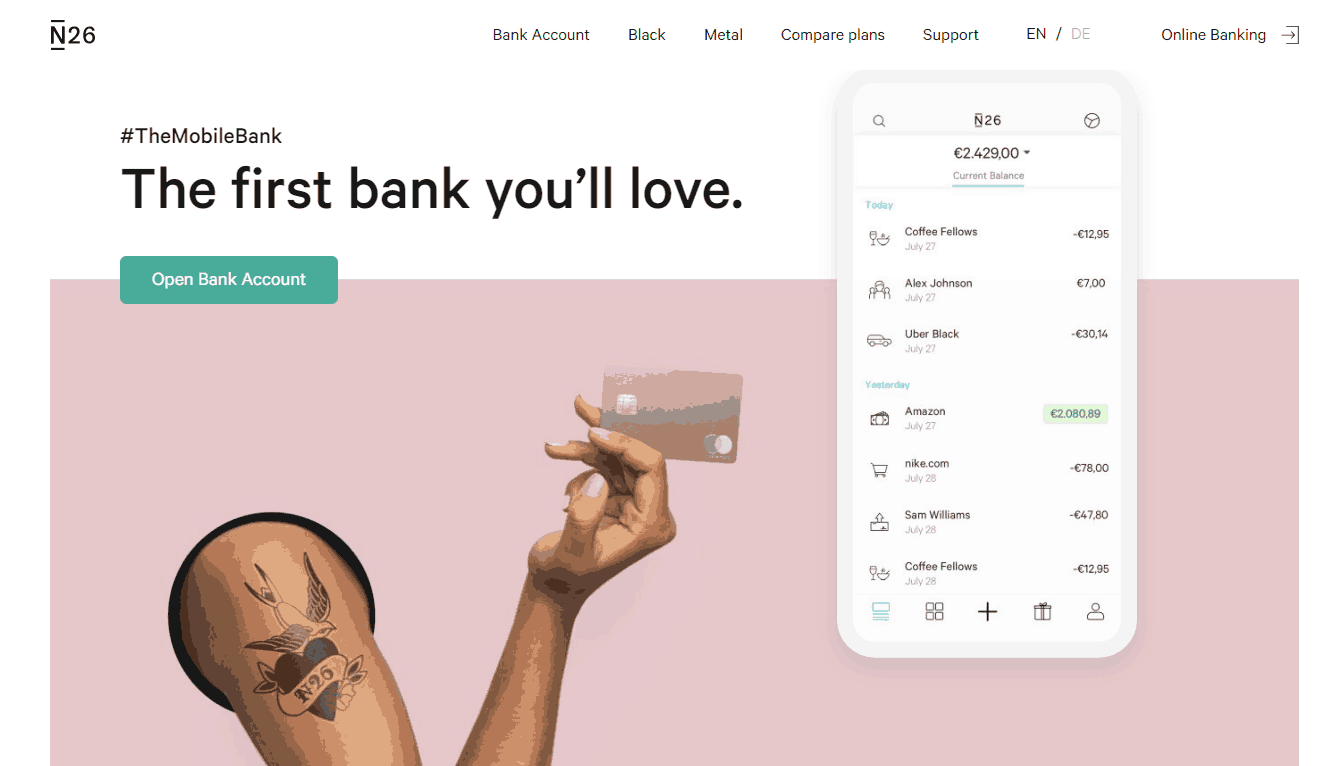 Voordelen van N26
Gratis geldopnames wereldwijd. Waar ter wereld u zich ook bevindt, N26 zal u nooit kosten in rekening brengen voor het opnemen van contanten bij een geldautomaat (in tegenstelling tot de meeste banken, die $ 2-10 in rekening brengen per buitenlandse pinautomaat). Als u op het gratis plan van N26 zit, betaalt u een conversiekoers van 1,7% bovenop de gemiddelde marktprijs, wat beter is dan wat bijna elke andere consumentenbank biedt.
Real-time transactiemeldingen. Als er geld in of uit uw account wordt gestort, ongeacht of het een overboeking is die u heeft uitgevoerd of een vooraf geautoriseerde betaling, ontvangt u een melding.
Transactiecategorieën. Elke transactie krijgt een categorie zoals "Bars & amp; Restaurants "of" Reizen & amp; Feestdagen ', zodat u eenvoudig uw bestedingen kunt bijhouden.
PIN wordt opnieuw ingesteld. Uw pincode op elk moment opnieuw instellen is net zo eenvoudig als inloggen op de app en deze wijzigen. Geen bellen N26, geen uitstapjes naar de geldautomaat, enz. Enz. 30 seconden en het is klaar.
Je kaart vergrendelen. Net zoals het opnieuw instellen van uw pincode, is het vergrendelen van uw kaart (om deze voor een bepaalde tijd onbruikbaar te maken) zo eenvoudig als inloggen en op de knop drukken. Ontgrendelen is net zo eenvoudig.
Betalingen in het buitenland, online betalingen en geldopnames. Voor uw veiligheid kunt u deze op elk gewenst moment in- en uitschakelen.
Uitgaven en opname limieten. Een andere beveiligingsfunctie die u op elk gewenst moment in de app kunt kiezen en wijzigen.
Is N26 verkrijgbaar in Nederland?
Ja! Zoals je hier kunt zien, u kunt een N26-account openen vanuit een van de volgende landen: Duitsland, Oostenrijk, Ierland, Frankrijk, Spanje, Italië, Nederland, België, Portugal, Finland, Luxemburg, Slovenië, Estland, Griekenland, Slowakije, het VK, Polen, Zweden , Denemarken en Noorwegen.
Dat betekent echter niet dat je een bent inwoner van die landen om een N26-account te openen.
Ik ben bijvoorbeeld Canadees, maar ik had mijn N26-kaart gemaild naar het huis van een vriend in Berlijn.
Op dezelfde manier, als je in een van de bovenstaande landen woont of een van de bovenstaande landen bezoekt (dus je kunt je N26-kaart ophalen), kun je lid worden van N26.
Burgers van een van deze 164 landen kunnen zich aanmelden voor N26:
Kan ik gratis geld opnemen met mijn N26-kaart als ik in Nederland ben?
Ja! Zoals ik aantoon in mijn origineel N26 bankreview, je krijgt gratis pinautomaten wereldwijd met je N26 Black-kaart, inclusief pinautomaten in Nederland. Als u geen N26 Black hebt en op het gratis plan van N26 zit, betaalt u een toeslag van 1,7% over het totale opnamebedrag.
Om te laten zien wat ik bedoel, hier is een screenshot van de recente intrekking van 7.220 Thaise baht die ik heb gemaakt van een geldautomaat in Bangkok, naast de echte wisselkoers van xe.com. Let op: wanneer u contant geld opneemt of een valutatransactie met N26 uitvoert, betaalt u de gemiddelde markthuur en geen cent meer.
Kan ik de verzekering die bij de N26 Black-kaart hoort nog steeds gebruiken, ook als ik in Nederland woon?
Ja! Wonen in Nederland maakt je niet minder geschikt om de verzekering te gebruiken die bij je zitN26 Zwarte kaart. Hier zijn slechts enkele voorbeelden van wat de verzekeringspolis op uw N26 Black-kaart zal dekken:
Medische kosten tot een onbeperkt bedrag als u in het buitenland een medisch noodgeval heeft (niet aftrekbaar).
Spoedeisende tandheelkundige kosten tot een maximum van € 250 (geen aftrekbaar).
Kosten die u maakt als gevolg van een vertraging van 4 uur of langer, tot een maximum van € 400 (geen aftrekbaar).
Kosten die u maakt als uw bagage meer dan 6 uur te laat aankomt, tot een maximum van € 400 (geen aftrekbaar).
Vergoeding voor een gestolen mobiele telefoon die is gekocht met uw N26 Black-account, tot een maximum van € 300 (€ 50 aftrekbaar).
Vergoeding voor gestolen contanten als u binnen 4 uur na inning van contanten bij een geldautomaat wordt ontmoedigd met uw N26 Black-kaart, tot een maximum van € 500 (geen aftrekbaar).
Verlengde garantie van maximaal één extra jaar op items die u rechtstreeks hebt gekocht met uw N26 Black-kaart en alle betaalmethoden die aan uw kaart zijn gekoppeld, zoals een gekoppeld PayPal-account, tot een maximum van € 500 (€ 50 aftrekbaar).
Reisannuleringsverzekering bij elke reis voordat de reis begint, tot een maximum van € 5.000 per reis (aftrekbaar van 10-20%).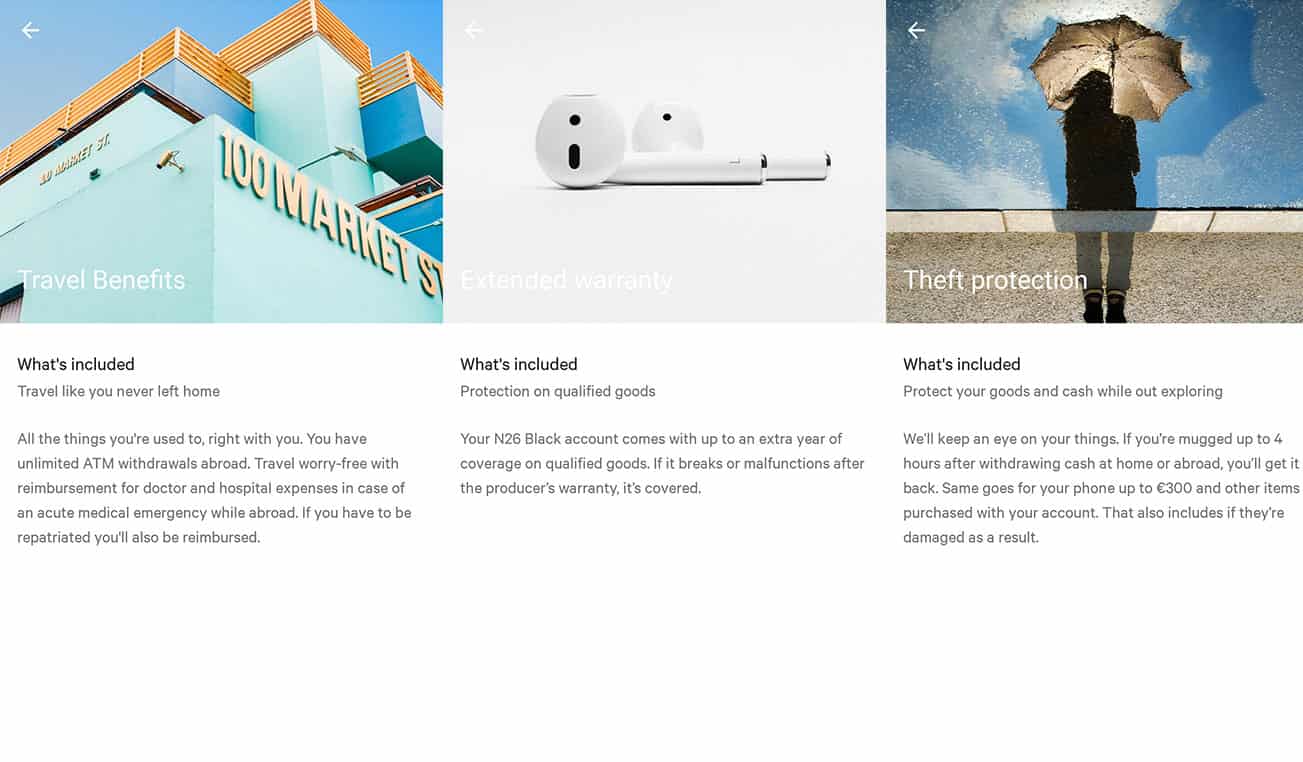 Hoeveel kost N26 in Nederland?
De vergoedingenstructuur van N26 is eight pages long en behoorlijk dicht, dus hier zijn de belangrijke dingen:
N26 Black kost € 9,90 / maand , terwijl N26 Metal € 16,90 / maand kost.
Opnemen in vreemde valuta (alle valuta's maar euro's) overal ter wereld: gratis voor N26 Black en N26 Metal-leden, of 1,7% voor N26-gebruikers in het gratis abonnement .
N26 Metal
N26 Metal omvat alle voordelen van N26 Black hierboven vermeld, plus speciale (prioriteits-) klantenondersteuning en, natuurlijk, de metalen kaart zelf. Ik heb onlangs een woord van 2000 geschrevenN26 Metal review die deep doorgaat naar de super premium-kaart van de N26.
N26 Metal komt ook met een groeiend aantal exclusieve aanbiedingen en voordelen voor partners, die wedijveren met de voordelen van veel duurdere premium creditcards zoals de American Express-platina. Deze voordelen zijn onder meer:
N26 Metal kost momenteel € 16,90 / maand.
Hoe Nederlandse gebruikers zich kunnen aanmelden voor N26
Met zijn indrukwekkende verzekeringspolis, gratis buitenlandse geldopnames en het gebruiksgemak van de app, zou ik echt niet gelukkiger kunnen zijn als lid van N26 Black.
Het maakt het bankieren een stuk eenvoudiger en goedkoper voor mij, en heeft veel van de rommelige problemen opgelost die ik eerder had (dat wil zeggen dure en vage reis- / ziektekostenverzekeringen, plus bijna $ 100 / maand aan verborgen geldautomaten en wisselgeld).
En je hebt niet eens een N26 promocode om aan de slag te gaan ( Spoiler: N26 promotiecodes zijn uitgestorven ).
To sign up, u hoeft alleen standaard persoonlijke informatie (naam, geboortedatum etc.) en een geldig legitimatiebewijs of paspoort te verstrekken.
Nadat je je hebt aangemeld, je ID hebt geverifieerd in de app en je smartphone hebt gekoppeld (dit duurt in totaal 8 minuten), sturen ze je je gratis MasterCard per post. De mijne duurde slechts 2 dagen om aan te komen, en het komt in een vrij slank pakket.
Reageer hieronder als je vragen hebt over N26 en ik zal doen wat ik kan om ze te beantwoorden, of je kunt het N26-ondersteuningsteam ook bereiken via hun app of website.
Also, since so many of you have been asking us for them, here's our full list of country-specific posts outlining how to ship anything from Amazon to any country in the world. Our 2-step method makes it as simple as humanly possible, and takes about 3 minutes total: Austria, Bahrain, China, Cyprus, Denmark, Finland, Hong Kong, Hungary, Indonesia, Israel, Kuwait, Japan, Malaysia, New Zealand, Norway, Oman, Philippines, Poland, Portugal, Qatar, Russia, Saudi Arabia, Singapore, South Africa, South Korea, Sweden, Switzerland, Taiwan, Thailand, Turkey, Asia as a whole, Europe as a whole and the United Arab Emirates.
While you're at it, international travelers should read our N26 review for the best way to get free ATM withdrawals the best rates on currency conversion - anywhere in the world.