N26 Review: Ireland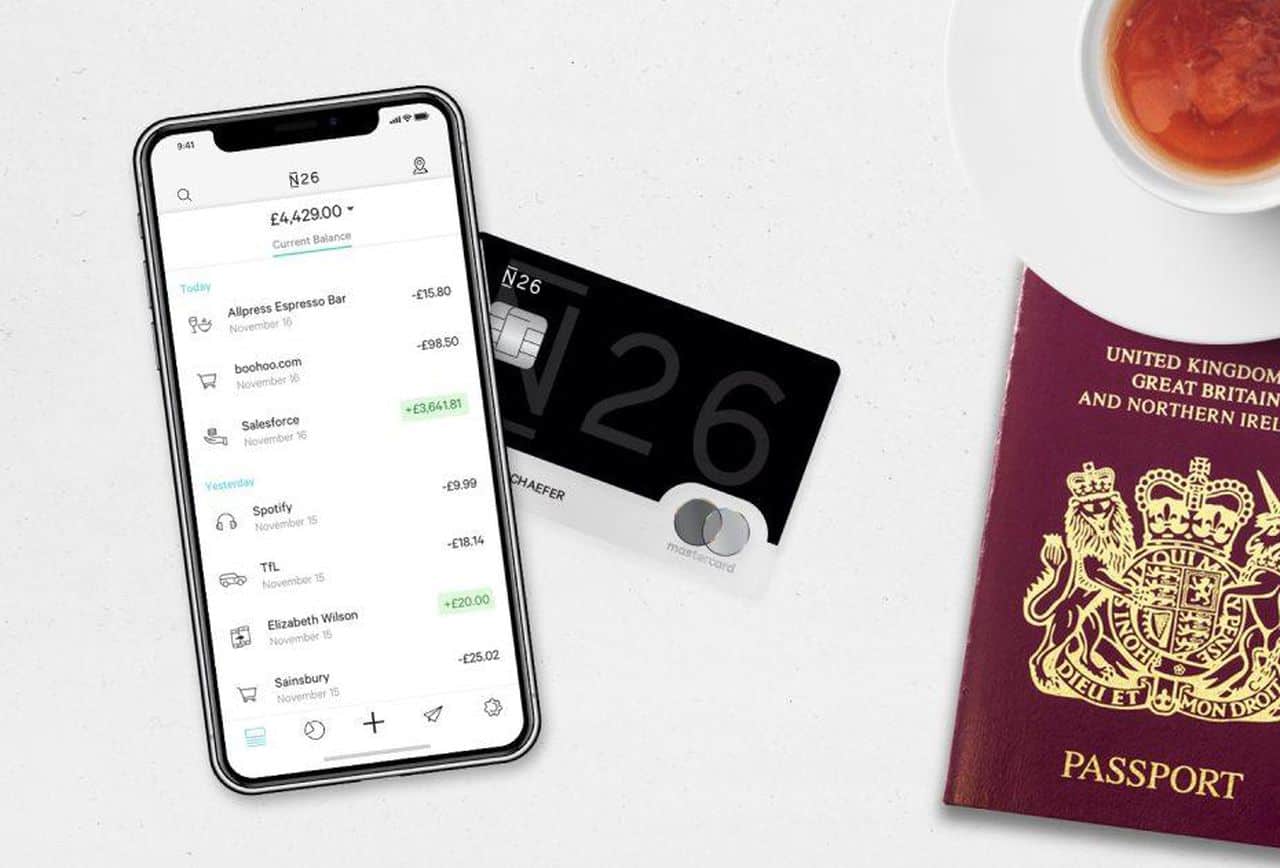 Last year, I wrote the most comprehensive N26 review on the Internet, which has since been read by tens of thousands of travelers, digital nomads and online banking enthusiasts from every corner of the world. Yet as all-encompassing as it is, there's still something missing: an N26 review specific to Ireland. So here, I want to clear up a few misunderstandings for any Irish users joining N26, and also demonstrate why N26 might be a better banking option for you than Bank of Ireland, First Trust, Danske Bank or any of the other Irish banks.
Is N26 Black available in Ireland?
Yes! As you can see here, N26 Black is currently available in Austria, Belgium, Estonia, Finland, France, Germany, Ireland, Italy, Latvia, Lithuania, Luxembourg, the Netherlands, Portugal, Slovakia and Spain. It's not yet available in the United States, the United Kingdom, Canada or Greece, though I've included country-specific review posts for those countries, too, due to popular demand. You can apply for N26 Black directly here.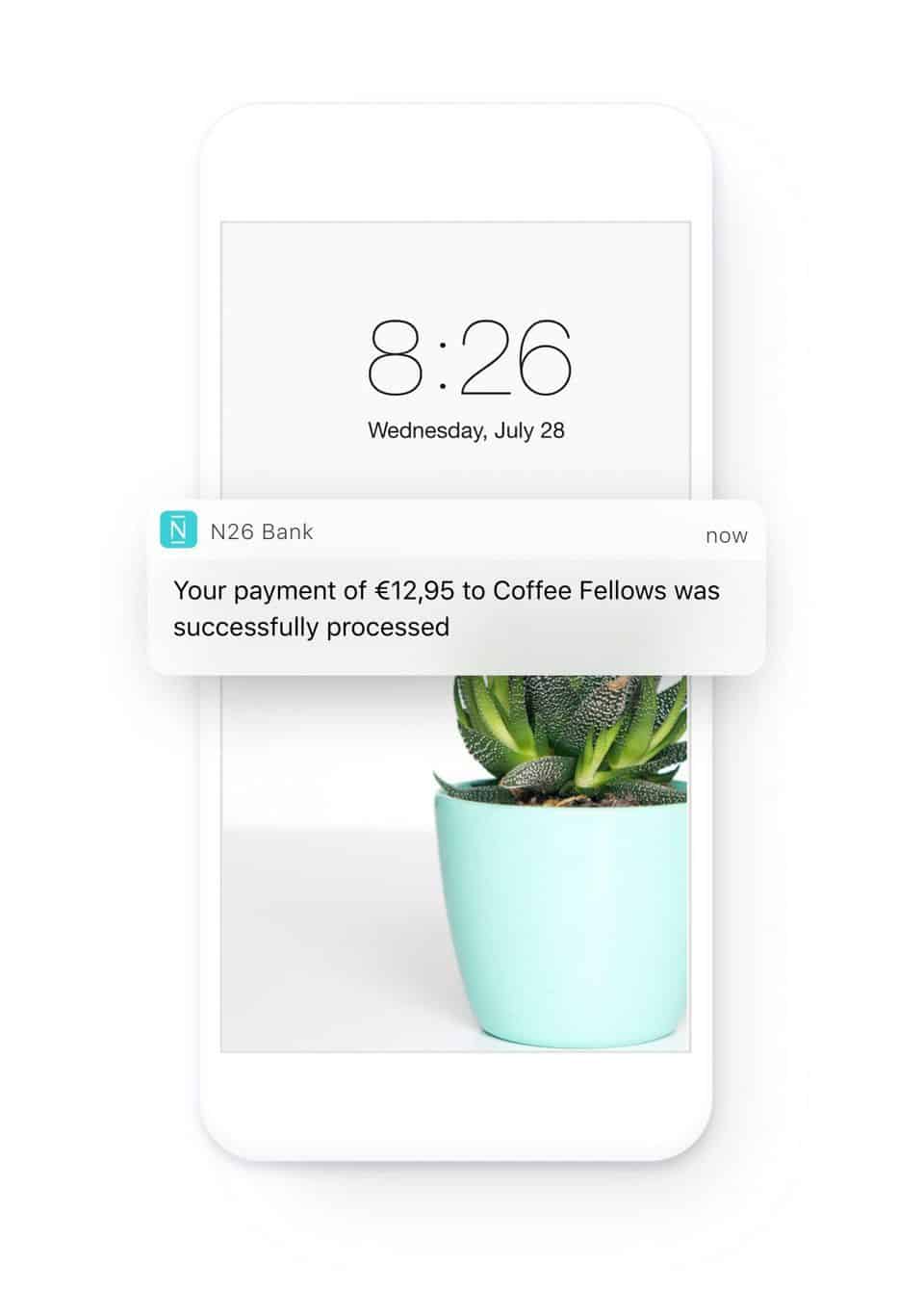 Can I withdraw money for free with my N26 Black when I'm in Ireland?
Yes! As I demonstrate in my original N26 review, you get free ATM withdrawals worldwide with your N26 Black card, which includes ATMs in Ireland. If you have the N26 free card, you pay a 1.7% fee on the total withdrawal amount.
To show you what I mean, here's a screenshot showing the recent withdrawal of 7,220 Thai baht that I made from an ATM in Bangkok, alongside the real exchange rate from xe.com. Remember: any time you withdraw cash or make a foreign currency transaction with N26, you pay the mid-market rate and not a penny more.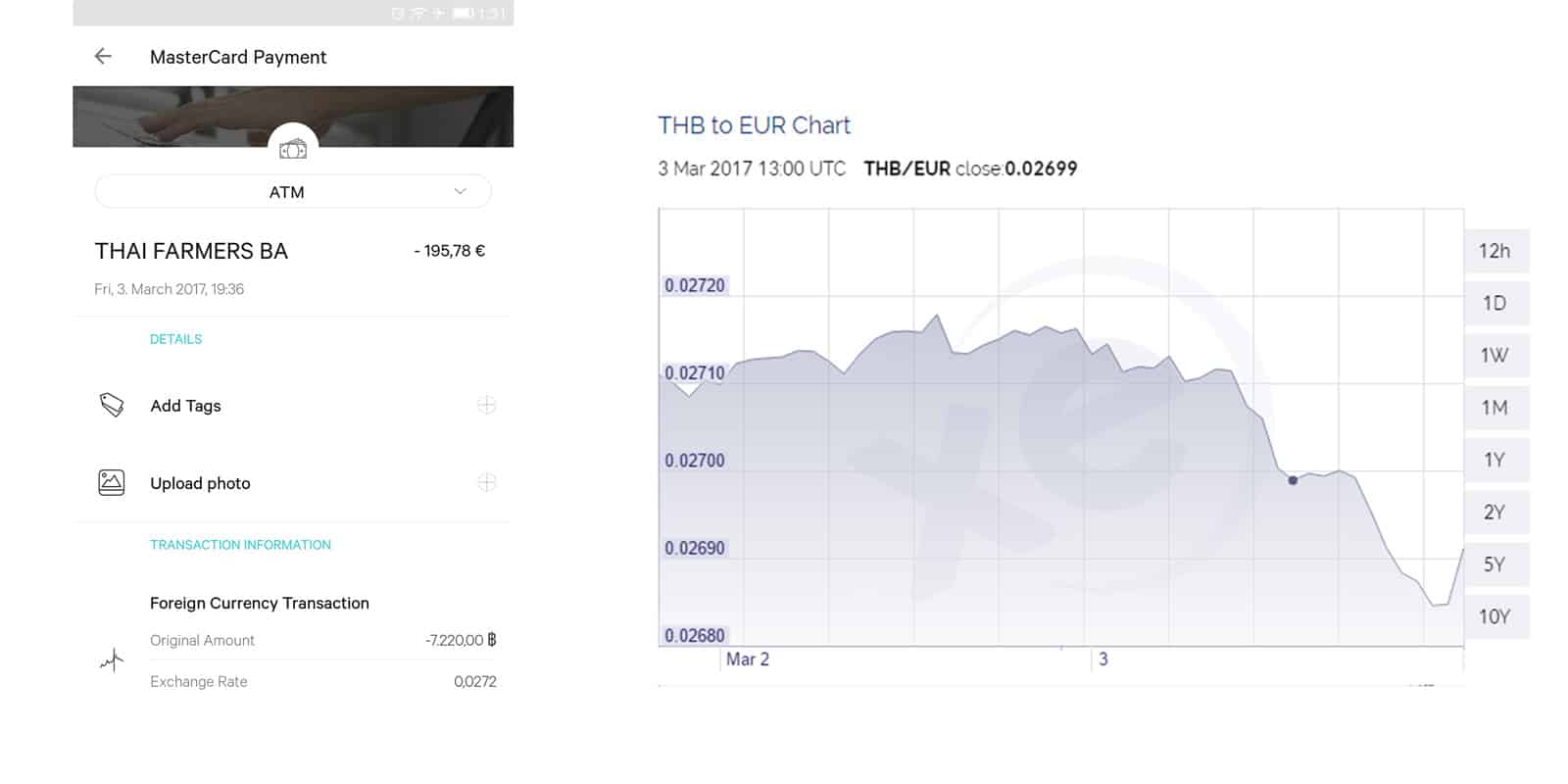 What insurance comes with N26 You and N26 Metal?
N26 You and N26 Metal comes with an impressive travel and medical insurance plan to keep you safe and secure on the road. It's not quite as comprehensive as the SafetyWing insurance plan, which we highly recommend combining with your N26 membership, but it does cover a lot:
Medical expenses up to an unlimited amount if you have a medical emergency while abroad (No deductible).
Emergency dental expenses up to a maximum of €250 (No deductible).
Expenses you incur due to a flight delay of 4 hours or longer, up to a maximum of €400 (No deductible).
Expenses you incur if your luggage arrives more than 6 hours late, up to a maximum of €400 (No deductible).
Reimbursement for a stolen mobile phone that was purchased with your N26 Black account, up to a maximum of €300 (€50 deductible).
Reimbursement for stolen cash if you get mugged up to 4 hours after withdrawing cash from an ATM with your N26 Black card, up to a maximum of €500 (No deductible).
Extended warranty of up to one additional year on items purchased directly with your N26 Black card and all payment methods associated with your card, such as a linked PayPal account, up to a maximum of €500 (€50 deductible).
Travel cancellation insurance on every trip before the trip commences, up to a maximum of €5,000 per trip (10-20% deductible).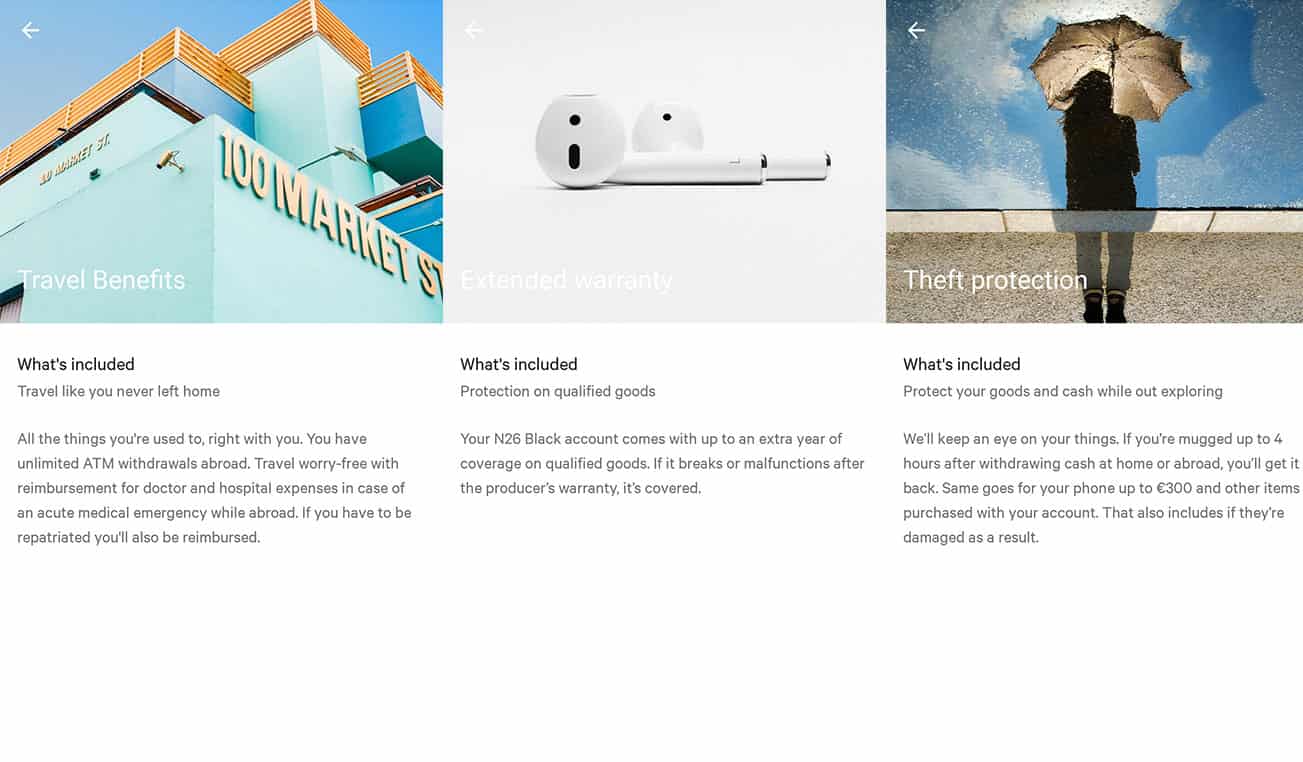 How much does N26 cost?
N26's fee structure is eight pages long and pretty dense, so here's the important stuff:
N26 Black costs €9.90/month, while N26 Metal costs €16.90/month.
Withdrawing foreign currency (any currency but Euros) anywhere in the world: Free for N26 Black and N26 Metal members, or 1.7% for N26 users on the free plan.
N26 Metal
N26 Metal includes all of the benefits of N26 Black listed above, plus dedicated (priority) customer support and, of course, the metal card itself. I recently wrote a 2,000-word N26 Metal review that goes deep into N26's super-premium card.
N26 Metal also comes with a growing number of exclusive partner offers and benefits, which rival the benefits of much more expensive premium credit cards like the American Express Platinum. These benefits include:
N26 Metal currently costs €16.90/month.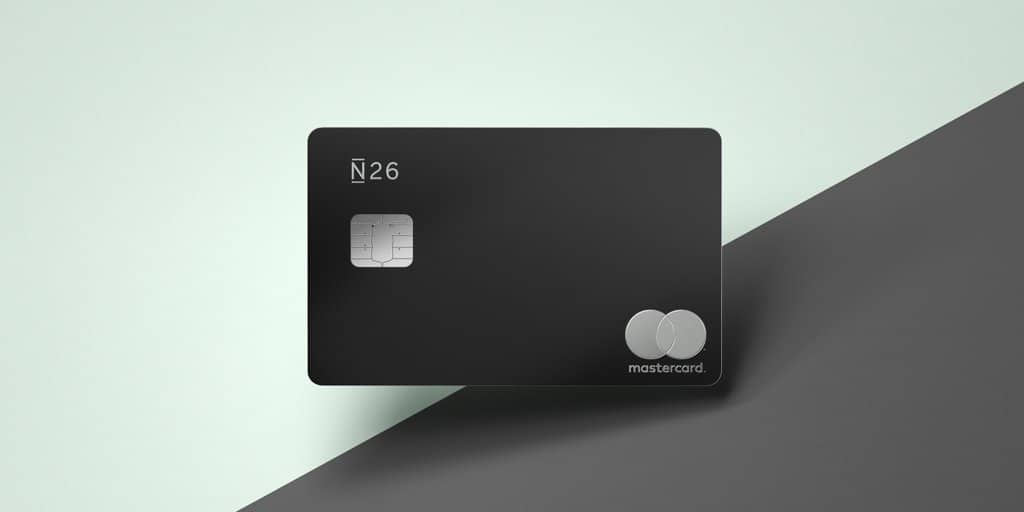 How To Sign Up For N26
With its impressive insurance policy, fee-free foreign cash withdrawals, and the app's ease of use, I really couldn't be happier as a member of N26 You.
It's made banking a lot easier and cheaper for me, and has solved a lot of the messy problems I had before (ie. expensive and vague travel/medical insurance policies, plus spending nearly $100/month on hidden ATM and currency exchange fees).
And you don't even need an N26 promo code to get started (Spoiler: N26 promo codes have gone extinct).
To sign up, you just need to provide standard personal information (name, date of birth, etc.) and a valid ID or passport.
Once you've signed up, verified your ID in the app and paired your smartphone (it takes 8 minutes total), they'll send you your free MasterCard in the mail. Mine took just 2 days to arrive, and it comes in a pretty sleek package.
Comment below if you have questions about N26 and I'll do what I can to answer them, or you can also reach N26's support team via their app or website.
---
---