L'année dernière, j'ai rédigé la plus complète des critiques de banques N26 sur Internet, qui a depuis été lue par des dizaines de milliers de voyageurs, passionnés de nomades numériques et de banques en ligne des quatre coins du monde.
Malgré tout, bien des lecteurs suisses m'ont posé des questions sur la façon d'utiliser N26.
Je souhaite ici dissiper quelques incompréhensions pour les utilisateurs suisses qui rejoignent la N26 et montrer également pourquoi la N26 est probablement une meilleure option bancaire pour vous que toutes les autres banques suisses, et pourquoi la N26 est un meilleur choix que les autres banques en ligne. banques comme Revolut, Monzo, Curve et Simple.
Qu'est-ce que N26?
N26 est une banque exclusivement en ligne conçue pour les nomades numériques, les grands voyageurs et tous ceux qui apprécient la simplicité, le design et les frais les plus bas possibles de leur banque.
Par exemple, mon compte N26 me permet d'économiser des milliers d'euros chaque année grâce aux retraits gratuits dans le monde entier aux guichets automatiques, aux meilleurs taux de change du monde (en raison de leur partenariat avec TransferWise) et à un remarquable plan d'assurance voyage, qui est inclus avec ma carte. .
C'est pourquoi j'ai écrit l'an dernier une revue de banque N26 de 3 000 mots détaillant mon expérience. Cette revue couvre tous leurs produits en profondeur, y compris N26 Black, N26 Metal, CASH26, INVEST26 et plus.
Il vous indiquera également l'heure exacte de la mise à niveau vers la N26 Black et la façon de tirer le meilleur parti de tous les avantages – avantages tels que l'assurance retard de vol, assurance pour téléphone portable et assurance annulation de voyage – qui l'accompagnent.
Et ai-je mentionné la quasi-totalité de ces avantages, et bien d'autres encore, sont totalement gratuits?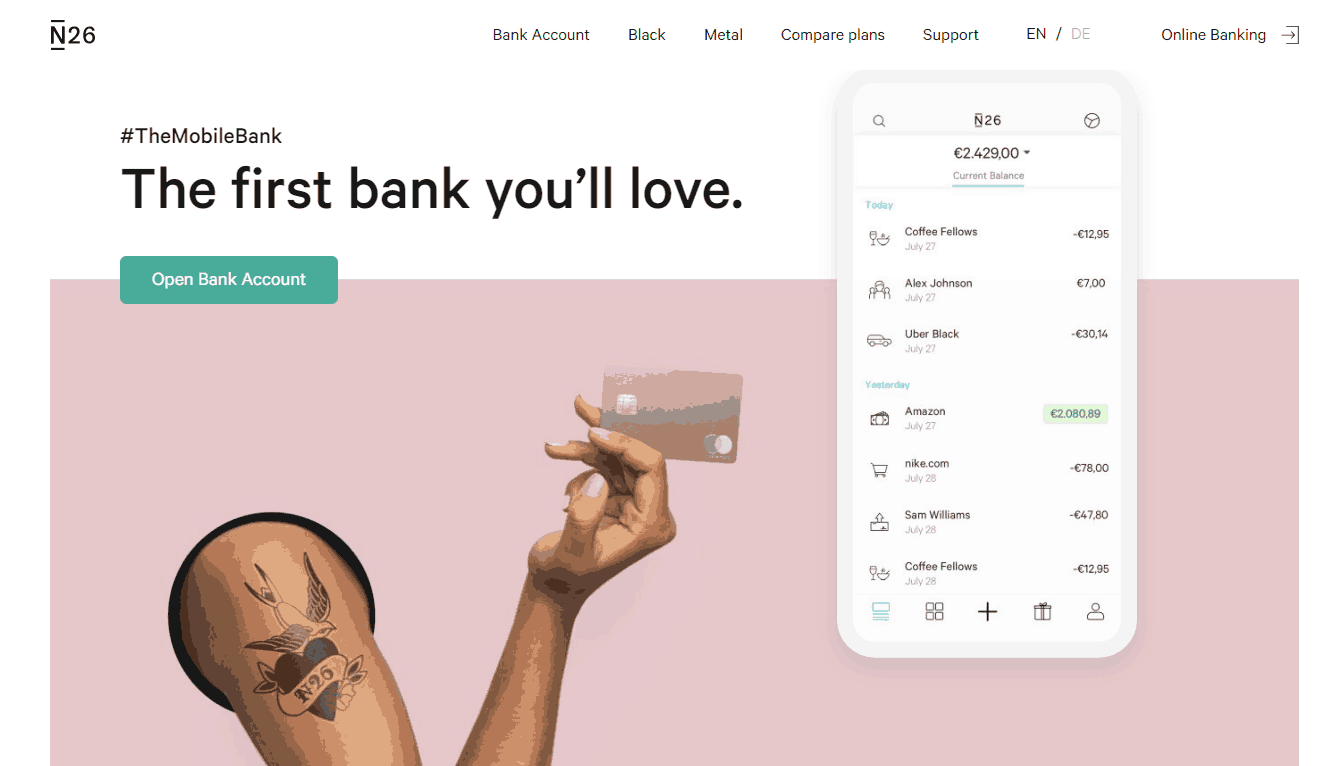 Avantages de N26
Retraits gratuits aux guichets automatiques dans le monde entier. Quel que soit l'endroit où vous vous trouvez dans le monde, N26 ne vous facturera jamais de frais pour retirer de l'argent d'un guichet automatique (contrairement à la plupart des banques qui facturent entre 2 et 10 dollars par retrait d'un guichet automatique étranger). Si vous bénéficiez de la formule gratuite de N26, vous paierez des frais de conversion de devise de 1,7% en plus du taux du marché intermédiaire, ce qui est supérieur à ce que propose pratiquement toute autre banque de consommateurs.
Notifications de transaction en temps réel. Chaque fois que de l'argent entre ou sort de votre compte, qu'il s'agisse d'un virement que vous avez initié ou d'un paiement préautorisé, vous recevez une notification.
Catégories de transaction. Chaque transaction se voit attribuer une catégorie comme "Bars & Restaurants" ou "Voyages & Vacances" afin que vous puissiez facilement suivre vos dépenses.
Le code PIN est réinitialisé. La réinitialisation de votre code PIN à tout moment est aussi simple que de vous connecter à l'application et de la modifier. Pas d'appel N26, pas d'aller au guichet automatique, etc. 30 secondes et c'est fait.
Verrouiller votre carte. Tout comme pour réinitialiser votre code PIN, verrouiller votre carte (pour la rendre inutilisable pendant un certain temps) est aussi simple que de vous connecter et d'appuyer sur le bouton. Le déverrouillage est tout aussi facile.
Paiements à l'étranger, paiements en ligne et retraits en espèces. Pour votre sécurité, vous pouvez les activer et les désactiver à tout moment.
Limites de dépenses et de retraits. Une autre fonctionnalité de sécurité que vous pouvez choisir et modifier dans l'application à tout moment.
Le N26 est-il disponible en Suisse?
Oui! Comme vous pouvez le voir ici, vous pouvez ouvrir un compte N26 depuis l'un des pays suivants: Allemagne, Autriche, Irlande, France, Espagne, Italie, Pays-Bas, Belgique, Portugal, Finlande, Luxembourg, Slovénie, Estonie, Grèce, Slovaquie, Royaume-Uni, Pologne, Suède, Danemark et Norvège.
As you can see here, you can open an N26 account from any of the following countries: Germany, Austria, Switzerland, Ireland, France, Spain, Italy, the Netherlands, Belgium, Portugal, Finland, Luxembourg, Slovenia, Estonia, Greece, Slovakia, the UK, Poland, Sweden, Denmark, Norway, Liechtenstein, Iceland, and the United States.
For example, I'm Canadian, but I signed up for N26 as soon as I moved to Berlin.
If you live in one of the countries above AND are a citizen of one of the 164 countries below, you can sign up for N26:
Puis-je retirer de l'argent gratuitement avec ma carte N26 lorsque je suis en Suisse?
Oui! Comme je le montre dans mon avis sur la banque N26, vous recevez des retraits gratuits dans le monde entier avec votre carte N26 Black, qui inclut les guichets automatiques en Suisse. Si vous ne possédez pas le N26 Black et que vous bénéficiez du forfait gratuit de N26, vous payez des frais de 1,7% du montant total du retrait.
Pour vous montrer ce que je veux dire, voici une capture d'écran montrant le retrait récent de 7 220 bahts thaïlandais que j'ai fait d'un guichet automatique à Bangkok, parallèlement au taux de change réel de xe.com. Rappelez-vous: chaque fois que vous retirez de l'argent ou effectuez une transaction en devise étrangère avec N26, vous payez le taux du marché moyen, pas un sou de plus.
Puis-je toujours utiliser l'assurance fournie avec la carte N26 Black même si j'habite en Suisse?
Oui! Vivre en Suisse ne vous rend pas moins éligible à l'assurance fournie avec votre carte N26 Black. Voici quelques exemples de ce que la police d'assurance de votre N26 Black Card couvrira:
Frais médicaux jusqu'à un montant illimité si vous avez une urgence médicale à l'étranger (pas de franchise).
Frais dentaires d'urgence jusqu'à 250 € (Pas de franchise).
Les dépenses que vous avez engagées en raison d'un retard de vol de 4 heures ou plus, jusqu'à un maximum de 400 € (aucune franchise).
Les frais que vous engagez si vos bagages arrivent avec plus de 6 heures de retard, dans la limite de 400 € (pas de franchise).
Remboursement d'un téléphone portable volé acheté avec votre compte N26 Black, jusqu'à un maximum de 300 € (franchise de 50 €).
Remboursement de l'argent volé si vous êtes victime d'une agression moins de 4 heures après avoir retiré de l'argent d'un guichet automatique avec votre carte N26 Black, jusqu'à un maximum de 500 € (sans franchise).
Garantie prolongée d'un an supplémentaire sur les articles achetés directement avec votre carte N26 Black et tous les modes de paiement associés à votre carte, tels qu'un compte PayPal lié, jusqu'à un maximum de 500 € (franchise de 50 €).
Assurance annulation de voyage pour chaque voyage avant le début du voyage, avec un maximum de 5 000 € par voyage (franchise de 10-20%).
What insurance comes with N26 You and N26 Metal?
N26 You and N26 Metal comes with an impressive travel and medical insurance plan to keep you safe and secure on the road. It's not quite as comprehensive as the SafetyWing insurance plan, which we highly recommend combining with your N26 membership, but it does cover a lot:
Medical expenses up to an unlimited amount if you have a medical emergency while abroad (No deductible).
Emergency dental expenses up to a maximum of €250 (No deductible).
Expenses you incur due to a flight delay of 4 hours or longer, up to a maximum of €400 (No deductible).
Expenses you incur if your luggage arrives more than 6 hours late, up to a maximum of €400 (No deductible).
Reimbursement for a stolen mobile phone that was purchased with your N26 Black account, up to a maximum of €300 (€50 deductible).
Reimbursement for stolen cash if you get mugged up to 4 hours after withdrawing cash from an ATM with your N26 Black card, up to a maximum of €500 (No deductible).
Extended warranty of up to one additional year on items purchased directly with your N26 Black card and all payment methods associated with your card, such as a linked PayPal account, up to a maximum of €500 (€50 deductible).
Travel cancellation insurance on every trip before the trip commences, up to a maximum of €5,000 per trip (10-20% deductible).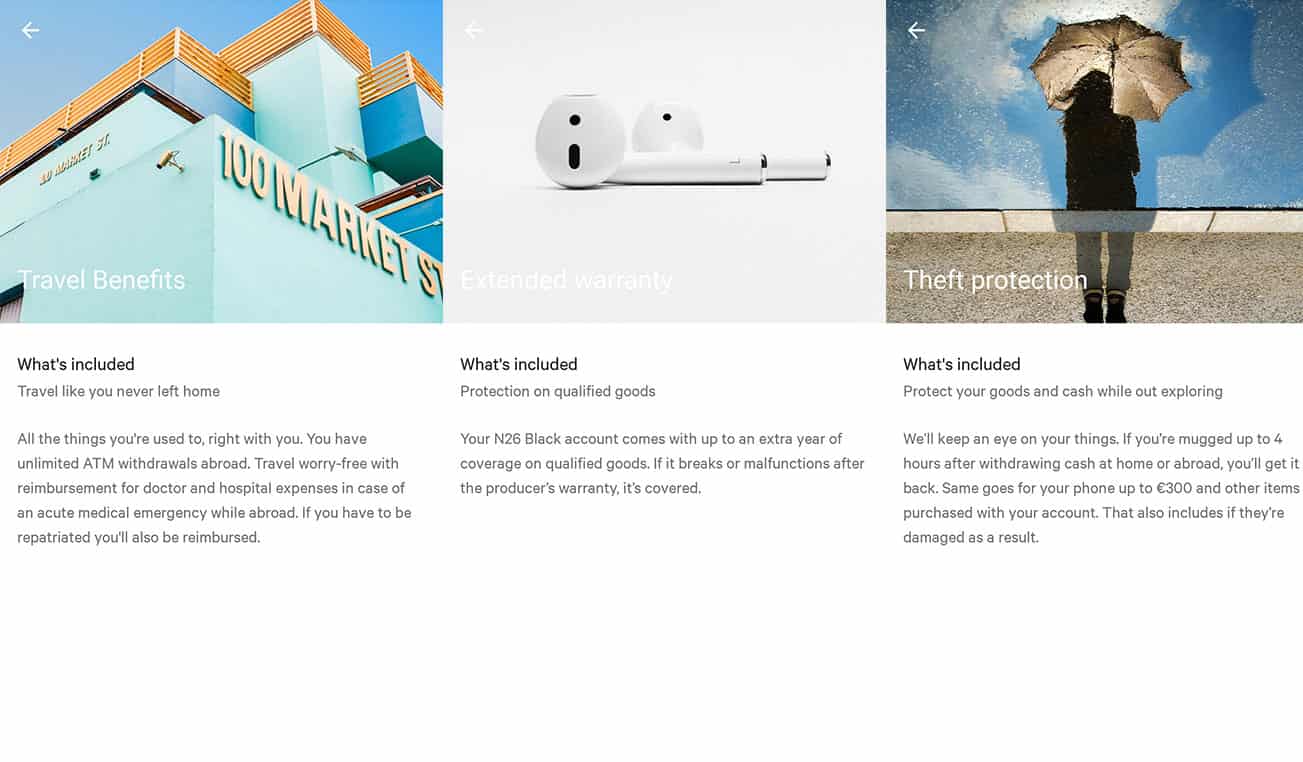 How much does N26 cost?
N26's fee structure is eight pages long and pretty dense, so here's the important stuff:
N26 Black costs €9.90/month, while N26 Metal costs €16.90/month.
Withdrawing foreign currency (any currency but Euros) anywhere in the world: Free for N26 Black and N26 Metal members, or 1.7% for N26 users on the free plan.
N26 Metal
N26 Metal includes all of the benefits of N26 Black listed above, plus dedicated (priority) customer support and, of course, the metal card itself. I recently wrote a 2,000-word N26 Metal review that goes deep into N26's super-premium card.
N26 Metal also comes with a growing number of exclusive partner offers and benefits, which rival the benefits of much more expensive premium credit cards like the American Express Platinum. These benefits include:
N26 Metal currently costs €16.90/month.
How To Sign Up For N26
With its impressive insurance policy, fee-free foreign cash withdrawals, and the app's ease of use, I really couldn't be happier as a member of N26 You.
It's made banking a lot easier and cheaper for me, and has solved a lot of the messy problems I had before (ie. expensive and vague travel/medical insurance policies, plus spending nearly $100/month on hidden ATM and currency exchange fees).
And you don't even need an N26 promo code to get started (Spoiler: N26 promo codes have gone extinct).
To sign up, you just need to provide standard personal information (name, date of birth, etc.) and a valid ID or passport.
Once you've signed up, verified your ID in the app and paired your smartphone (it takes 8 minutes total), they'll send you your free MasterCard in the mail. Mine took just 2 days to arrive, and it comes in a pretty sleek package.
Comment below if you have questions about N26 and I'll do what I can to answer them, or you can also reach N26's support team via their app or website.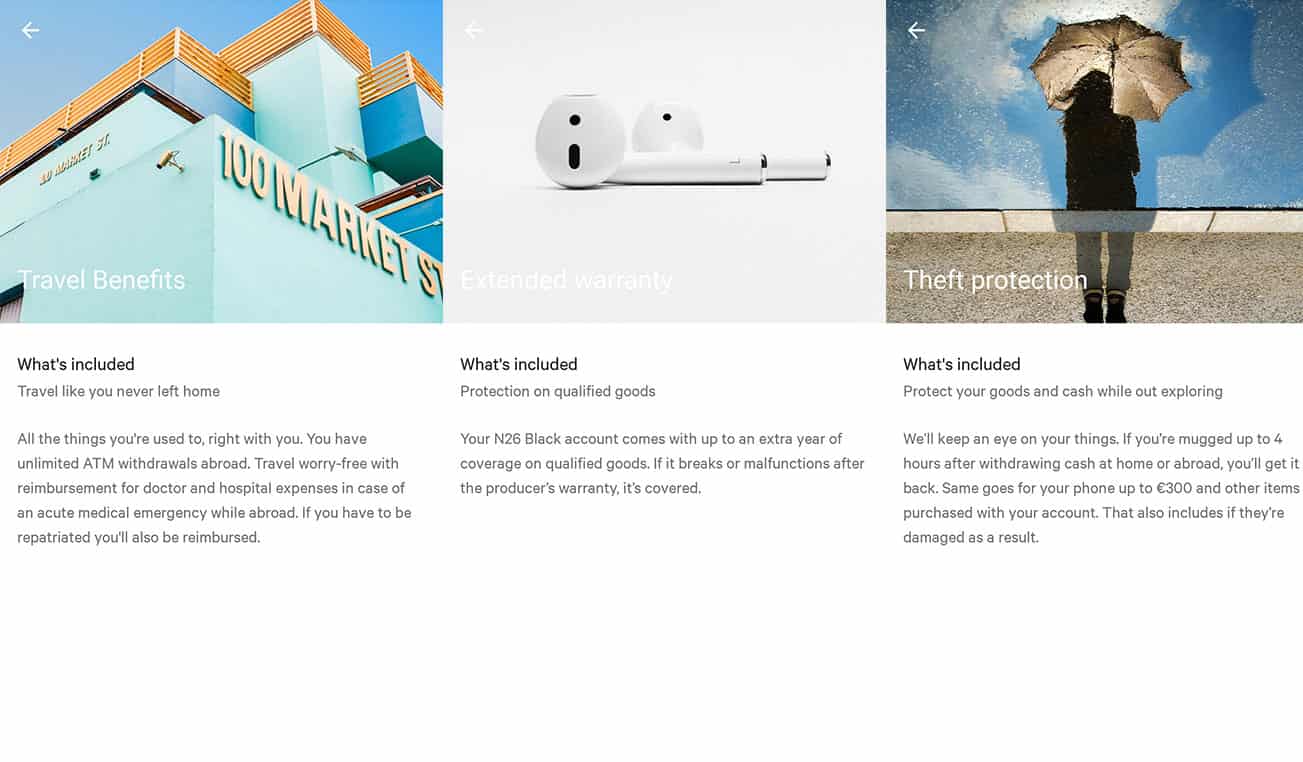 Combien coûte N26 en Suisse?
La structure tarifaire de N26 est longue de huit pages et assez dense. Voici l'essentiel:
N26 Black coûte 9,90 € / mois, tandis que N26 Metal coûte 16,90 € / mois.
Retirer des devises (n'importe quelle devise sauf les euros) partout dans le monde: gratuit pour les membres N26 Black et N26 Metal, ou 1,7% pour les utilisateurs de N26 sur le forfait gratuit.
N26 Metal
N26 Metal inclut tous les avantages de la N26 Black énumérés ci-dessus, ainsi qu'une assistance client (prioritaire) dédiée et, bien sûr, la carte Metal elle-même. J'ai récemment écrit une critique de 2 000 mots de N26 Metal qui va profondément dans la carte super premium de N26.
N26 Metal propose également un nombre croissant d'offres et d'avantages exclusifs pour les partenaires, qui rivalisent avec les avantages de cartes de crédit premium beaucoup plus chères, comme le American Express Platinum. Ces avantages incluent:
N26 Metal coûte actuellement 16,90 € / mois
Comment les utilisateurs suisses peuvent-ils s'inscrire sur N26
Avec sa police d'assurance impressionnante, ses retraits gratuits en espèces à l'étranger et sa facilité d'utilisation, je ne pourrais vraiment pas être plus heureux en tant que membre de N26 Black.
Cela a rendu les opérations bancaires beaucoup plus faciles et moins chères pour moi et a résolu beaucoup de problèmes épineux que j'avais auparavant (par exemple, des polices d'assurance voyage / médicale coûteuses et vagues, plus des dépenses de près de 100 $ par mois en frais cachés de distributeurs automatiques et de change).
Et vous n'avez même pas besoin d'un code promo N26 pour commencer (Spoiler: les codes promo N26 sont éteints).
Pour vous inscrire, il vous suffit de fournir des informations personnelles standard (nom, date de naissance, etc.) et une pièce d'identité ou un passeport en cours de validité.
Une fois que vous vous êtes inscrit, que vous avez vérifié votre identifiant dans l'application et que votre smartphone a été couplé (cela prend au total 8 minutes), ils vous enverront votre carte MasterCard gratuite par la poste. Le mien a pris seulement 2 jours pour arriver, et il vient dans un paquet assez élégant.
Veuillez commenter ci-dessous si vous avez des questions sur N26 et que je ferai tout ce que je peux pour y répondre, ou vous pouvez également contacter l'équipe de support de N26 via son application ou son site Web.
Also, since so many of you have been asking us for them, here's our full list of country-specific posts outlining how to ship anything from Amazon to any country in the world. Our 2-step method makes it as simple as humanly possible, and takes about 3 minutes total: Austria, Bahrain, Belgium, China, Cyprus, Denmark, Finland, Greece, Hong Kong, Hungary, Indonesia, Israel, Kuwait, Japan, Malaysia, New Zealand, Norway, Oman, Philippines, Poland, Portugal, Qatar, Russia, Saudi Arabia, Singapore, South Africa, South Korea, Sweden, Switzerland, Taiwan, Thailand, Turkey, Asia as a whole, Europe as a whole and the United Arab Emirates.
And here's another post on how to log out of Amazon.
While you're at it, international travelers should read our N26 review for the best way to get free ATM withdrawals the best rates on currency conversion - anywhere in the world.
Take Control Of Your Financial Future
Get the 5 personal finance tools every frequent traveler needs in 2020.

Today's Five Most Popular Posts: