Last year, I wrote the most comprehensive N26 bank review on the Internet, which has since been read by tens of thousands of travelers, digital nomads and online banking enthusiasts from every corner of the world.
Yet as all-encompassing as it is, I've had plenty of Turkish readers asking me questions specific to how to use N26.
So here, I want to clear up a few misunderstandings for any Turkish users joining N26, and also demonstrate why N26 is probably a better banking option for you than other online banks like Revolut, Monzo, Curve and Simple.
What Is N26?
N26 is an online-only bank designed for digital nomads, frequent travelers and anyone else who appreciates simplicity, great design and the lowest possible fees from their bank.
For example, my N26 account saves me thousands of Euros every year from the free worldwide ATM withdrawals, the best exchange rates on the planet (due to their partnership with TransferWise) and a remarkable travel insurance plan—all of which is included with my card.
It's why I wrote a 3,000-word N26 bank review last year detailing my experience. That review covers all of their products in-depth, including N26 Black, N26 Metal, CASH26, INVEST26 and more.
It will also show you the exact time it makes sense for you to upgrade to N26 Black, and how to make the most of all the perks—perks like flight delay insurance, mobile phone insurance and travel cancellation insurance—that come with it.
And did I mention nearly all of these perks, plus plenty more, come absolutely free?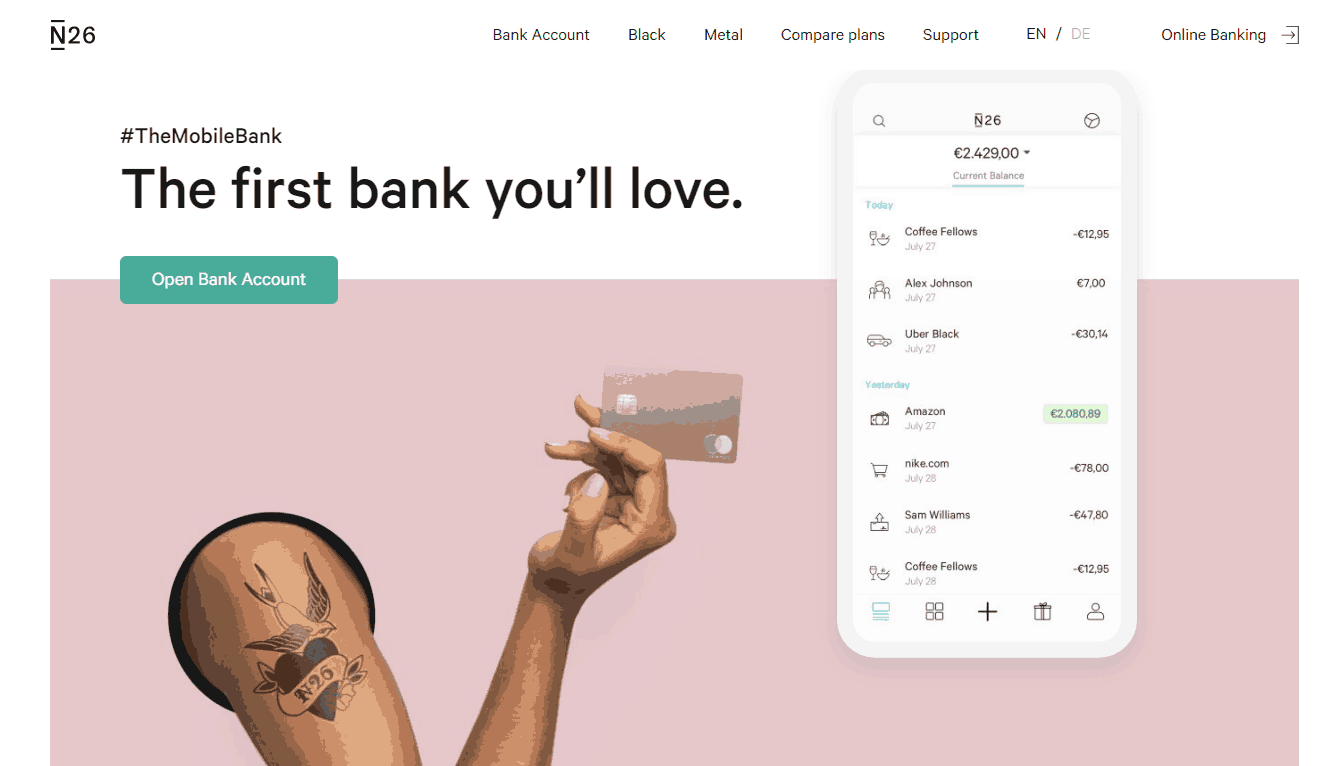 Benefits Of N26
Free ATM withdrawals worldwide. No matter where you are in the world, N26 will never charge you any fee for withdrawing cash from an ATM (unlike most banks, which charge $2-10 per foreign ATM withdrawal). If you're on N26's free plan, you'll pay a 1.7% currency conversion fee on top of the mid-market rate, which is better than what nearly any other consumer bank provides.
Real-time transaction notifications. Whenever money goes in or out of your account, whether it's a transfer you've initiated or a pre-authorized payment, you'll get a notification.
Transaction categories. Every transaction is assigned a category like "Bars & Restaurants" or "Travel & Holidays" so you can easily keep track of your spending.
PIN resets. Resetting your PIN at any time is as simple as logging into the app and changing it. No calling N26, no trips to the ATM, etc etc. 30 seconds and it's done.
Locking your card. Just like resetting your PIN, locking your card (to make it unusable for a period of time) is as simple as logging in and pressing the button. Unlocking it is just as easy.
Payments abroad, online payments and cash withdrawals. For your security, you can toggle these on and off at any time.
Spending and withdrawal limits. Another security feature that you can choose and change in the app at any time.
Is N26 available in Turkey?
Can I withdraw money for free with my N26 card when I'm in Turkey?
Yes! As I demonstrate in my original N26 bank review, you get free ATM withdrawals worldwide with your N26 Black card, which includes ATMs in Turkey. If you don't have N26 Black and are on N26's free plan, you pay a 1.7% fee on the total withdrawal amount.
To show you what I mean, here's a screenshot showing the recent withdrawal of 7,220 Thai baht that I made from an ATM in Bangkok, alongside the real exchange rate from xe.com. Remember: any time you withdraw cash or make a foreign currency transaction with N26, you pay the mid-market rate and not a penny more.