Geçen yıl, dünyanın her köşesinden onbinlerce gezgin, dijital göçebe ve çevrimiçi bankacılık meraklıları tarafından okunan internetteki en kapsamlı N26 banka incelemesini yazdım.
Yine de, her şeyi kapsayan kadar, N26'yı Türkiye'den birisi olarak nasıl kullanacağınıza dair özel sorular soran çok sayıda Türk okuyucum vardı.
Bu nedenle, N26'ya katılan tüm Türk kullanıcıları için birkaç yanlış anlaşılmayı gidermek ve ayrıca N26'nın neden diğer Türk bankalarından herhangi birinden daha iyi bir bankacılık seçeneği olduğunu ve ayrıca N26'nın diğer çevrimiçi bankalardan daha iyi bir seçenek olduğunu göstermek istiyorum. Revolut, Monzo, Curve ve Simple gibi bankalar.
N26 Nedir?
N26, dijital göçebeler, sık seyahat edenler ve basitliği, mükemmel tasarımı ve bankalarından mümkün olan en düşük ücretleri takdir eden herkes için tasarlanmış çevrimiçi bir bankadır.
Örneğin, N26 hesabım, dünya çapında ücretsiz ATM'den para çekme, gezegendeki en iyi döviz kurları (TransferWise ile olan ortaklıkları nedeniyle) ve her biri kartımla birlikte gelen dikkate değer bir seyahat sigortası planından bana her yıl binlerce Euro tasarruf sağlıyor. .
Bu yüzden geçen yıl tecrübelerimi detaylandıran 3.000 kelimelik bir N26 banka incelemesi yazdım. Bu inceleme N26 Siyah, N26 Metal, CASH26, INVEST26 ve daha fazlası dahil olmak üzere tüm ürünlerini derinlemesine kapsamaktadır.
Ayrıca, N26 Black'e yükseltmenizin tam anlamıyla tam zamanı ve bununla birlikte gelen uçuş gecikme sigortası, cep telefonu sigortası ve seyahat iptali sigortası gibi tüm avantajlardan en iyi şekilde nasıl yararlanabileceğinizi size gösterecektir.
Ve neredeyse tüm bu avantajlardan bahsettim mi, artı daha fazlası tamamen ücretsiz mi?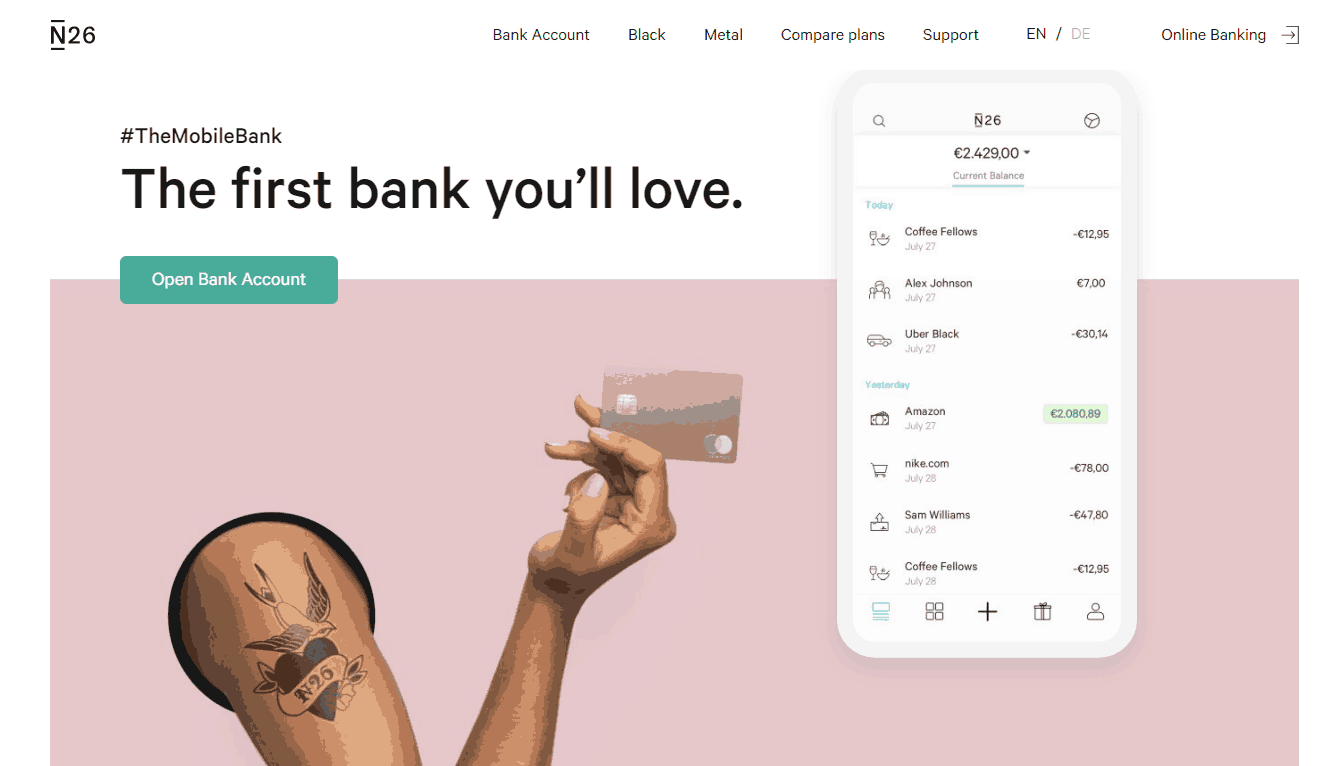 N26'nın Faydaları
Dünya çapında ücretsiz ATM para çekme işlemleri. Dünyanın neresinde olursanız olun, N26 sizden asla bir ATM'den nakit para çekmek için herhangi bir ücret talep etmeyecektir (çoğu bankadan farklı olarak, yabancı ATM'den para çekme başına 2-10 ABD Doları alan). N26'nın ücretsiz planındaysanız, neredeyse diğer tüm tüketici bankalarının sağladıklarından daha iyi olan, piyasa ortası oranının üstüne% 1.7 para birimi dönüştürme ücreti ödeyeceksiniz.
Gerçek zamanlı işlem bildirimleri. Hesabınıza para girdiğinde ya da çıkardığınızda, başlattığınız bir aktarma veya ön ödeme yapılması durumunda bir bildirim alırsınız.
İşlem kategorileri. Her işleme "Barlar ve Restoranlar" veya "Seyahat ve Tatiller" gibi bir kategori atanmıştır, böylece harcamalarınızı kolayca takip edebilirsiniz.
PIN sıfırlandı. PIN'inizi istediğiniz zaman sıfırlamak, uygulamaya giriş yapmak ve değiştirmek kadar kolaydır. N26'yı aramak yok, ATM'ye gitmek yok, vb. 30 saniye yok.
Kartını kilitlemek. PIN'inizi sıfırlamak gibi, kartınızı kilitlemek (bir süre kullanılamaz hale getirmek için) giriş yapmak ve düğmeye basmak kadar basittir. Kilidini açmak kadar kolaydır.
Yurtdışında yapılan ödemeler, çevrimiçi ödemeler ve nakit çekme. Güvenliğiniz için, bunları istediğiniz zaman açıp kapatabilirsiniz.
Harcama ve çekme limitleri. İstediğiniz zaman uygulamada seçip değiştirebileceğiniz başka bir güvenlik özelliği.
Türkiye'de N26 mevcut mu?
Evet! Burada görebileceğiniz gibi, aşağıdaki ülkelerden birinden N26 hesabı açabilirsiniz: Almanya, Avusturya, İrlanda, Fransa, İspanya, İtalya, Hollanda, Belçika, Portekiz, Finlandiya, Lüksemburg, Slovenya, Estonya, Yunanistan, Slovakya, İngiltere, Polonya, İsveç, Danimarka ve Norveç.
As you can see here, you can open an N26 account from any of the following countries: Germany, Austria, Switzerland, Ireland, France, Spain, Italy, the Netherlands, Belgium, Portugal, Finland, Luxembourg, Slovenia, Estonia, Greece, Slovakia, the UK, Poland, Sweden, Denmark, Norway, Liechtenstein, Iceland, and the United States.
For example, I'm Canadian, but I signed up for N26 as soon as I moved to Berlin.
If you live in one of the countries above AND are a citizen of one of the 164 countries below, you can sign up for N26:
Türkiye'de olduğumda N26 kartımla ücretsiz para çekebilir miyim?
Evet! Orijinal N26 banka incelememde gösterdiğim gibi, Türkiye'deki ATM'leri de içeren N26 Black kartınızla dünya genelinde ücretsiz ATM'den para çekiyorsunuz. N26 Black'iniz yoksa ve N26'nın ücretsiz planındaysanız, toplam para çekme tutarı için% 1.7 ücret ödersiniz.
Ne demek istediğimi göstermek için, işte Bangkok'taki bir ATM'den yaptığım 7,220 Tayland Bahtı'nın xe.com'daki reel döviz kuruyla birlikte çekilmesini gösteren bir ekran görüntüsü. Unutmayın: N26 ile nakit para çekiyorsanız veya döviz işlemi yapıyor olsanız, bir kuruştan öteye değil, orta piyasa ücretini ödersiniz.
Türkiye'de yaşıyor olsam bile, N26 Black Card ile gelen sigortayı hala kullanabilir miyim?
Evet! Türkiye'de yaşamak, N26 Black kartınızla birlikte verilen sigortayı kullanmaya uygun olmanızı sağlamaz. N26 Black kartınızdaki sigorta poliçesinin neleri kapsayacağına dair birkaç örnek:
Yurtdışındayken tıbbi bir acil durum varsa, tıbbi harcamalar sınırsız bir miktara kadar (Kesinti yok).
Acil dişhekimi giderleri maksimum 250 € 'ya kadar (kesilebilir).
En fazla 400 € 'ya kadar olan 4 saatlik veya daha uzun uçuş gecikmelerinden dolayı tahakkuk eden masraflar.
Valizinizin 6 saatten fazla geçmesi durumunda en fazla 400 € 'ya kadar düşülmesi durumunda yapılan harcamalar.
N26 Black hesabınızla satın alınan çalınan bir cep telefonunun geri ödemesi, maksimum 300 € 'ya kadar (50 € düşülebilir).
N26 Black kartınızla bir ATM'den nakit para çektikten en geç 4 saat sonra muhasebeleştirilirseniz, çalınan para için geri ödeme, maksimum 500 € 'ya kadar (kesilebilir)
Doğrudan N26 Black kartınızla satın alınan ürünlere ve bağlı bir PayPal hesabı gibi kartınızla ilişkili tüm ödeme yöntemlerine maksimum 500 € 'ya kadar (€ 50 indirim) kadar uzatılmış garanti.
Seyahate başlamadan önce her seyahatte seyahat iptali sigortası, seyahat başına maksimum 5.000 € 'ya kadar (düşülebilir% 10).
What insurance comes with N26 You and N26 Metal?
N26 You and N26 Metal comes with an impressive travel and medical insurance plan to keep you safe and secure on the road. It's not quite as comprehensive as the SafetyWing insurance plan, which we highly recommend combining with your N26 membership, but it does cover a lot:
Medical expenses up to an unlimited amount if you have a medical emergency while abroad (No deductible).
Emergency dental expenses up to a maximum of €250 (No deductible).
Expenses you incur due to a flight delay of 4 hours or longer, up to a maximum of €400 (No deductible).
Expenses you incur if your luggage arrives more than 6 hours late, up to a maximum of €400 (No deductible).
Reimbursement for a stolen mobile phone that was purchased with your N26 Black account, up to a maximum of €300 (€50 deductible).
Reimbursement for stolen cash if you get mugged up to 4 hours after withdrawing cash from an ATM with your N26 Black card, up to a maximum of €500 (No deductible).
Extended warranty of up to one additional year on items purchased directly with your N26 Black card and all payment methods associated with your card, such as a linked PayPal account, up to a maximum of €500 (€50 deductible).
Travel cancellation insurance on every trip before the trip commences, up to a maximum of €5,000 per trip (10-20% deductible).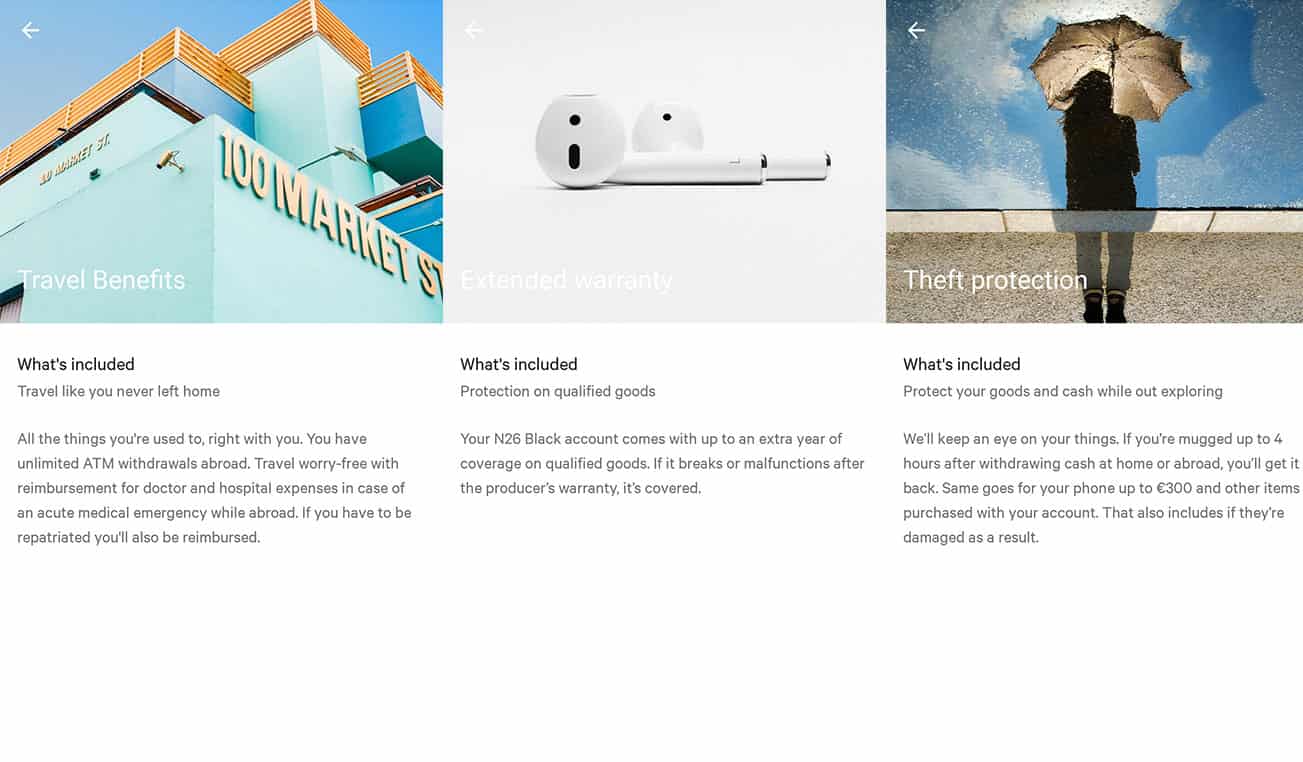 How much does N26 cost?
N26's fee structure is eight pages long and pretty dense, so here's the important stuff:
N26 Black costs €9.90/month, while N26 Metal costs €16.90/month.
Withdrawing foreign currency (any currency but Euros) anywhere in the world: Free for N26 Black and N26 Metal members, or 1.7% for N26 users on the free plan.
N26 Metal
N26 Metal includes all of the benefits of N26 Black listed above, plus dedicated (priority) customer support and, of course, the metal card itself. I recently wrote a 2,000-word N26 Metal review that goes deep into N26's super-premium card.
N26 Metal also comes with a growing number of exclusive partner offers and benefits, which rival the benefits of much more expensive premium credit cards like the American Express Platinum. These benefits include:
N26 Metal currently costs €16.90/month.
How To Sign Up For N26
With its impressive insurance policy, fee-free foreign cash withdrawals, and the app's ease of use, I really couldn't be happier as a member of N26 You.
It's made banking a lot easier and cheaper for me, and has solved a lot of the messy problems I had before (ie. expensive and vague travel/medical insurance policies, plus spending nearly $100/month on hidden ATM and currency exchange fees).
And you don't even need an N26 promo code to get started (Spoiler: N26 promo codes have gone extinct).
To sign up, you just need to provide standard personal information (name, date of birth, etc.) and a valid ID or passport.
Once you've signed up, verified your ID in the app and paired your smartphone (it takes 8 minutes total), they'll send you your free MasterCard in the mail. Mine took just 2 days to arrive, and it comes in a pretty sleek package.
Comment below if you have questions about N26 and I'll do what I can to answer them, or you can also reach N26's support team via their app or website.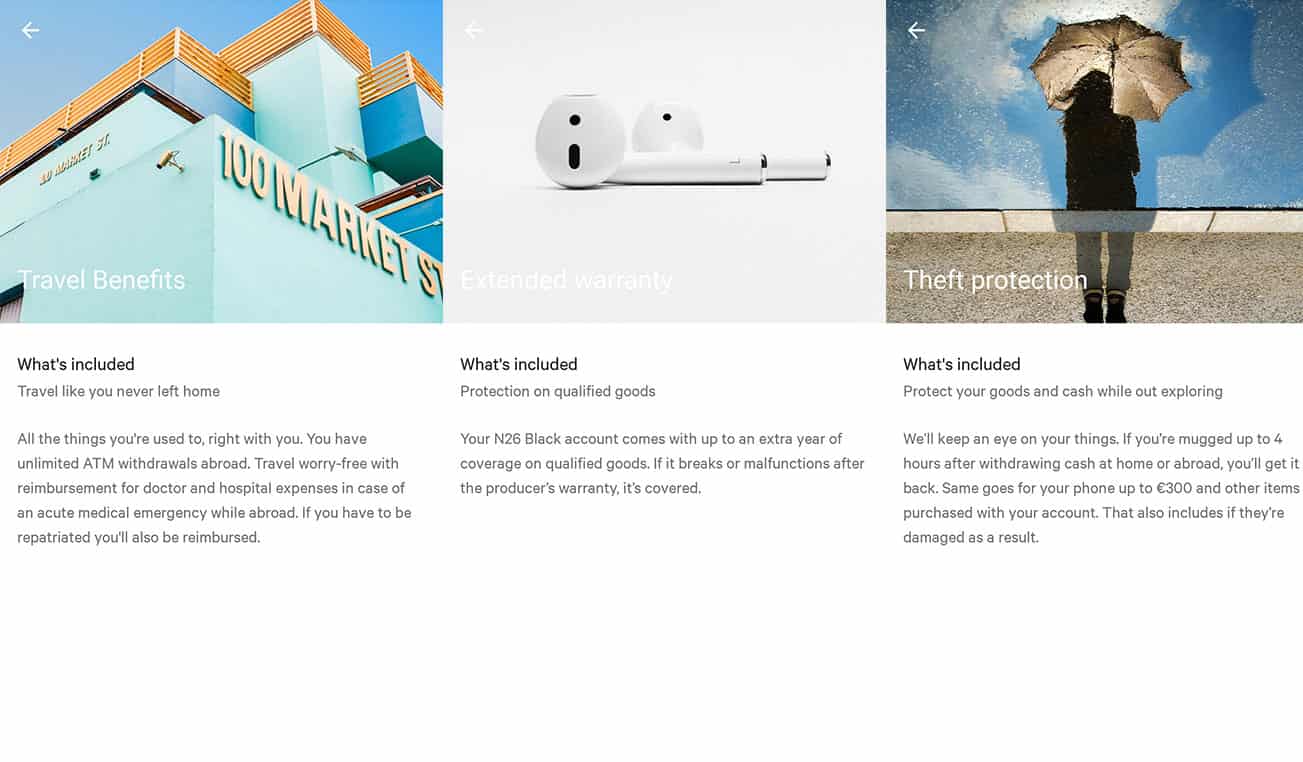 Türkiye'de N26'nın maliyeti nedir?
N26'nın ücret yapısı sekiz sayfa uzunluğunda ve oldukça yoğun, bu yüzden önemli şeyler:
N26 Black aylık 9.90 €, N26 Metal aylık 16.90 € tutarındadır.
Dünyanın herhangi bir yerindeki yabancı para birimini (Euro, Euro hariç) çekme: N26 Black ve N26 Metal üyeleri için ücretsiz, N26 kullanıcıları için% 1.7 ücretsiz plan.
N26 Metal
N26 Metal yukarıda listelenen N26 Black'in tüm avantajlarını ve ayrıca özel (öncelikli) müşteri desteğini ve elbette metal kartın kendisini içerir. Kısa bir süre önce N26'nın süper premium kartına giren 2.000 kelimelik bir N26 Metal incelemesi yazdım.
N26 Metal ayrıca, American Express Platinum gibi çok daha pahalı premium kredi kartlarının avantajlarına rakip olan artan sayıda özel ortak teklifleri ve avantajları ile birlikte geliyor. Bu avantajlar arasında:
N26 Metal şu anda aylık 16,90 Euro'dur.
Türk Kullanıcılar N26'ya Nasıl Kayıt Olabilir?
Etkileyici sigorta poliçesi, ücretsiz yabancı para çekme ve uygulamanın kullanım kolaylığı sayesinde, N26 Black üyesi olarak daha mutlu olamazdım.
Bankacılığı benim için çok daha kolay ve daha ucuz hale getirdi ve daha önce yaşadığım karışık sorunların çoğunu çözdü (yani pahalı ve belirsiz seyahat / sağlık sigortası poliçeleri, ayrıca gizli ATM ve döviz kurları için yaklaşık 100 $ / ay harcama).
Ve başlamak için bir N26 promosyon koduna bile ihtiyacınız yok (Spoiler: N26 promosyon kodları tükendi).
Kayıt olmak için standart kişisel bilgilerinizi (isim, doğum tarihi vb.) Ve geçerli bir kimlik veya pasaport sağlamanız yeterlidir.
Kaydolduktan sonra uygulamadaki kimliğinizi doğrulayın ve akıllı telefonunuzu eşleştirin (toplamda 8 dakika sürer), size postadaki ücretsiz MasterCard'ınızı gönderirler. Maden gelmesi sadece 2 gün sürdü ve oldukça şık bir pakette geliyor.
N26 ile ilgili sorularınız varsa ve bunları yanıtlamak için elimden geleni yapacağım veya N26'nın destek ekibine uygulamaları veya web siteleri aracılığıyla da erişebilirsiniz.
Also, since so many of you have been asking us for them, here's our full list of country-specific posts outlining how to ship anything from Amazon to any country in the world. Our 2-step method makes it as simple as humanly possible, and takes about 3 minutes total: Austria, Bahrain, Belgium, China, Cyprus, Denmark, Finland, Greece, Hong Kong, Hungary, Indonesia, Israel, Kuwait, Japan, Malaysia, New Zealand, Norway, Oman, Philippines, Poland, Portugal, Qatar, Russia, Saudi Arabia, Singapore, South Africa, South Korea, Sweden, Switzerland, Taiwan, Thailand, Turkey, Asia as a whole, Europe as a whole and the United Arab Emirates.
While you're at it, international travelers should read our N26 review for the best way to get free ATM withdrawals the best rates on currency conversion - anywhere in the world.
Last updated September 19, 2019