It must've been fate that brought together Trent & Georgie in Cape Town two years ago.
Fueled their collective love for trees, animals, sunsets, winding walks, and almond butter, these two connected right from the start, an ever-strengthening bond that has had them jumping all over the world together since that pivotal day. In the moments when they're apart, Trent, a South African, spends his time climbing mountains, eating vegan donuts, and hanging out with their 1995 camper van, Winston, while Georgie, an Australian, spends hers taking photos, doing yoga, and playing with her Border Collie puppy, Ruby. But if you really want to get to know Trent & Georgie, they sum themselves up as plainly as possible on their blog:
"Our only plan to is make no plans – to live our lives in pursuit of daily adventure; to explore as much of our incredible planet as we possibly can; to reignite our creative spirits; and to make new connections with the world around us, and one another."
If that doesn't get you going, we're really not sure what will.
We're Trent & Georgie, and this is How We Travel.
What do you love most about traveling?
Georgie: For me, the most incredible thing about travel is its power to humble you. It's so easy to spend your life in a bubble – to never experience the world beyond your home, and to stay within the confines of your comfort zone. But this usually leads people to place huge importance on minor aspects of life, those aspects that seem so trivial or meaningless when you see the world and everything it holds. You truly realise just how small you are when you see different cities, different natural wonders, and the different ways that the billions of other people around the world live; their joys, traditions, hardships and customs. It gives anyone who travels such perspective on the things that are truly important in life – love, compassion, and humanity.
Trent: My favourite aspect of travel is definitely the tendency it has to teach you things about yourself, and uncover aspects of your personality or certain characteristics that you might never have otherwise discovered. For example, since I was a kid, I've always known that I wanted to run my own business, and so I studied business science at university, and Georgie and I have run a business of our own for the past two years. However, I always felt restless while studying and working, but could never pinpoint why. Since travelling, though, certain experiences and situations have really emphasised my passion for nature, and reinforced my desire to tackle environmental and social justice issues, and I've realised that I could never be truly happy running a business unless it had an underlying social or environmental cause.
What's the biggest lesson you've learned through all your travels?
Georgie: I grew up travelling and moving around the globe – I'd already lived in three different continents by the time I was five, and haven't really stopped since. Travel is as much a part of me as my hands, legs, and brain, and I can honestly say that it's played such a big role in all aspects of my life; it's taught me more than any teacher ever could. To name a few major life lessons, travel has shown me the value of listening, of observing, and of understanding – whether this is a different language, culture, or the stories of an individual. It has taught me the importance of open-mindedness, of compassion, and of withholding judgement. It has taught me that, as cliché as it may sound, there really aren't any limits on what you can do with your life, and that seeking 'normality' and following societal expectations are both generally pointless and redundant, and not a formula for happiness or fulfillment – at least, not for me.
Trent: I haven't been travelling for quite as long as Georgie – my first overseas trip, besides a sports tour when I was eleven, was only just over two years ago. But I've definitely made up for lost time in the past two years – I haven't been in South Africa since the end of 2014 and won't be back for a least a few more months! Travelling constantly for two years has shown me what is truly important in life – experiences, relationships, and interactions – and how unimportant material possessions and status are. Travel has taught me how important it is to make the best of any situation, and to always remain positive, no matter what life throws at you.
How has travel changed you as a person?
Trent: For me, I would say that the biggest personal change that travel has brought about is increased patience and levelheadedness. By nature, I've always been short-tempered, impatient, and have a tendency to react quickly and without thinking a situation through. Travel doesn't really leave room for these kinds of emotions, though, and it definitely doesn't get you anywhere to react to a problem or an issue with anger or impatience, particularly when language or cultural barriers are involved. Travelling with Georgie, who manages to keep her cool in pretty much any situation, also helped me with this. I saw how pointless it was for me to get upset by a rude stranger, or a long waiting time for a flight, and how much letting these kinds of things get to me would impact negatively on my mood as well as Georgie's. It's been a slow but definitely noticeable change, and one that extends to all areas of my life.
Georgie: I suffered from anxiety when I was younger, and my childhood was pretty much defined entirely by feelings of fear and nervousness towards people, situations, and the world around me. Travel, and the multitude of wonderful and sometimes terrible situations it throws you headfirst into, leaves no room for these kinds of feelings – from pretty much straight after my first solo international trip, I noticed myself infinitely more relaxed, calm and confident in the face of pretty much anything that I have come across. So far, this has included having not one but two iPhones stolen while in Eastern Africa, some sketchy run-ins with strangers in alleyways in Morocco, and being locked in the back of a police car in Cape Town after reporting a theft committed AGAINST me!
What's the one travel experience/story that has had the biggest impact on you?
Trent: The first story that comes to mind for me is a pretty unpleasant encounter that we had while travelling in Vietnam last year. On a swelteringly hot train trip between Hoi An and Dong Hoi, we had the misfortune of being seated across the aisle from an incredibly rude man and his family, who spent the entire trip pointing, laughing, and making loud, racist remarks about us to his children, to other strangers on the train, and to the train staff. We spent the first half of the trip incredibly distressed by this, and felt uncomfortable and unwelcome. Halfway through, though, we realized that it was definitely his problem and not ours, and managed to ignore him until he stopped completely. For me, it was a useful reminder that wherever you go, there will be good people and bad ones – the good ones should be appreciated, and the bad ones ignored.
Georgie: I volunteered in Ghana in 2012 for a few months, and the time I spent there completely changed my outlook on life. At first, I struggled with the lack of power and running water, the incessant heat, and the unavailability of basic home 'comforts', but this soon changed. After meeting many Ghanaians who lived in severe poverty and struggled daily with basic necessities yet still maintained an unwavering joy and positivity towards life, I quickly snapped out of any minor discomforts I had for the rest of my trip. I still clearly remember getting back to Australia and being confounded by the fact that the people around me could complain about such minor inconveniences and trivial issues. I can definitely say that the perspective I gained from this experience has continued to have a huge impact on my life, and travels, long after leaving Ghana.

[bctt tweet="'Travel makes you realise just how truly small you are.'"]
---
Trent's 5 Favorite Travel Items
Coffee is pretty much our lifeblood (life doesn't start until we've had a cup in the morning) so we don't travel anywhere without our Aeropress. It's compact, doesn't need electricity, and makes a damn good cup of coffee. As I used to work as a barista, I'm pretty fussy about my coffee, but this little guy never lets me down. We just spent six months living in a van and honestly couldn't have made it through without this contraption. [Editor's Note: Johnny starts every day with a cup of Aeropress-made coffee too, while Mishie likes to use her leftover coffee grounds as a natural body scrub!]
Georgie and I met in my hometown, Cape Town, and one of the first common passions that we discovered was our mutual love of hiking. In the first few months of our relationship, we were climbing Table Mountain or Lion's Head almost daily – and we haven't really stopped since! If we go a week without a big hike, we both end up restless and unsettled, so we always make sure we have a good pair of hiking boots with us, wherever we travel. We both have traditionally worn and loved Timberland boots, but have recently decided to swap to a non-leather alternative by Merrell.

Though they can take up a fair bit of space, we never go anywhere without our sleeping bags. We were given a beautiful pair by Mountain Designs for Christmas from Georgie's family last year before we left Australia, and have slept in them nearly every night this year so far. Sleeping in a campervan in Yosemite in March would have been pretty much impossible without these, which are super warm, but they have also come in handy for dodgy motel rooms with questionable sheets, as well as hostel accommodation. The best part about this particular pair is that they have opposite zips, so can zip together to make a double sleeping bag.

Until I met Georgie, I was pretty much a white-sports-socks kinda guy, but she soon showed me the infinite value that a pair of crazy patterned socks can have, and we have since amassed a pretty impressive collection between us. Our current favourites include dinosaurs, flamingos, mountains, and donuts, but this is only a tiny fraction of what we have at home (oops). We always bring at least six pairs of patterned socks wherever we go, because I truly believe that they carry magical mood-improving powers, and can make pretty much anything ten times more fun. [Editor's Note: Jacob carries a pair of Pikachu socks with him "for special occasions" too!]

Georgie gave me this vintage compass not long before we took off on our latest trip, so it has a lot of sentimental value, and I never travel anywhere without it. Though it doesn't serve much practical purpose (considering my iPhone has a way more accurate compass!), it represents adventure and discovery to me, and I usually have it in my pocket wherever we go.
Georgie's 4 Favorite Travel Items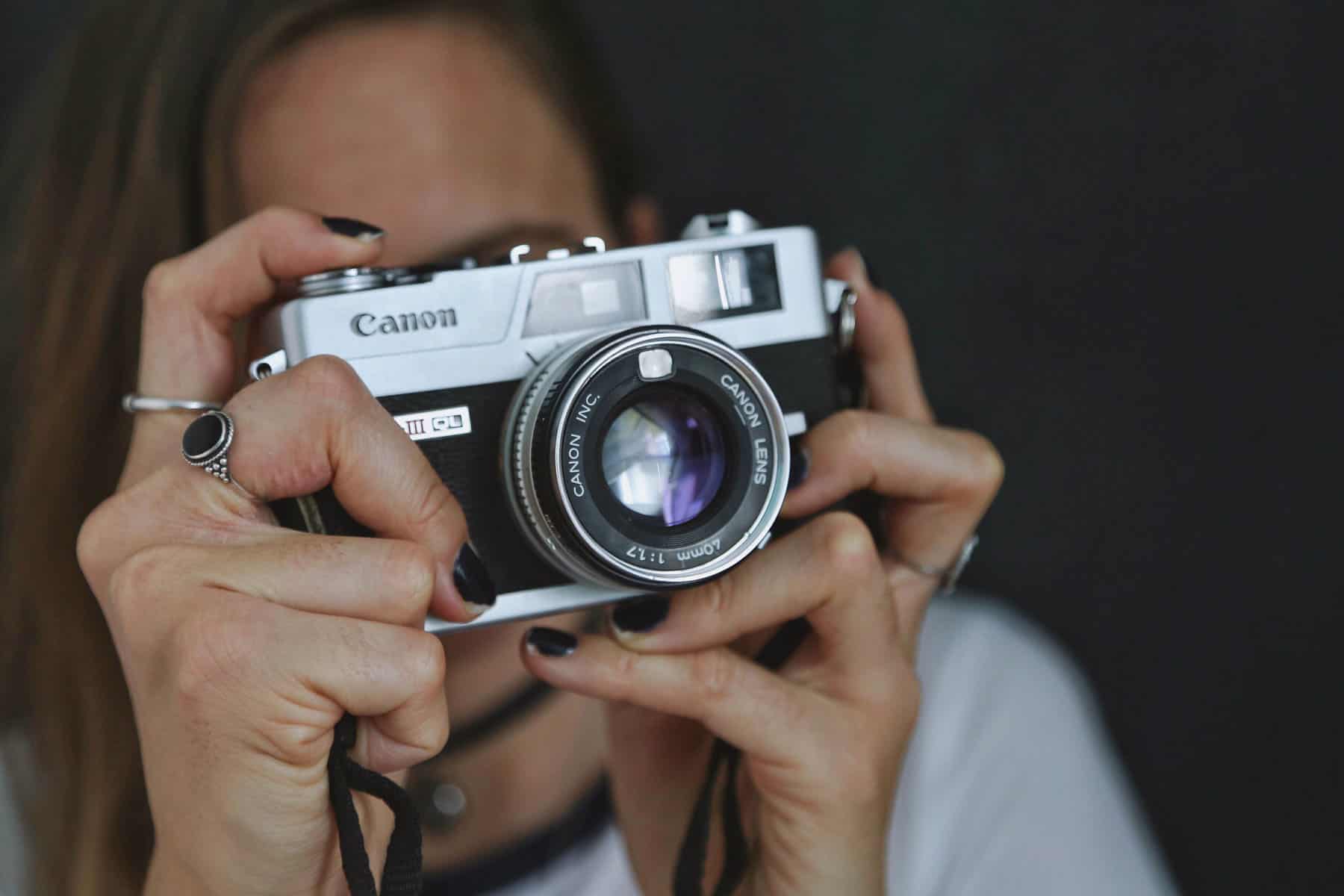 I've had a love for film photography for as long as I can remember – when I was young, I used to beg my Mum to buy me disposable cameras on every visit to the supermarket, and would then proceed to fill them entirely with shots of my dog. I've (thankfully) progressed a little further since then, and my current film camera of choice is this one, which Trent gave me for Christmas last year. It's super easy to use, lots of fun to play with, but also capable of producing some really beautiful images. Besides my Canon 6D (obviously), this is the only camera I never travel without.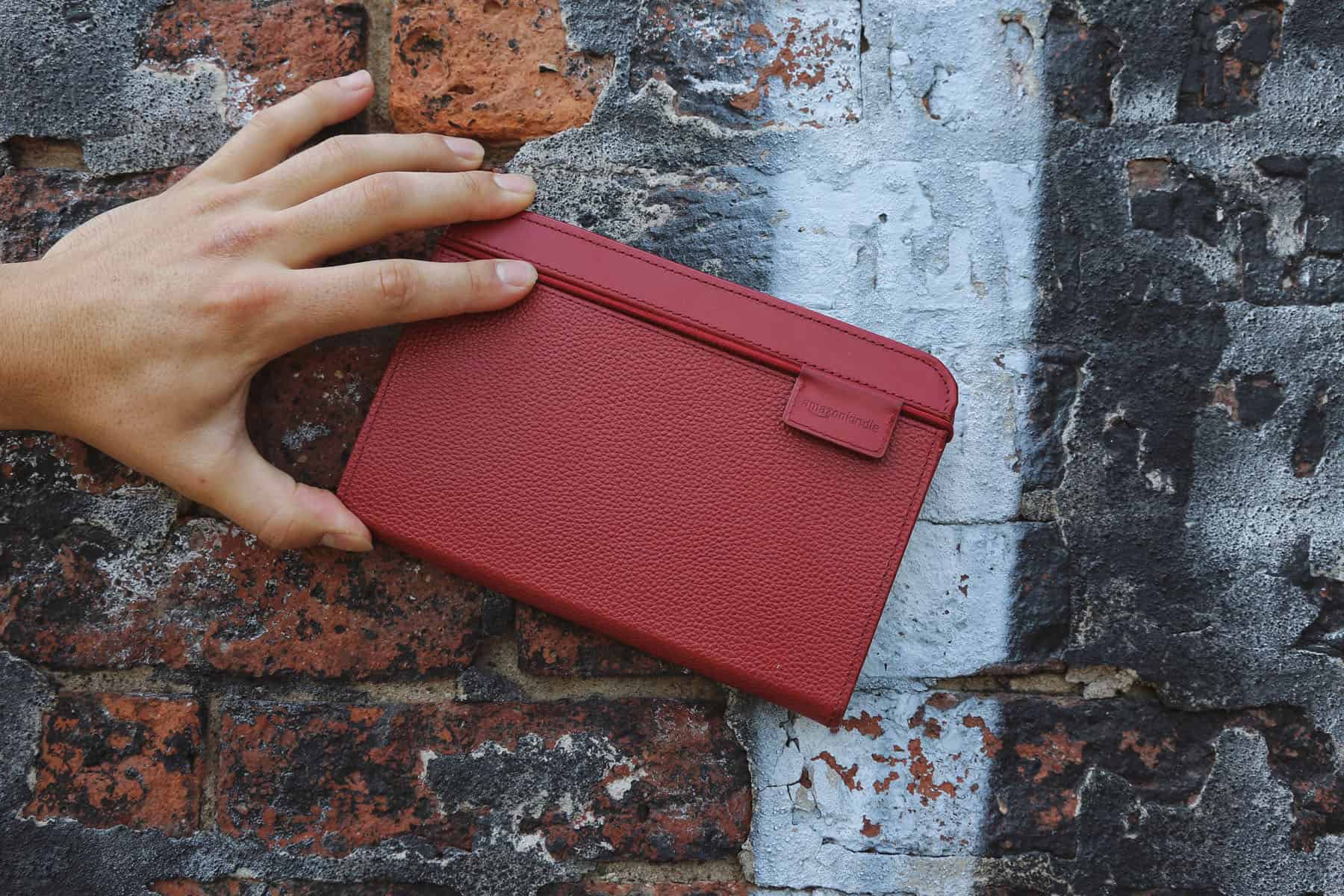 For years and years, I stubbornly battled with cramming huge stacks of paperbacks into my suitcase, determined to remain loyal to my love of reading from paper and not a digital screen. This year, however, I caved, and borrowed my brother's Kindle, and it didn't take long for me to be convinced: saving space and money while travelling > paperback books. Not to mention how much easier it is to read at night, in a van, with this little guy. [Editor's Note: Jacob, Josh, and Gareth all swear by their Kindles as well!]
As we both follow an entirely plant-based diet, it's impossible to ever be certain of the availability of suitable food for us, particularly in foreign countries. We always travel with a jar or two of almond butter, for the times where we can't find anything to eat that is free from animal products. Whether it's to smear on bread or just eat straight out of the jar, almond butter is a quick, easy, filling and nutritious energy boost for us.
Music is a travel necessity for so many reasons, and we never travel without first preparing hours of playlists for the road/air/train. When we first started travelling, we used to listen separately, but found that one of us always wanted to be listening to whatever the other was, and we'd end up with one earphone each – which was obviously not ideal. So I did some research and bought what might have been the cheapest Christmas present I've ever given Trent – but definitely one of the best. By using this headphone splitter, we can almost escape to our own little shared world, no matter where we might be, and what might be going on around us.
---
Trent in 60 Seconds
Fav Place to TravelNew York City, United States

Fav On-the-Go ReadMy FlipBoard feed

Ideal Trip CompanionBiggie Smalls

Next DestinationIceland
Georgie in 60 Seconds
Fav Place to TravelZanzibar, Tanzania

Fav Travel AppCityMapper

Ideal Trip CompanionHermione Granger

Next Travel PurchaseA yellow raincoat

Next DestinationPeru and Bolivia
Also, since so many of you have been asking us for them, here's our full list of country-specific posts outlining how to ship anything from Amazon to any country in the world. Our 2-step method makes it as simple as humanly possible, and takes about 3 minutes total: Austria, Bahrain, Belgium, China, Cyprus, Denmark, Finland, Greece, Hong Kong, Hungary, Indonesia, Israel, Kuwait, Japan, Malaysia, New Zealand, Norway, Oman, Philippines, Poland, Portugal, Qatar, Russia, Saudi Arabia, Singapore, South Africa, South Korea, Sweden, Switzerland, Taiwan, Thailand, Turkey, Asia as a whole, Europe as a whole and the United Arab Emirates.
And here's another post on how to log out of Amazon.
While you're at it, international travelers should read our N26 review for the best way to get free ATM withdrawals the best rates on currency conversion - anywhere in the world.
Take Control Of Your Financial Future
Get the 5 personal finance tools every frequent traveler needs in 2020.

Today's Five Most Popular Posts: