The 15 Coolest Neighborhoods in the World in 2023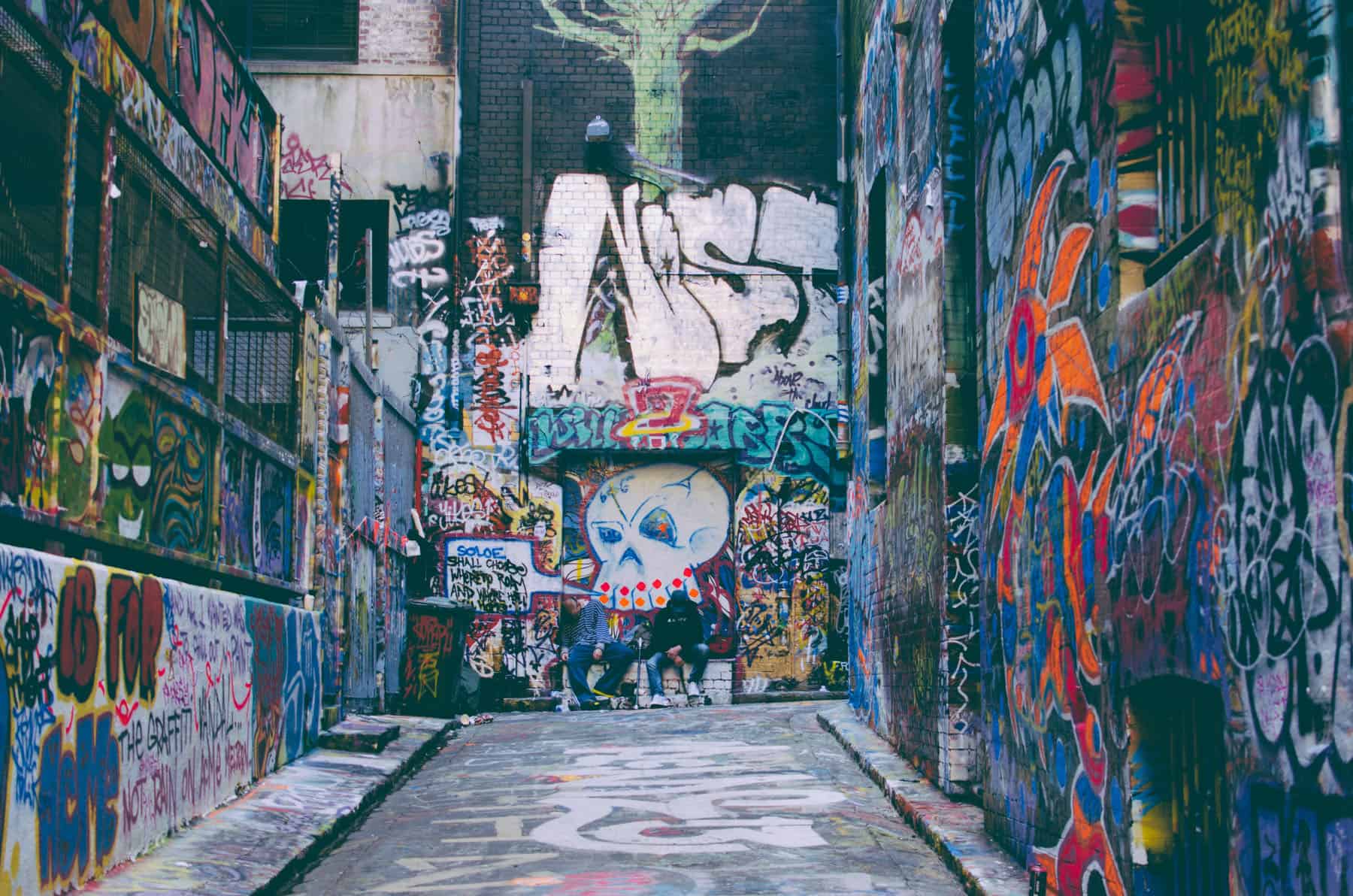 The 15 Coolest Neighborhoods in the World in 2022
Choosing the 15 coolest neighborhoods in the world is not an easy task. Why? For one, finding the trendiest districts in town is a never-ending mission.
Yesterday's happening 'hoods are soon gentrified and transformed by upmarket influences, a process which tends to push out the young crowds and creative types that were originally drawn in by the cheap rents and alternative vibes.
But we've done all the hard work for you, digging deep to uncover the very best places to visit, live in and get to grips with this year.
We've factored in an area's demographics (all our neighborhoods are teeming with 20- and 30-somethings), arts scene, nightlife, café culture, restaurants and indie stores, along with the street and community life to guarantee these places really hit the mark. And if expensive flights are the only thing holding you back from exploring more of the places on this list, check out our parent company Yore Oyster to start saving some serious money on your international travel. Problem = solved.
From artsy East Austin, to colorful Hongdae, Montreal's edgy Mile-Ex to Hackney Wick's hipster haunts, here they are.
The 15 Coolest Neighborhoods in the World
#15: Sheung Wan, Hong Kong
Amid the skyscrapers, designer brands and luxury shopping malls, Hong Kong's Sheung Wan neighborhood is a haven of hip, harboring a unique bohemian vibe and home to a thriving population of urban creatives.
Situated to the northwest of Hong Kong Island, the area is teeming with fashionable lounges, craft house coffee places, late night eateries and appealing art galleries. Alongside the influx of indie businesses, the area also retains a grittier, authentic feel with its graffitied walls, colourful structures and numerous reminders of old-world China in the form of antique dealers, dried-fish vendors and make-shift street furniture.
Tai Ping Shan Street is undergoing rapid gentrification and now boasts a wealth of artistic attractions in the form of edgy galleries, pop-up retailers, and stores selling creative homeware and accessories. Igloo Homeware and Château Zoobeetle on the adjacent Sai Street are two of our favourites. Also worth checking out is squarestreet, a distinctly Swedish lifestyle brand with an immaculate storefront on nearby – you guessed it – Square Street.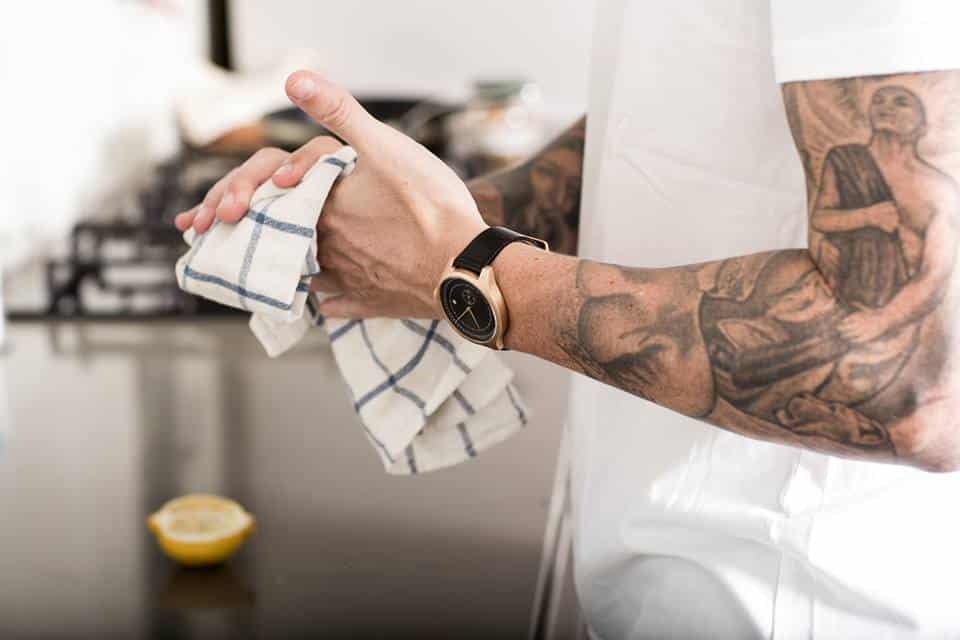 Sheung Wan's culinary scene is another big draw. Authentic international eats are to be found on every corner. Head to the Japanese gastro pub Yardbird, currently one of the city's hottest tables, for a taste of its acclaimed chicken yakitori. Classified is an ultra laidback brunch spot, whilst coffee aficionados should head to Barista Jam or 18Grams.
If you're in search of some good nightlife, head to Hollywood Road, the area's main commercial stretch, where you'll find plenty of stylish bars and lounges. 208 Duecento Otto is a great spot to share a bottle of wine with friends or feast on delicious thin-crust Italian pizza. Alternatively, check out Visage One, a quirky hair salon which doubles as a bar and live music venue.
#14: The Mission, San Francisco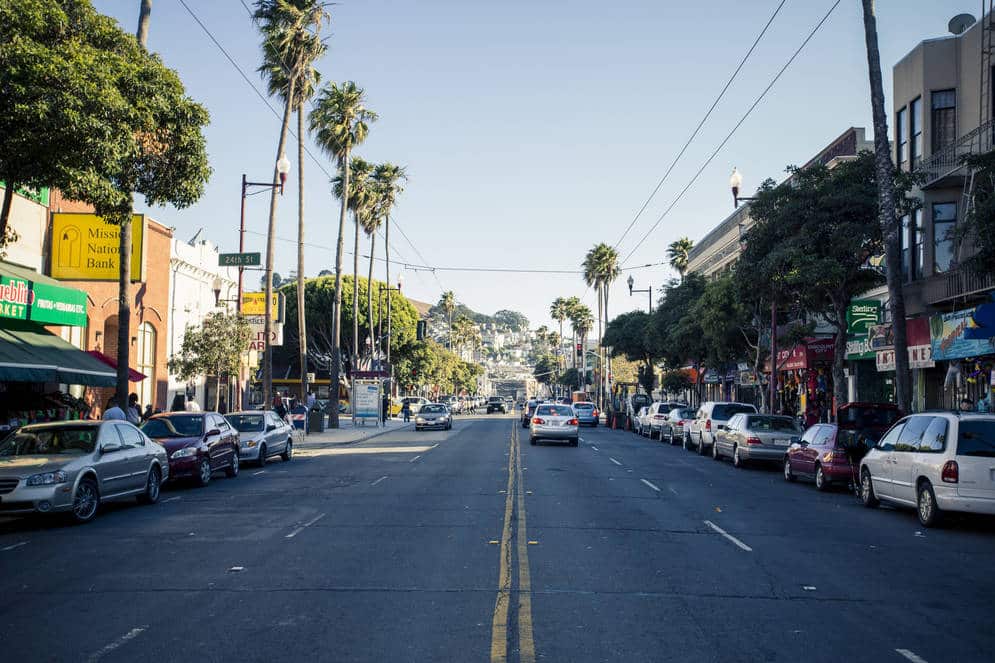 This diverse San Francisco neighborhood defies easy characterization, its inhabitants spanning the gamut of ages, professions, cultures and lifestyles. Full of striking contrasts, it's a place where you'll find everyone from tech entrepreneurs and students, to artists, musicians and ordinary working class people. The Mission is an historically trendy neighborhood, packed to the brim with craft coffee houses, stylish restaurants, chill bars, alternative bookstores and art galleries. If you're in search of good shopping, head for trendy Valencia Street with its hip boutiques and vintage clothing stores. The culinary scene is also booming in this area of San Francisco, with enough variety to satisfy the most adventurous of foodies. Be sure to check out Pizzeria Delfina, Range and Beretta restaurants, or one of the five restaurants in the neighborhood that have received Michelin stars: Commonwealth, Lazy Bear, Aster, Californios, and Al's Place. And don't miss Ritual Coffee Roasters and Zeitgeist for some excellent microbrews on tap. The district has undergone rapid changes in recent years, but traditionally has been home to a sizeable Latino community, which adds plentiful Mexican grocery stores, colorful food markets, authentic street food and tasty taquerias to the heady mix. Whilst a well-paid boho crowd flocked in and gentrified large parts of the area following the dot-com bubble, The Mission still holds onto its Latino roots, notably around the 24th and 30th Street areas.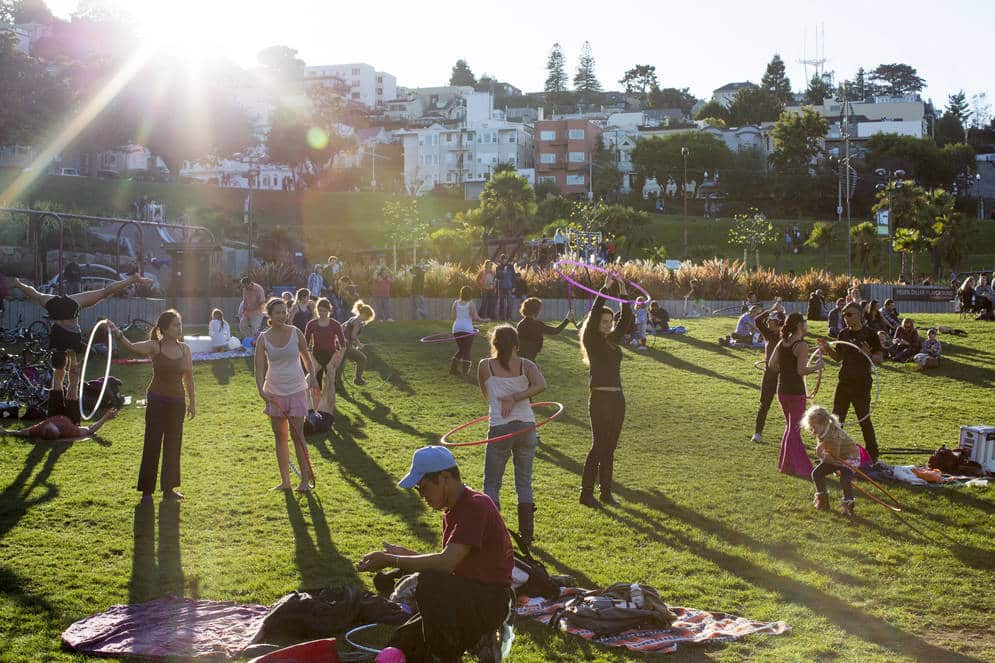 One defining feature of the Mission is the ubiquitous street art that adorns the walls, sidewalks and buildings. There's even a non-profit mural-focused arts center, Precita Eyes, which runs popular walking tours. Also, be sure to explore the neighborhoods heart and soul, Dolores Park, where locals flock to picnic, play and admire stunning views of the city's skyline.
#13: Santa Teresa, Rio de Janerio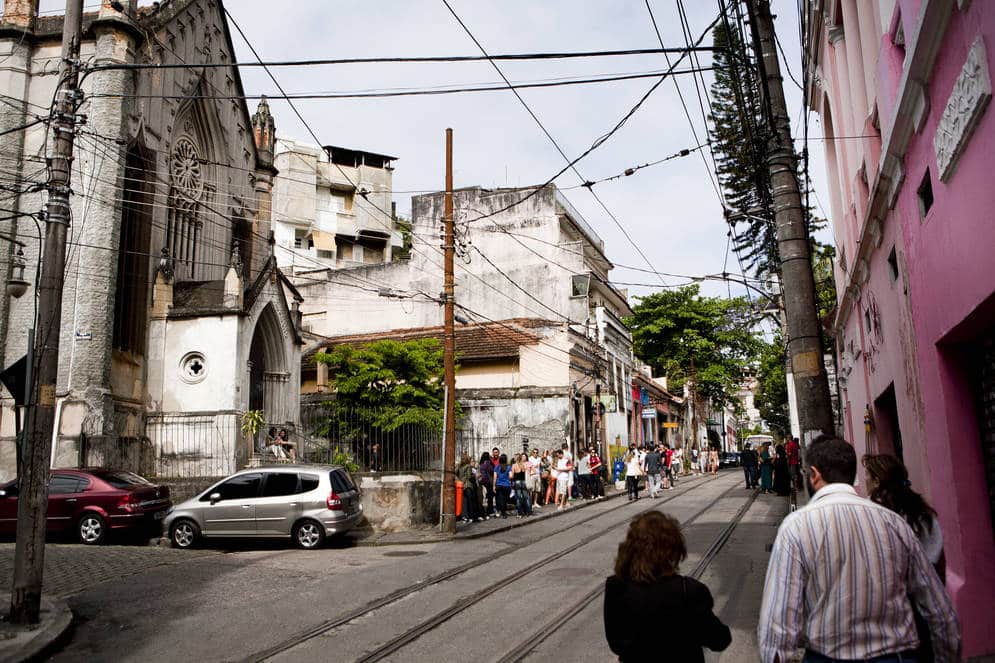 Rio has undergone an economic and cultural boom in recent years and the rush of development is only gathering pace in the run up to this summer's Olympics. One of the most exciting and fast-rising areas of the city is bohemian Santa Teresa. Situated high in the hills overlooking the downtown area, this neighborhood is an ever-evolving enclave of artistic activity and a gourmet's paradise. It attracts a young bo-ho crowd that populate the many cafés, bars, galleries and craft shops, yet manages to retain its unique identity, villagey feel and close-knit community. Santa Teresa was an historically wealthy area, a fact reflected in its many formerly opulent aging colonial buildings, many of which have been carefully restored and converted into unique guesthouses, such as the Casalegre art villa and Hotel Maria. Art deco buildings, colorful murals and mosaics add further bursts of color to the neighborhood, whilst the green spaces and hillside position, removed from the bustling city below, contribute a sense of space and calm. Artists, writers, designers and musicians have flocked to the area, setting up galleries, studios, cooperatives and boutique hotels. The area is also known for its myriad of locally-organized cultural events, from drumming performances to art walks, samba celebrations to street parades.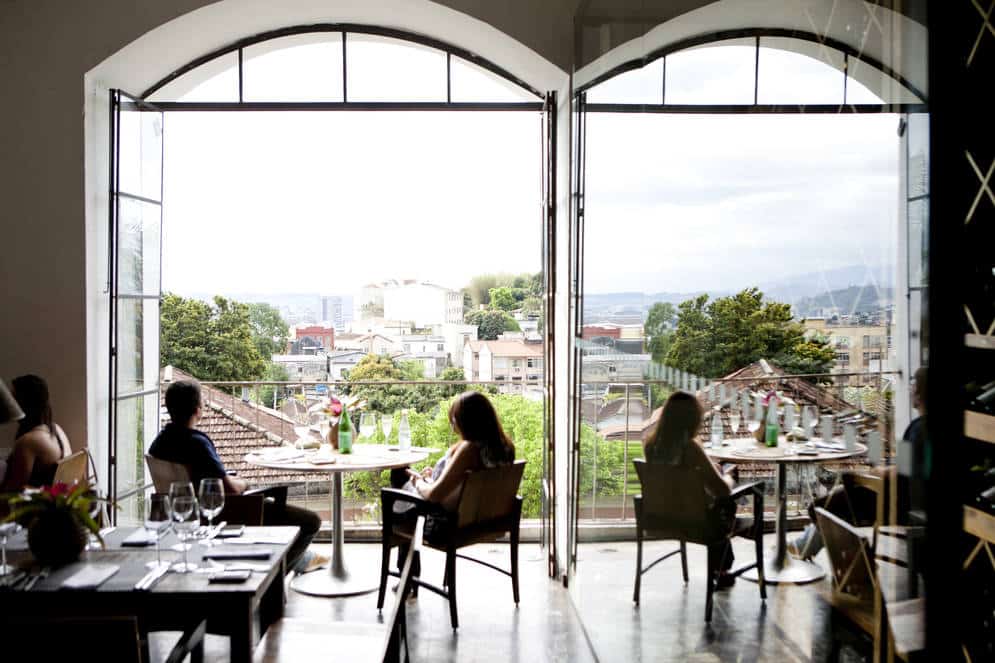 Santa Teresa's culinary scene is currently hitting a high. Eat, drink, relax and enjoy the stunning views over Rio at one of the area's many stylish venues. We recommend the renowned Aprazível Restaurante, the Espírito Santa, as well as the lively Bar do Mineiro, which serves hearty Brazilian fare accompanied by an interesting array of cocktails.
#12: Belleville, Paris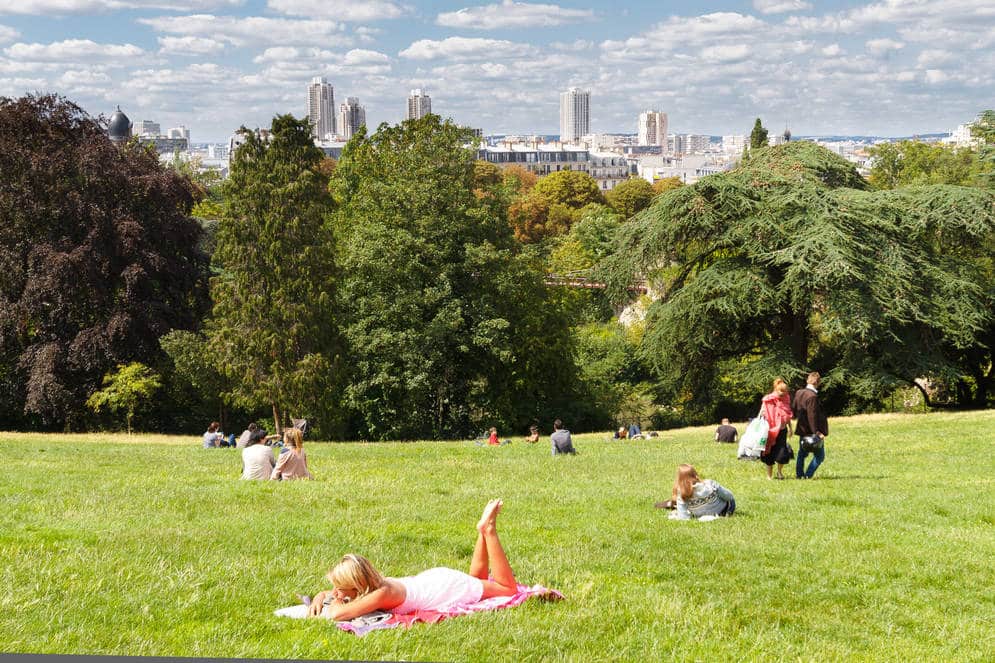 Away from its well-worn tourist tracks, Paris is home to several alternative, grittier areas, which stand in stark contrast to the city's chic imagery. Topping the list of cool Parisian neighborhoods is Belleville, a staunchly working class district located in the 20th arrondissement to the northeast of the city. This area of Paris has a growing reputation as a thriving arts hub thanks to the influx of trendy designers, artists, writers and fashionistas. Avant-garde galleries are opening left, right and center, whilst plentiful street art adds a splash of color to the neighborhood's facades. Check out rue Denoyez – plastered from tip to toe in paint – for the best example Paris has to offer. Meanwhile, artist's collectives and studios are coming together as the burgeoning creative scene gains momentum and increasing recognition. Top of the list, should be a visit to the annual event hosted by Les Ateliers d'Artistes de Belleville for a chance to sample local talent in intimate surrounds. Belleville is also strongly multicultural which adds plenty of excitement to the street life, as well as giving rise to a diverse international food scene. A bustling market fills the boulevard de Belleville every Tuesday and Friday mornings, whilst specialty food stores and ethnic supermarkets abound. Rowdy neobistrots serve up tasty offerings from all four corners of the world, including authentic dishes from places as diverse as Brazil, Rwanda, China, Tunisia, Sicily and Vietnam. Felicity Lemon and Chatomat are two rising stars on the culinary scene definitely worth a visit.
Culture-filled cafés serve up some of the city's best coffee (try popular haunt Aux Folies), and there's also a great mix of secondhand bookshops, vintage stores and arty boutiques to dive into. Finally, this northeastern corner of Paris is also celebrated for its city views. Parc Belleville is a haven of urban greenery, its renowned flower beds and gardens regularly winning awards at the Concours des Décorations Florales Estivales, topped off with stunning panoramic views over the city skyline. A little further out, the quirky Parc des Buttes-Chaumont offers splendid views as well as being a prime picnic and hangout spot during the summer months.
#11: Fitzroy, Melbourne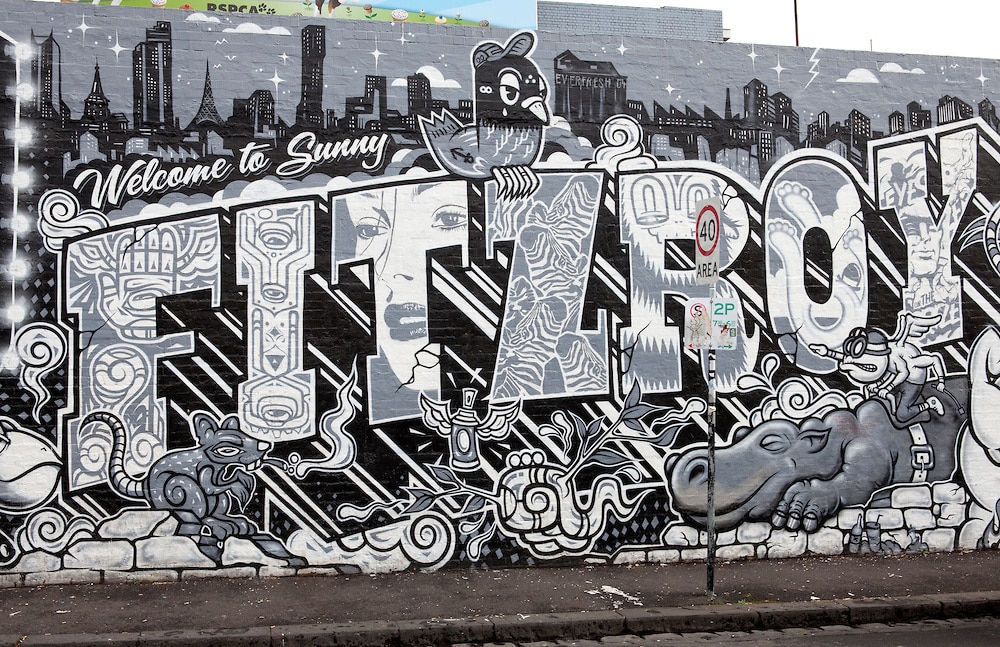 This former inner city industrial area turned bohemian enclave is home to some of the coolest young Australians you'll find anywhere. Brimming with arts and culture and home to numerous bars, restaurants, vintage shops and music venues, it's high on the list of hip places to visit. Head to the main drag, Brunswick Street, to sample the area's quirky shopping scene, featuring vintage stores and indie bookshops. Take in the eclectic street scene with its quirky building designs, historic Victorian architecture and eye-catching murals. Art galleries and photography exhibitions pepper the area, reflecting the strong creative bent of its residents. Stop by the Alcaston Gallery and Sutton Gallery for a dose of artistic inspiration. Street festivals are also a staple fix on the calendar, including Brunswick Street Festival and the Gertrude Street Projection Festival, both of which pull in hordes of young creatives with plentiful art installations, live music and gourmet food stalls.
Fitzroy takes its food and drink seriously. It boasts endless culinary options, from Mexican to Thai, African to Italian, Spanish to Vietnamese. It's also awash with stylish bars, boasting interesting cocktails and eclectic interiors. Indeed, this neighborhood is home to some of the world's best bars, including The Black Pearl and The Everleigh. This corner of Melbourne also harbors strong coffee and brunch cultures giving it extra hipster kudos. Cafés have cropped up in every conceivable piece of real estate, from former warehouses to the old milk bars that once lined Brunswick, Smith, and Gertrude Streets. Industry Beans offers the best of both with its expertly roasted specialty brews and inventive menu featuring dishes such as truffled egg and coffee rubbed wagyu burger.
#10: West Queen West, Toronto
A two kilometer strip in Toronto's west end, West Queen West is widely seen to represent the very coolest part of this diverse, multicultural city. Indeed, a couple of years back Vogue named it the second hippest neighborhood on the planet, and today it continues to lead the pack, cementing its well-established reputation as Toronto's edgy arts and fashion hub. The neighborhood boasts a strong artistic presence, housing the largest concentration of galleries in the city, many of which are well-hidden, secretive spots. Particularly worth a visit are the Edward Day Gallery, Twist Gallery and the Birch Contemporary, among a host of others.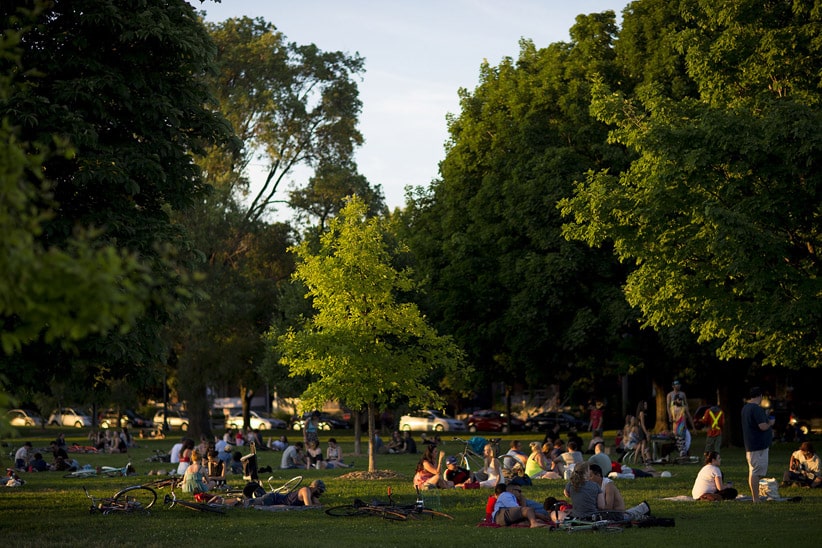 Artists, designers and a young, hip crowd flock to the area's locally-owned bistros and cafés, one-of-a-kind boutiques and trendy nightlife establishments. The area is chock-full of homegrown, ethical eateries which cater to all dietary preferences. We recommend the popular café Tequila Bookworm or Nunu for some mouth-watering Ethiopian food. The area is also home to some big name attractions, including the Museum of Contemporary Canadian Art and historic hotels The Drake and Gladstone. Take a well-deserved break from all the gallery-hopping at the Drake's rooftop Sky Yard, where you can sip on cocktails or enjoy a laid-back meal amid art-inspired surrounds, or explore the Drake Underground, where you'll find primarily indie acts but can also score M.I.A. and Kevin Garrett, if you're lucky. Also, be sure to pay a visit to Graffiti Alley, a block where street art is both welcomed and celebrated, and to the beautiful and always buzzing Trinity Bellwoods Park. If you want to go the extra mile, then head over to nearby Ossington between Queen and Dundas. This rapidly-gentrifying area is gaining recognition for its nightlife and the very latest in trendy dining options – if you're a fan of Asian or Latin-inspired food, you can't beat Foxley Bistro and Bar.
#9: Hongdae, Seoul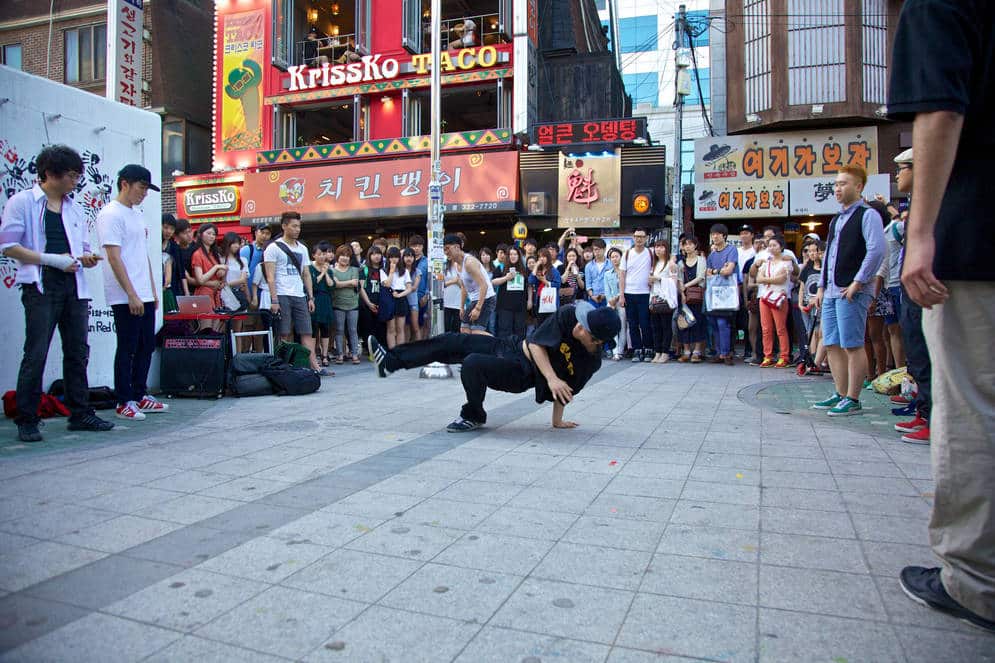 Hongdae is widely recognized as Seoul's hippest district, home to a large student population, along with flocks of fashion-conscious creatives sporting eclectic outfits and harboring alternative and forward-thinking views. Throughout Hongdae, you'll find the colorful streets littered with cute boutiques, themed cafés (try the Hello Kitty Café), design shops, quirky bars and all-night karaoke and dance venues. Coffee lovers can get their fix at any one of the numerous gourmet coffee shops. Zombie Coffee Roasters is a particularly good bet.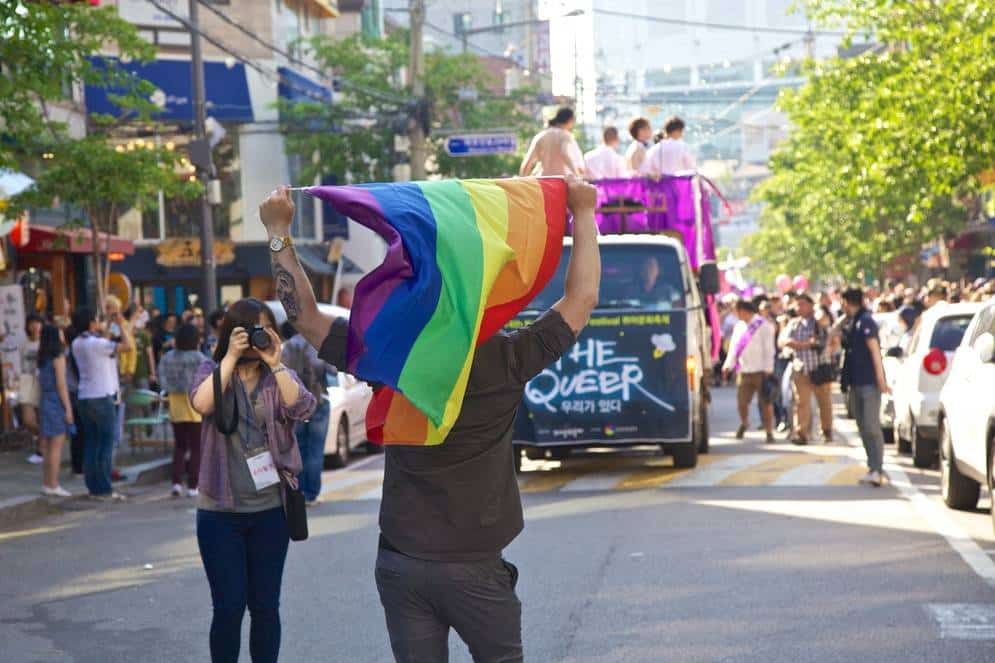 Public gatherings centered around art and self-expression are big in this part of Seoul. Street performances, art demonstrations and weekend craft markets offer up a feast for the senses. Be sure to browse the "Free Market" and "Hope Market" at Hongdae playground for some unique finds. Street art proliferates in Hongdae. In particular, check out Mural Alley which has been painted by students from the adjacent Hongik University, renowned for its art and design courses. Finally, this Seoul neighborhood is also a music and party haven guaranteed to keep you up into the early hours. Karaoke bars coexist side by side with renowned clubs and underground independent venues. For a taste of South Korea's best nightlife, we recommend hitting up Cocoon, NB2 or Club Vera.
If you're not totally sold on Hongdae and want to explore some of Seoul's other hip 'hoods, take a look at this guide from TripHappy.
#8: East Austin, Austin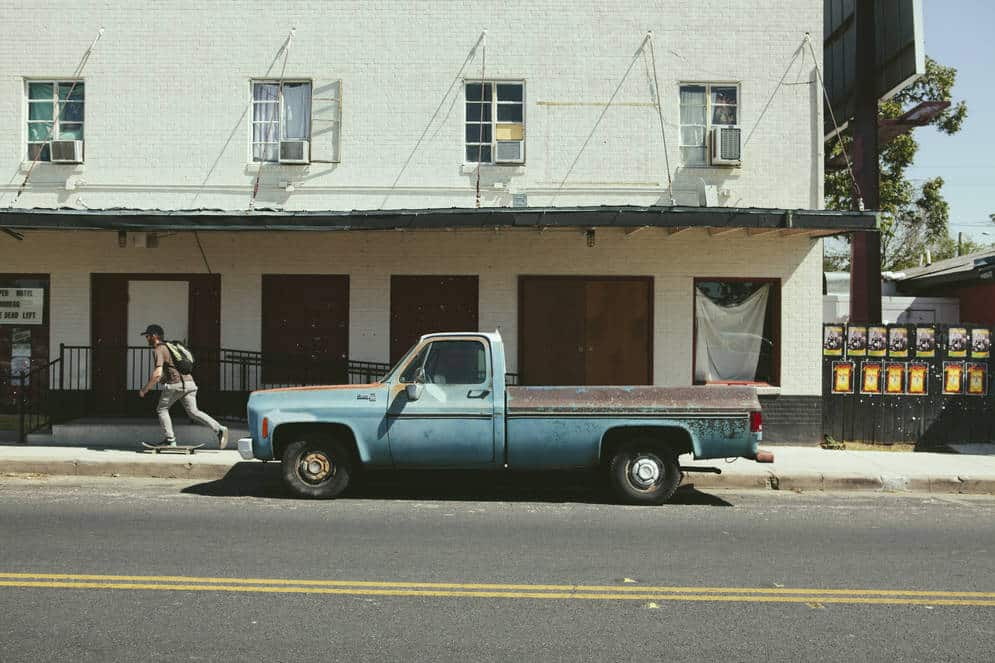 Just east of downtown, this Austin neighborhood exudes cool with its seemingly never-ending supply of bars, food trucks, art studios, Mexican eateries and live music venues. Its streets are characterized by shabby buildings, colourful facades and graffitied walls, interspersed with pretty areas of greenery such as Tillery Park.
Traditionally a working class neighborhood popular with Hispanic and African-American populations, East Austin is now home to a rapidly growing arts community which have been drawn in by the cheaper rent. This new wave of residents are known for their creative vibes, nonconformist values and proud championing of local businesses. East Austin is a hotbed of contemporary art. If you're in town in November, be sure to get involved in the East Austin Studio tour, where the area's many artists come together to showcase their work and host community festivities. You'll also find plenty to keep yourself occupied in the area's food scene, with the wide array of local authentic eats on offer. Among the huge number of food trucks, East Side King sticks out as a great place to get your taco fix. Meat lovers should head to Franklin Barbecue or Jacoby's. Also be sure to check out vegan hotspot Counter Culture, the HOPE Farmers' Market, and the hip Flat Track coffee shop that doubles as a bookstore.
#7: Hackney Wick, London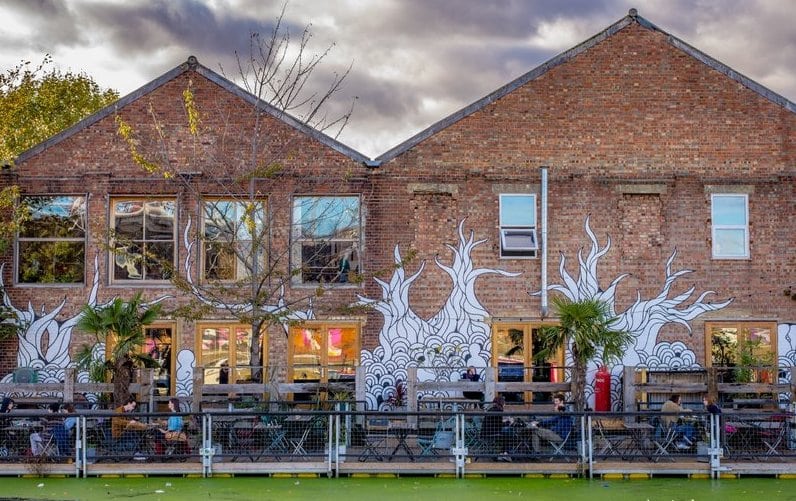 Gentrification is proceeding at a rapid pace in London, turning many formerly deprived areas into cool new hangouts popular with students, artists and young professionals. Some neighborhoods are more established hot spots than others, with Shoreditch, Brixton, Peckham and Dalston representing some of the hippest parts of the British capital. But rents have been rising fast in these areas, and the scenesters of only a few years ago are already moving on in search of new pastures. Leading the way in terms of regeneration and trendiness right now is Hackney Wick, a former industrial area situated on the edge of London's Olympic Park. This neighborhood is filled with converted warehouses and disused buildings which line the banks of Regent's Canal, along with plentiful street art, some great budget eateries, and a thriving creative scene.
Hackney Wick is a big draw for young twenty-somethings, especially during the summer months as people gather canal side, fill the area's roof-top bars and feast at burger vans and fish smokeries. Be sure to check out Counter Café, the Hackney Cut and Number 90 for great food, music and welcoming vibes. Also not to be missed is the Hackney Wicked Art Festival which brings together a diverse community of creatives with its gallery exhibitions, open studios, pop-up installations and live gigs.
#6: Kreuzberg, Berlin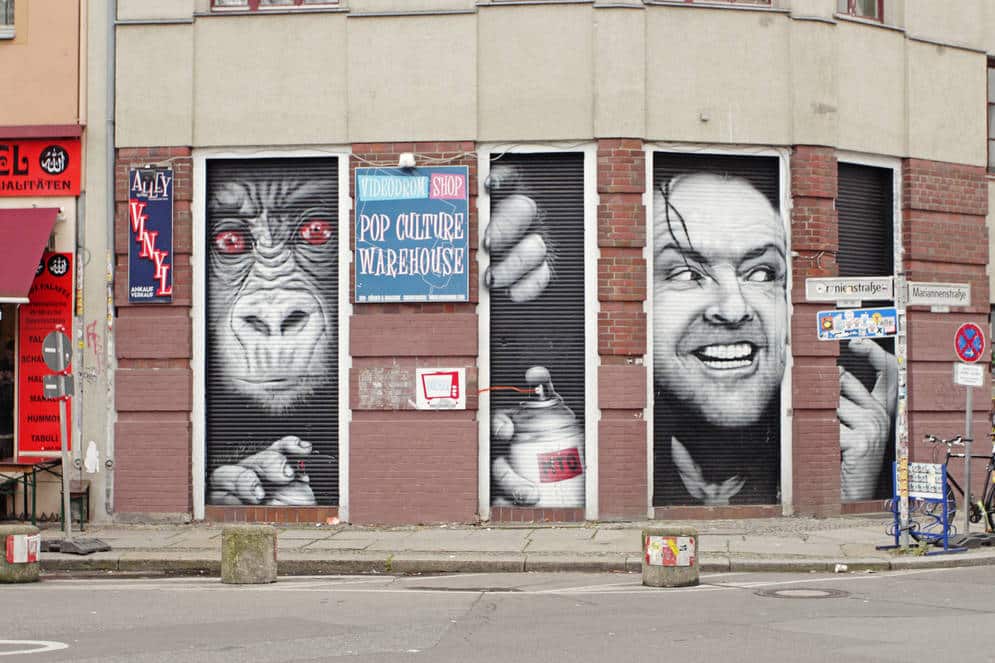 This hip, high-energy neighborhood is loved by Berliners and known the world over for its cool, rebellious vibes, thriving alternative music and art scenes, along with its notoriously wild nightlife. Being formerly enclosed by the Berlin Wall led this area to develop a distinctive atmosphere and strong revolutionary spirit, which still persist today in spite of the encroaching gentrification. Kreuzberg is teaming with late-night bars, pop-up watering holes and small, quirky clubs which cater to every taste under the sun. Food carts and sidewalk stands, serving up doner kebabs and local favourite currywurst from Curry 36, fuel revelers into the early hours. The neighborhood is also within walking distance of some of Berlin's legendary superclubs, including SO36, which began as a punk rock venue but today hosts a large number of dances and parties, and of course Berghain and Watergate.
This West Berlin neighborhood is well-connected to the rest of the city's attractions, making it the ideal place to base yourself. Within Kreuzberg itself, the best way to get around is by bike. Cycling along the area's canal network or diving into the colorful Turkish market are great ways to while away an afternoon. Also, be sure to check out Tempelhofer Park, an airport turned public space and popular hipster haunt where you can cycle, skate or play kick-about on the runways. Kreuzberg has strong counter-cultural roots and boasts a definite post-punk vibe, with its dilapidated facades, edgy music clubs and ubiquitous street murals. Add a plentiful array of cafés, vintage stores (such as the ultra-cool VooStore) and record shops to the mix, and you have a truly eclectic neighborhood understandingly popular with young, alternative crowds.
(For any Italians passing through Berlin, Il Mitte is an amazing source for the best of what's happening in the city. Here's one of their most recent posts on Kreuzberg.)
#5: Pearl District, Portland
No area of Portland has undergone such a rapid transformation as the former industrial Pearl District, situated on the northwest side of the city. It's now home to converted warehouses, fancy high rise condos, and is attracting both a wealth of artists, as well as more upmarket residents. Pearl District is the city's arts hub, home to numerous galleries and studios boasting an impressive array of contemporary art installations by local and international talent alike. Some of the best include the accalimed Elizabeth Leach Gallery and the Blue Sky Gallery home to some inspired photography displays. This area of Portland is renowned for being highly health-conscious. There are several large parks and smaller green areas perfect for exercise or a gentle stroll. The Pearl district is also a stone's throw from the city's legendary farmer's markets.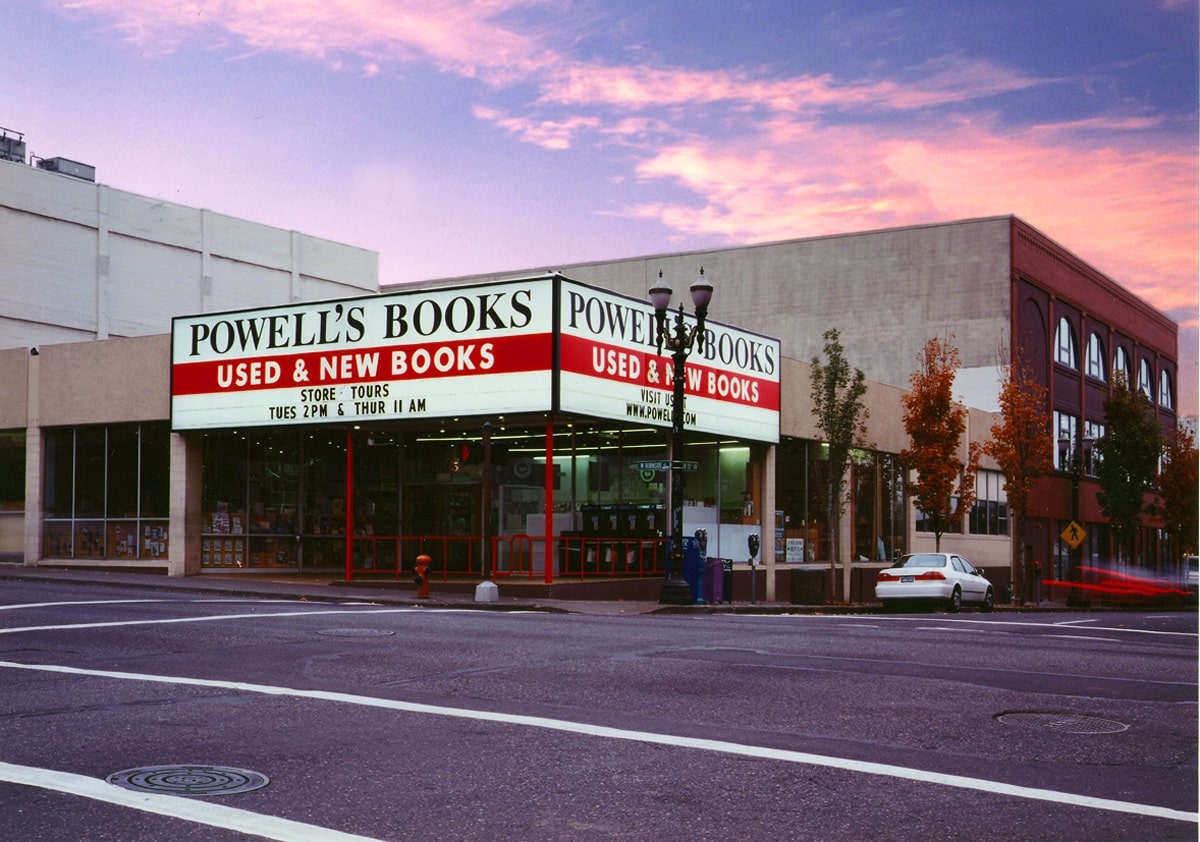 And to be sure, this hip area has a strong coffee culture (try Stumptown Coffee at the Ace hotel), along with boatloads of bars, boutiques and restaurants. You could say there are dozens of weird and fun things to do here. Finally, a trip to this area would be incomplete without a visit to Powell's City of Books, a book lover's dream and firm Portland institution.
#4: Malasaña, Madrid
Malasaña harbors strong creative and counter-cultural roots which stem from La Movida – an eruption of art, music and liberal values that was unleashed in the early '80s following the fall of the Franco dictatorship. This revolutionary spirit and creative streak lives on today, attracting a young, hip and international crowd which fill its atmospheric streets, cozy cafés and trendy bars. Whilst a new wave of residents are moving in, along with a host of fashionable new establishments, Malasaña manages to hold on to its traditional roots. Classic old bars still populate the area, as do many of the traditional markets, bookshops and record stores established by the previous generation, infusing the area with old world charm. Head to the Plaza del Dos de Mayo, around which much of the area's activity is to be found. The cobblestone streets of Calle de Barco and Calle Valverde, in particular, are filled with coffee shops, eateries, and alternative thrift stores. A great place to eat out is Restaurant Ojala, which not only serves up a delicious brunch menu but is also home to its very own beach, complete with sand, wave projections and tropical vibes. Federal Café is another great laid back spot to while away a few hours, and be sure to try La Bicicleta to sample some of the city's very best coffee. Art is very much a part of life in this colorful Madrid barrio. The streets resemble open-air art galleries and there are plenty of exhibitions and art associations to get involved in.
Malasaña is also home to Madrid's best nightlife, and arguably some of the most vibrant, not to mention affordable, in the whole of Europe. The area boasts an eclectic array of venues catering to all tastes, from metal music and punk rock (Space Monkey is a good choice) to top 40 and electronic vibes. The popular bar TupperWare is a must-visit for it outrageous kitsch and fun atmosphere.
#3: Södermalm, Stockholm
A former working class area nestled on an island forming part of Sweden's capital, Södermalm is a hothouse of alternative culture and creativity. A young population have flocked to the area in recent years, leading to an upsurge in cool and quirky shopping, eating, drinking and partying venues. This neighborhood is renowned for its vintage shopping scene. A must-visit is Grandpa, filled with trendy second-hand clothing, along with unique home ware and vintage furniture pieces. Also be sure to pay a visit to Paper Cut for one of the best selections of magazines you're ever likely to come across.
It's not all about the shopping, though. Södermalm also boasts some of Stockholm's best food, art and nightlife. Organic cafés, specialty coffee shops, candy stores and urban delis abound. The area is especially big on restaurants serving fresh, locally-sourced food, making it a great place to sample the very latest in new Nordic cuisine. There are also a sprinkling of art galleries well worth checking out, notably Fotografiska, Candyland and Gallerie Kontrast. Finally, Södermalm is a great place to hang out after dark, boasting a wide array of trendy bars, pubs and beer gardens, as well as live indie music venues, such as Pet Sounds Bar.
#2: Silver Lake, Los Angeles
Known as the Williamsburg of the West, Silver Lake is a popular hipster hangout boasting one of the largest concentrations of creatives in America. Characterized by its cool modernist architecture, thriving food scene, trendy indie rock venues, and ubiquitous coffee, vintage and record stores, this Eastside neighborhood is awash with young artists, musicians and actors. LA's creative hub is a refreshing antidote to the glitz of Beverly Hills and Hollywood, and though it doesn't attract anything like as many tourists, it still has more than enough to satisfy any visitor. Silver Lake is one of the city's most pedestrian and bike-friendly areas, so do as the locals do and take to the streets. Explore the area's lush reservoirs, browse its eclectic boutiques and thrift stores, and sample craft cocktails at one of the many hip lounges along Sunset Boulevard. This neighborhood is also a true gourmet enclave, boasting specialty food stores, juice bars, food trucks, taco stands and farmer's markets selling all the organic produce you could want. Check out Cliff's Edge for fantastic French cuisine or Pine & Crane for deliciously fresh Taiwanese food cooked up with locally-sourced ingredients.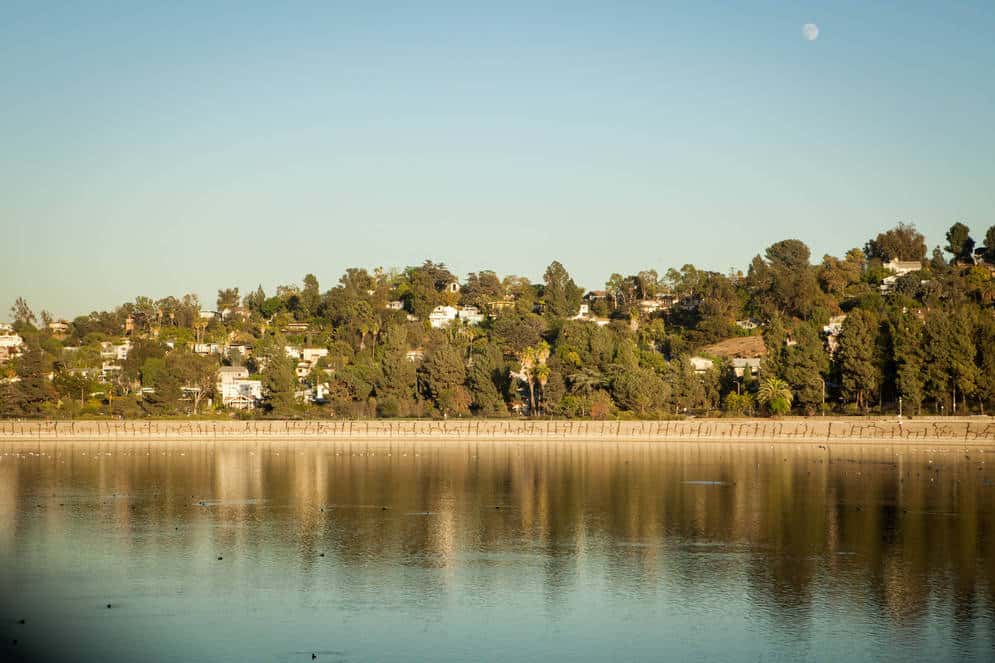 We also recommend paying a visit to the Conservatory of Music, set up by Flea of the Red Hot Chili Peppers, and stopping by popular Intelligentsia at Sunset Junction for some of the best coffee in LA and some great people-watching.
#1: Mile End & Mile-Ex, Montreal
Rounding out our list at #1, we're heading to Montreal, where we've got not one, but two ultra cool neighborhoods to dive into.
Montreal's Mile End, situated just to the North of the fashionable Plateau neighborhood, has been an area on the rise for a while now, cementing its reputation as the "hipster capital of Canada". A bilingual district with a good mix of Francophones and English speakers, its artsy edge and vibrant music scene – which gave birth to the likes of Arcade Fire – draws a young, creative crowd which fill its many cafés, bars, art studios and galleries. If you're in the area, be sure to check out Drawn & Quarterly's stock of world-famous comics or head to the famed music venue cum art space, Casa del Popolo. Foodies, be sure to grab a steaming hot bagel from St. Viateur. If you're in search of what's new right now, then check out the less established but fast rising Mile-Ex. This up and coming neighborhood is situated just to the west of Mile End and borders Little Italy's buzzing Jean-Talon food market.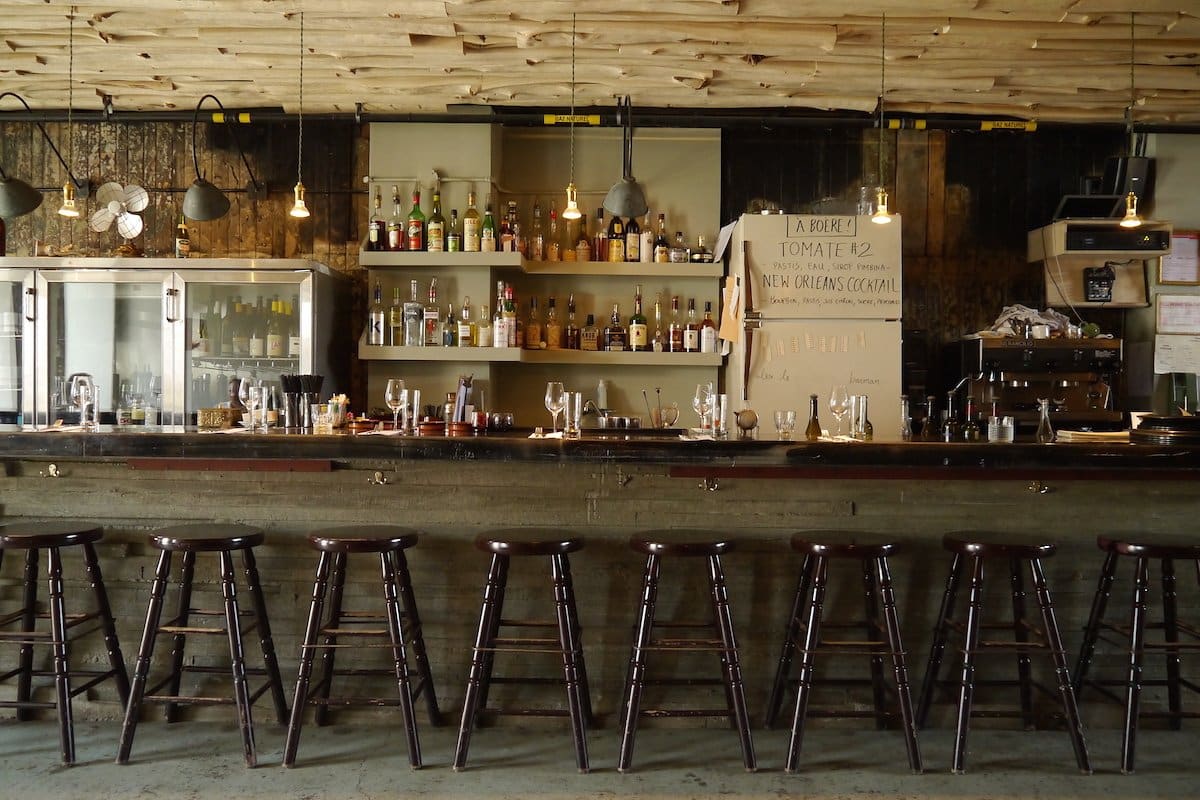 Mile-Ex resembles the Plateau and Mile End of 20 years back, before their ongoing gentrification and bourgeois make-overs started pricing many young creatives out of the area. As a result, many artists, designers and architects have decamped to Mile-Ex, setting up their studios, collectives and galleries in old dilapidated factories; spaces which serve as strong reminders of the area's industrial and working class past. With its indistinct boundaries, higgledy-piggledy street layout, shared spaces and well-disguised venues, Mile-Ex is sure to keep you on your toes. The area is fast becoming a new haven of urban cool with its wealth of hidden treasures which beckon to be discovered. Be sure to track down Restaurant Manitoba to sample a truly "wild" menu in stylish surrounds, and then head to Alexandraplatz Bar to soak up the chill vibes and wash it down with some local brew.
So how did we do? Are there other neighborhoods that fly even more under-the-radar that we've missed? Let us know your favorites on Facebook so we can check them out too!
---