Amazon HK
With Amazon HK, it's not clear which items ship to Hong Kong and which don't, nor how much Amazon shipping to Hong Kong will cost if they do ship. What a pain!
But it doesn't have to be that way. I've tested all of the prevailing techniques and developed a process that makes shopping on Amazon in HK much, much better. Does Amazon ship to HK? With this technique, absolutely.
Do you have four minutes to spare? If so, log in to Amazon.com and let's get started.
FIRST: The 2-Step, One-Time Amazon HK Setup Process
STEP 1: Bookmark your new Amazon HK Homepage
Normally when you go to Amazon.com, Amazon assumes you are within the USA, which means those of us in Hong Kong are constantly seeing error messages when we reach the checkout page.
So instead of going to the Amazon USA page, you need to start all of your Amazon journeys on the Amazon International page, which you can think of as the Amazon HK homepage. Amazon makes it pretty tough to navigate here on your own, so just bookmark this page and start all of your Amazon searches from there moving forward. Using this page alone will make all of your searches much, much more relevant by eliminating items that can't be shipped internationally.
STEP 2: Set up your 1-click Address
Searching from your new Amazon homepage will tell you what items are eligible for global shipping, but there are still some items that can't be delivered to Hong Kong. To avoid those, you'll need to specify that you only want to see items that are eligible for Amazon HK shipping.
To do that, go to Manage Shipping Addresses under Your Account and ensure you have your Hong Kong address listed (if you don't, add it as a New Address). Also, ensure that you have 1-click ordering turned on so that Amazon will check your address before showing you any item (Note: you never need to actually use the 1-click ordering functionality, but it's still important to turn it on here). Then, once you have your Hong Kong address set up, add it as your default shipping address, including 1-Click and gifting, as shown below.
FOREVER AFTER: Your New Amazon HK Search Process
As a general rule, books, clothing and other mainstream media are almost always eligible to ship to Hong Kong. But on the flip side, a lot of electronics – particularly Apple products – are not. Use the process below to shave down your search time to the bare minimum.
Here's an example. I've recently been thinking about getting a Fitbit to track my workouts and monitor my sleep, so let's assume I'm going to buy one and have it shipped to Hong Kong. Here's how I'd do it:
First, I go to my newly bookmarked Amazon homepage and type "Fitbit" in the search bar:
Next, I refine my search to only include those items that can be shipped to Hong Kong:
And voila! As you can see, the item ships to Hong Kong for just $5.72!
Amazon Free Shipping to Hong Kong
While you won't find completely free shipping to Hong Kong on Amazon, shipping is still very cheap. As you can see on Amazon's Shipping Rate Chart to Asia & Pacific Islands, standard shipping costs $2-8 per item, while express shipping costs $10-20 per item.
Import taxes/duties on items purchased
Hong Kong does not charge any import taxes or duties, which makes online shopping here a joy. Even if there were taxes/duties to be applied, they'd be collected by Amazon when you checkout, so you never need to worry about paying any additional taxes or fees when your item is delivered.
Who actually ships my Amazon items?
In most cases, it will be Hongkong Post who deliver your items, and they generally take 1-2 weeks to arrive. If you're not home when Hongkong Post attempts to deliver, they'll leave you a delivery notice and you can pick up your item from the nearest post office location the next day. Here's the official list of every Hongkong Post location in Hong Kong.
How can I buy items that Amazon won't ship to Hong Kong?
There are some items that Amazon won't ship to Hong Kong, most notably their own Amazon Kindles and the new Amazon Tap and Amazon Echo Dot devices. Still, there is a workaround that you can use to get these items to you in Hong Kong, which is using a third-party package forwarder. Here's how to do it.
STEP 1: Sign Up With A Package Forwarder
Open an account with a package forwarder, who will accept your Amazon purchases at their warehouse in the USA and forward them on to you. We recommend Planet Express, since they ship with DHL have excellent customer reviews. Planet Express will even repack and consolidate your shipments so you can ship multiple items at once and save on the shipping cost, and they allow you to store your packages at their USA warehouse for up to 10 days for free. Their customer service is known to be excellent, too. If you want to get a Planet Express price quote on a specific item, use their Shipping Cost Calculator here.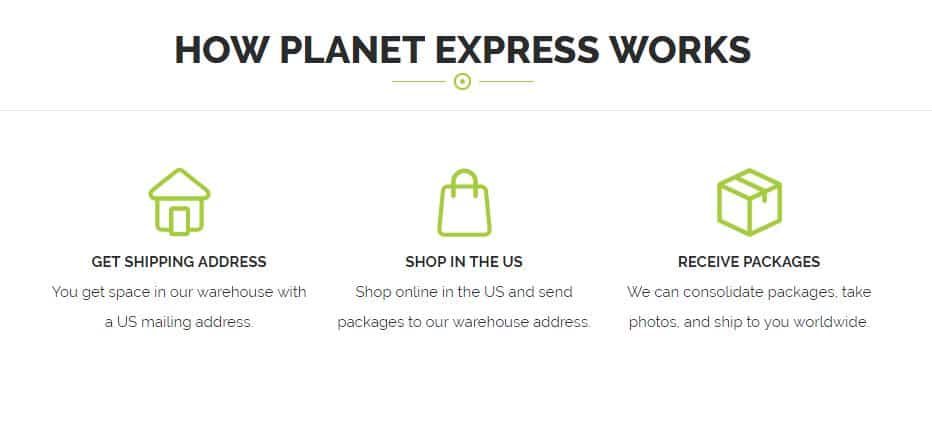 SIGN UP FOR PLANET EXPRESS NOW (FREE!)
STEP 2: Purchase Your Item
After going through your new Amazon international search process above and verifying that you cannot ship the item you want from Amazon to you (maybe it's the iPhone 6), send it instead to your new USA address by copying and pasting that address into Manage Shipping Addresses under Your Account. Then you're ready to buy!
STEP 3: Forward Your Item
You'll receive an when your package arrives at their warehouse in the USA, so all you need to do is confirm the shipping speed on the forward (priority, economy, etc.) and whether you want additional insurance (it's already being sent with DHL, so you probably won't need it), and then pay for the shipment forwarding. For shipping something like a Kindle, the charge will be $10-15 USD or less.
Alternatives to Amazon in Hong Kong
Between these two methods – searching for items that Amazon ships directly to Hong Kong, and using Planet Express to forward packages that Amazon won't ship directly to Hong Kong – you can get 95+% of the items you'd want into Hong Kong. But there are still a list of items you are prohibited from importing into Hong Kong, so those first two methods won't work. So who do you turn to then?
Here are a few good options:
Also, since so many of you have been asking us for them, here's our full list of country-specific posts outlining how to ship anything from Amazon to any country in the world. Our 2-step method makes it as simple as humanly possible, and takes about 3 minutes total: Austria, Bahrain, Cyprus, Denmark, Finland, Hong Kong, Hungary, Indonesia, Israel, Kuwait, Japan, Malaysia, New Zealand, Norway, Oman, Philippines, Poland, Portugal, Qatar, Russia, Saudi Arabia, Singapore, South Africa, South Korea, Sweden, Switzerland, Taiwan, Thailand, Turkey and the United Arab Emirates.