Photography by Leanna Flecky (Web / Instagram)
Mishie Hoops is the physical manifestation of the phrase "Follow your dreams."
A former Risk Manager, Mishie grabbed life by the horns and left her stable job behind to become a professional hula hooper. She's since founded The Hula Hoop Institute, where she produces The Hoop Dream Retreats in tropical locations across Southeast Asia. Her next retreat is set somewhere between the billowing rice terraces, domineering mountains, and warm Pacific waters of Bali, Indonesia – the place Mishie currently calls home – with another Hoop Dream Retreat in Malaysia already in the works.
In case that's not enough, Mishie also runs an e-commerce business. Follow her life in paradise on Instagram.
I'm Mishie Hoops, and this is How I Travel.
What do you love most about traveling?
For me, it's all about the feeling of freedom. I'm free to experience new sights, new tastes, new emotions, all in new places with new people. When you push yourself to have this many new experiences in your life, everyday truly becomes an adventure.
So I think it all comes down to this: Home is where the heart is, and that can be wherever you want it to be.
How has travel changed you as a person?
I realized how important lifestyle design – the ability to control how and where I spend my time – is to me. I strive for flexibility in my days, working on projects I am passionate about. I'm more present. I'm more patient. I travel when I desire and for as long as I desire. I spend time with my loved ones when the time feels right. I plan fun and adventure every week. I make time for me.
Travel has offered a complete life change for me ; I'm so grateful that I accepted it.
What's the biggest lesson you've learned through all your travels?
You need to go with the flow!
Like that time I met a really cool guy who had just moved to Bali and I had just decided to leave the island to go travel the world with my hoops. I stayed on the island a little longer and he is now my sweetheart and business partner. We go on adventures and create magic together every day!
Or like that other time I accepted a contract role as the Social Media Manager for an event and gathered together a team, all with the promise I would be paid on completion of contract, only to arrive in the country and find the event organiser had gone broke and didn't have a venue or accommodation for her 60 guests, who had already started arriving. It was a mess, but stemming from the successful damage control and friendships I forged from that experience, I was reminded that I'm a fantastic event organiser. My own event, The Hoop Dream Retreat, was born.
Or like today, when I went to cook a pack of instant noodles and there were a bunch of live ants in the pack. I cooked it and ate it anyway. Sorry ants.
With every new experience, I'm given the choice of accepting the curtrarent situation as it is, deciding if I want to complain about it, or choosing to create an opportunity from it. Life happens – how are you going to make it the best life you can?
What's the one travel experience/story that has had the biggest impact on you?
Visiting Ubud, Bali for the first time.
I was working as a Risk Manager for Australia's largest engineering company and was responsible for rolling out 2 large projects around the world. I had recently gone through separation from my husband and partner of 9 years. I was learning to be on my own, to be independent and manage all aspects of my life on my own. I was keeping so busy just to distract myself from the reality that was my life. I was struggling to keep myself together.
I arrived in Ubud, Bali after dark and checked into a cute wooden joglo in an ashram. In the morning, I woke to calls of a large tokek (gecko) before sunrise and attended a silent meditation followed by an agni hotra fire ceremony, all of which was brilliantly new to me. I spent my days walking through the rice paddies and jungle, talking to strangers at cafes, and hula hooping with new friends. Over time my mind quietened. I experienced a level of calmness and peace I had never known.
I returned to Melbourne feeling super zen and viewed life in a completely different way. Two weeks later I put in my resignation and moved to Ubud, Bali where I would later decide to become a professional hula hooper and launch a retreat business. And today, I couldn't be happier.
[bctt tweet="'Travel offered a complete life change for me ; I'm so grateful I accepted it.' @MishieHoops"]
---
Mishie's 10 Favorite Travel Items

I need my body to feel in top condition, but and I can't always get to a professional massage therapist or bodyworker. Instead, I use tennis balls for self massage and myofascial tissue release to assist with increasing flexibility and letting go of tension and pain in my mind and body. It helps me feel more energetic and flexible.

You never know when you might be teaching at a wellness & yoga festival, or get asked to perform at a music festival on a cruise ship (true story)! My fave costume is my neon pink & orange leopard print leotard with orange-fringed shoulder pads by Fizzy Fingers.

My collapsible travel hula hoop is beautiful and sparkly for hooping during the day, and I just add batteries for a bright white light for playing and performing at night. The hoop can easily be attached to my day pack and carried onto a plane or while I'm riding my scooter, or just clipped to my backpack to be checked in on flights.

I use it for face and skin moisturizer, to stop mossie bites from being itchy, when I'm lying in the sun, I can eat it, AND I feed it to the stray puppy that we adopted (well, it adopted us) in Bali to make its coat all nice and shiny. [Editor's Note: Marina also loves coconut oil for getting zippers unstuck, conditioning her hair, and more]

Plain and simple, I need coffee  to function. With my AeroPress I know I can make quality coffee everywhere I go. And after making coffee, I also use the coffee grounds to make my own body scrub! I use it dry pre-shower or mix it with coconut oil for extra moisturizing benefits, resulting in silky smooth skin 🙂 And I get to smell like coffee all day! [Editor's Note: Johnny also swears by his AeroPress, though we can't confirm whether he uses the coffee grounds for silky smooth skin, too]

I have to have this to stay connected by phone and data EVERYwhere I go. I am directionally challenged and need my Google Maps!

So I can break out in dance to great sound, wherever I am! My Minirig allows me to host hula hooping workshops in parks, beaches, cafes, yoga studios, cruise ships – anywhere that there is a wide open space.
I recently invested in the Minirig Subwoofer as well, but I'm not sure I'll be carrying that on every trip due to its weight (875g).

I just got this new backpack and it's a life changer. Being a petite female with a short (though I say "regular") torso, it can be difficult to find the right backpack that sits comfortably with a hipbelt, compression straps, offers flatpacking, and a daypack (pictured here) that fits my "office" and can be clipped in comfortably to the front of the pack. And the dealbreaker for me – do my collapsible hoops attach or fit inside? With this Osprey Farpoint 70, it's a resounding YES.
I chose a Small/Medium pack in blue and managed to snag the last one in Australia when I was there over Christmas. I must've tried 30 different packs at 8 different stores!

I love this one from Blom because it can be worn in hundreds of different ways for different looks – so far my favourite three are as a headband, ear warmer and eye mask (or so I have discovered so far).
It's super handy for the days you're sitting on the top deck of a boat travelling from Nusa Lembongan to Sanur and your hair gets windblown. Or when you're post-Balinese massage and your hair is oily and out of shape. I layered 2 different colours in Berlin as ear warmers, and I wear one around my neck when I fly so I have an eye mask when I need it.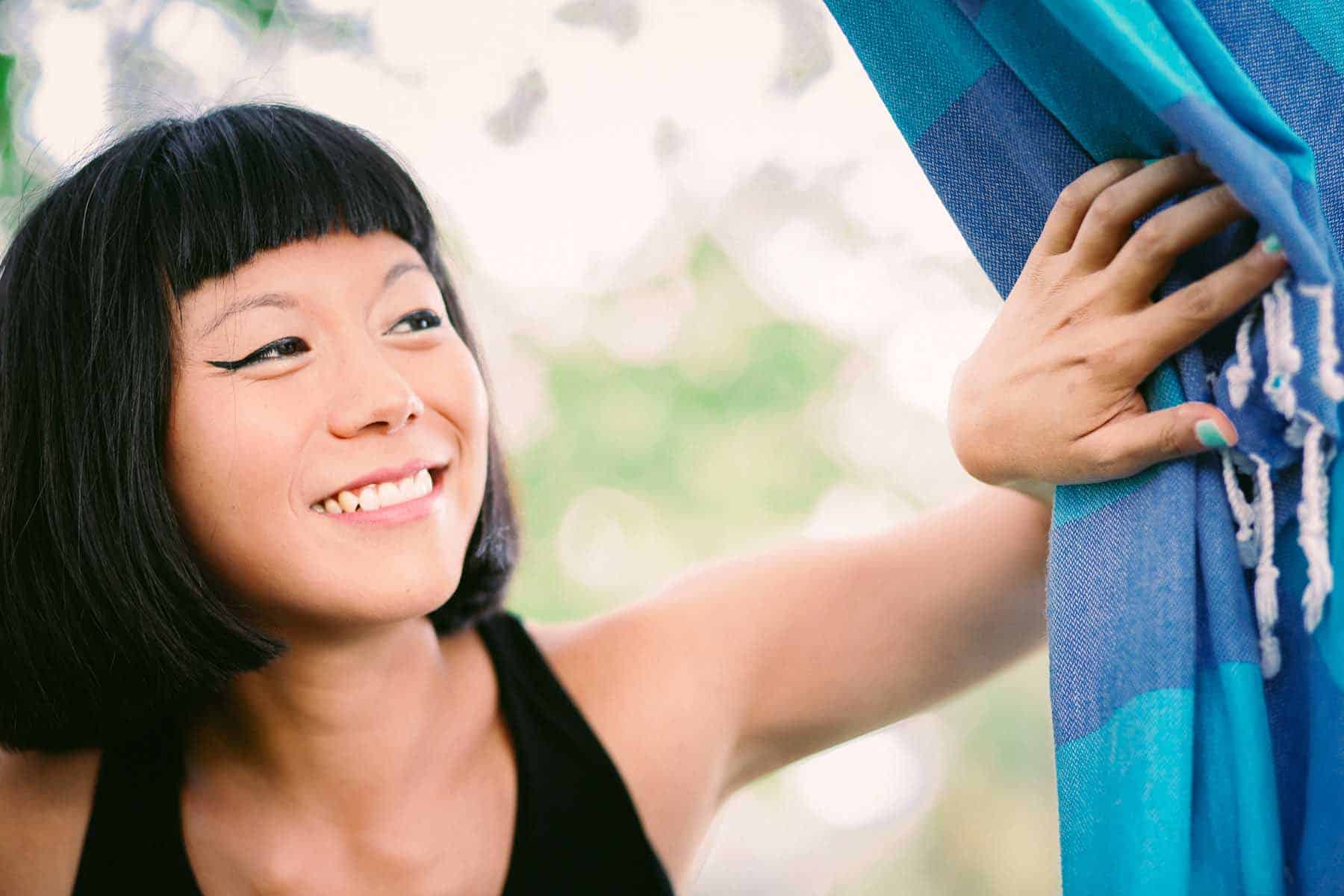 I bought mine, not actually from Turkey, but from a couple of Malaysian girls that I met while teaching at MURFEST in Kuala Lumpur. I'm pretty sure they got it from Turkey.
It's made from 100% natural fibre peshtemals, and I use it for just about everything: a blanket (doona / duvet) substitute on warm tropical nights, a sarong or cover-up when I find myself in situations where I should be wearing more clothes/showing less skin, a scarf to protect me from chilly air conditioning or getting sunburnt, a picnic mat, a beach mat, and of course a towel! Plus it rolls up nicely for travel – I love it!
---
Also, since so many of you have been asking us for them, here's our full list of country-specific posts outlining how to ship anything from Amazon to any country in the world. Our 2-step method makes it as simple as humanly possible, and takes about 3 minutes total: Austria, Bahrain, Belgium, China, Cyprus, Denmark, Finland, Greece, Hong Kong, Hungary, Indonesia, Israel, Kuwait, Japan, Malaysia, New Zealand, Norway, Oman, Philippines, Poland, Portugal, Qatar, Russia, Saudi Arabia, Singapore, South Africa, South Korea, Sweden, Switzerland, Taiwan, Thailand, Turkey, Asia as a whole, Europe as a whole and the United Arab Emirates.
And here's another post on how to log out of Amazon.
While you're at it, international travelers should read our N26 review for the best way to get free ATM withdrawals the best rates on currency conversion - anywhere in the world.
Take Control Of Your Financial Future
Get the 5 personal finance tools every frequent traveler needs in 2020.

Today's Five Most Popular Posts: