N26 Metal Review (Mar 2022)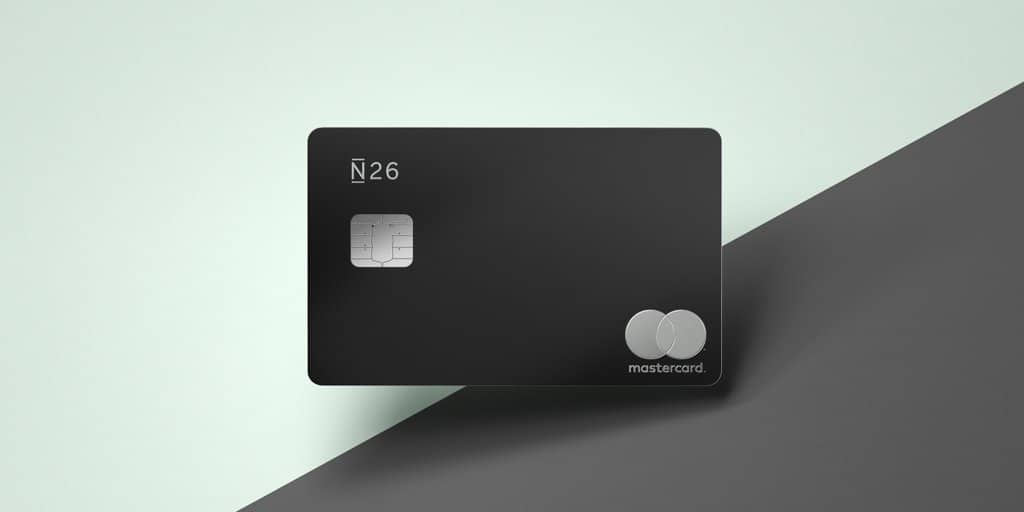 After years of use and a dozens of hours spent comparing its features and benefits against other banks, we believe N26 Metal is the best ultra-premium credit card for most users.
With features like free worldwide ATM withdrawals, exceptional travel insurance coverage and a beautifully heavy tungsten card, N26 Metal offers exactly the premium card experience you're looking for.
N26 Metal is changing the way banking is done across Europe and beyond. It's N26's ultra-premium banking product and comes at a cost of €16.90/month, a price that includes a massive amount of benefits, insurance coverage and extra goodies. We'll get to all of that below. But first: why would I take the time to write something so comprehensive about N26?
Well, ever since writing my original N26 review last year, which has since become the go-to resource for everything N26, I've used my N26 card to save thousands of dollars on ATM fees (they're free), foreign transactions (they're free, too!) and travel insurance (fully included). It's simplified banking for me in a way I never thought possible, and has given me more peace of mind than any other travel or banking product I've ever used. I'm a big fan of what they're doing, and though I'll be the first to admit that N26 isn't perfect, most of what they do is really, really good.
This review is split into eleven distinct sections:
What is N26 Metal? (The Basics)
Free ATM Withdrawals Worldwide With N26 You
N26 Metal Benefits & Partner Offers
Features of the N26 App
N26 Metal's Travel, Medical & Purchase Insurance Coverage
Comparing N26, N26 You and N26 Metal
N26's Fee Structure (Simplified)
Is N26 Metal Worth It?
How To Sign Up For N26 Metal
N26 Metal Card Design
FAQs About N26
#1 What Is N26 Metal? (The Basics)
N26 Metal was first announced by N26 in December, 2017. It was originally made available as an upgrade to existing N26 You users, but now N26 Metal is available to anyone. N26 is the first credit card in Europe to support contactless payments using NFC (near field communication), which was a really big deal when it was unveiled.
Related: Need to get your anmeldung in Berlin? Here's how.
If you're a current N26 user, upgrading to N26 Metal is as simple as swiping right in the app until you reach the Upgrade tab next to your current balance. If you're not a current N26 user, you can sign up here. Your personalized N26 Metal card will arrive in 5-10 business days.
By the way: if you're looking for ways to seriously amplify your wealth, you'll probably like learning how I regularly make 10% daily returns. That's all here.

Note: It's not for the faint of heart!
#2 Free ATM Withdrawals Worldwide With N26 Metal
N26 partners with TransferWise to offer fee-free foreign currency withdrawals all around the world (read our in-depth TransferWise review here). What does that mean? It means that you can withdraw cash at the real exchange rate, which is the up-to-the-second exchange rate that banks use when sending money back and forth across borders. In other words, it's the most accurate – and also the most favorable – exchange rate you'll get anywhere in the world. And you can get it at any ATM that accepts MasterCard, which is just about all of them.
This alone has saved me an insane amount of money. As I described above, before N26 I had been paying about 5% per transaction when using any of my other debit or credit cards, which added up to nearly $100/month for me.
It took me years to realize how much I was paying in ATM and currency exchange fees, but now that I see it, I'm ashamed that I didn't make the switch earlier.
In contrast, here's a screenshot showing the recent withdrawal of 7,220 Thai baht that I made from an ATM in Bangkok, alongside the real exchange rate from xe.com. Since my withdrawal occurred at 7:36pm Thailand time (7 hours ahead of UTC), the closest historical exchange rate I could find was from 24 minutes later, though you can clearly see that I'm paying the mid-market rate.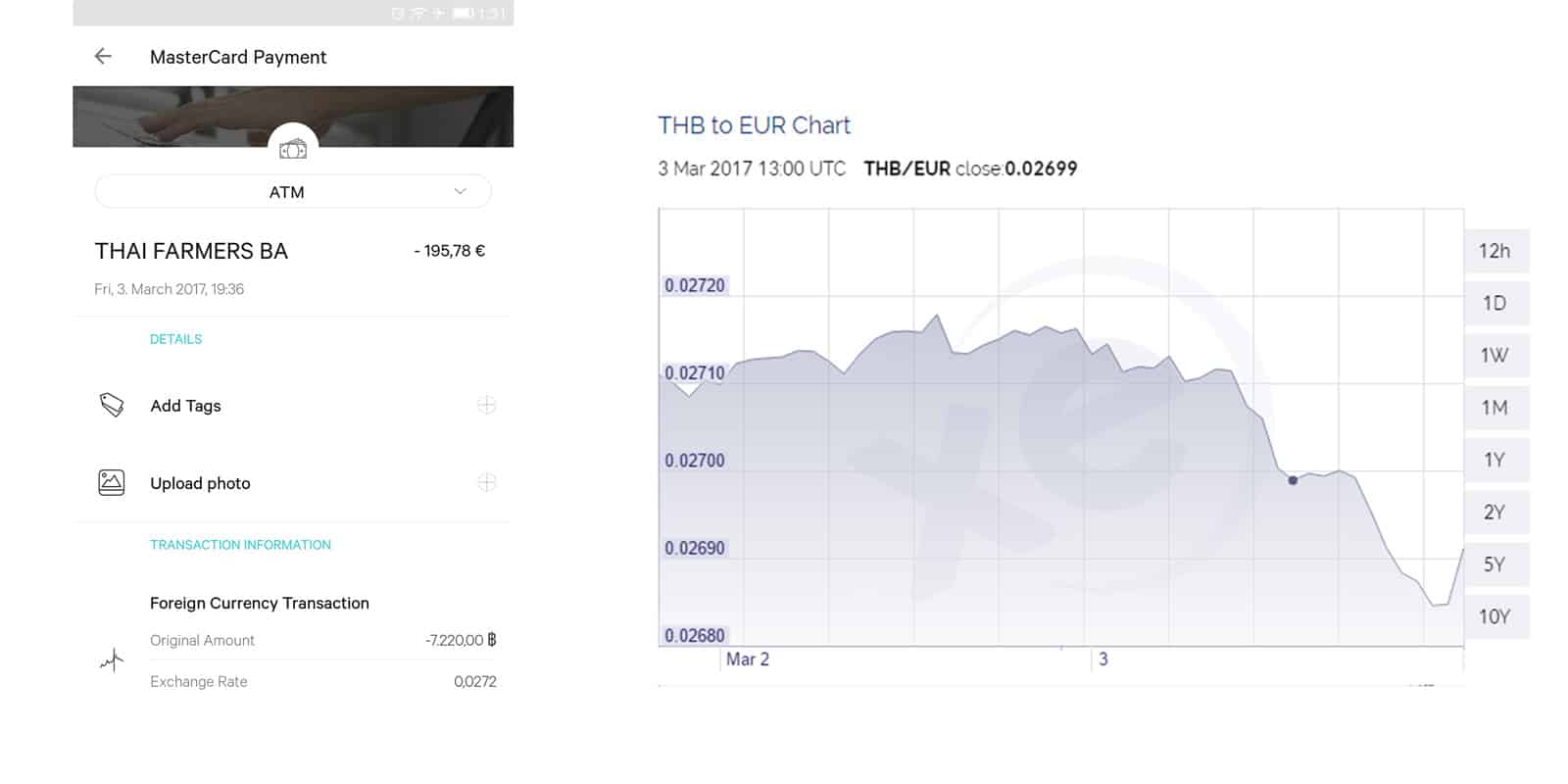 It's also worth noting that with all N26 accounts, including N26 Metal, you pay the real exchange rate on every foreign purchase too, so paying by card is a great option anywhere in the world that accepts MasterCard.
#3 N26 Metal Benefits & Partner Offers
One of the best things about N26 Metal is how many exclusive benefits and partner offers come with the card. Here's the current list of what you can expect with your card:
#4 Features of the N26 App
Since N26's dual focus is on both technology and banking—compared to most banks, who focus solely on banking with technology as an afterthought—the N26 app is as sleek and user-friendly as you'd expect from a tech startup. Here are just a few of the things you can do in the app:
Pay with Apple Pay & Google Pay.
Toggle on/off payments abroad.
Toggle on/off online transactions.
Toggle on/off ATM withdrawals.
Set daily payment limits (€0 to €5,000 with a monthly maximum of €20,000).
Set daily withdrawal limits (€0 to €2,500 with a monthly maximum of €20,000).
Instantly lock your card if it's been lost or stolen.
Receive real-time transaction notifications.
See all your transactions split automatically into categories like "Bars & Restaurants" and "Travel & Holidays." (Check Statistics under My Account for some nice visualizations.)
Reset your PIN instantly.
File insurance claims.
Receive priority customer support (N26 Metal only).
CASH26 (a free N26 service for withdrawing or depositing cash at thousands of retailers), INVEST26 (a free N26 service for investing your account balance) and MoneyBeam (a free N26 service for sending money to friends with just their phone number or email address) are three more features of the N26 app that I won't discuss here. For more information on them, refer to at Sections #4, #5 and #6 in my original review of N26.
Bitcoin & cryptocurrency support is another item we won't discuss here, though you can learn about N26's plans to add Bitcoin support here.
#5 N26 Metal's Travel, Medical & Purchase Insurance Coverage
Both N26 You and N26 Metal come with some pretty impressive insurance coverage. Here's just some of what they'll cover:
Medical expenses up to an unlimited amount.
Travel cancellation insurance up to €5,000 per trip.
Flight and luggage delay insurance up to €400.
Stolen cash insurance up to €500.
Stolen mobile phone insurance up to €300.
Extended warranty on purchases up to €500.
Unlimited medical insurance policies are almost unheard of, and they never come without a hefty, hefty price tag, except with N26: here it is alongside everything else for €16.90 per month. And in case you don't already see the value in all of this, hear this: medical expenses, flight delays and luggage delays are covered for the first 90 days of your trip. Most credit cards cover up to maximum of 30 days if you have a premium card, so 90 days is an absolutely incredible coverage period.
This is significantly better than the insurance that comes with Revolut Metal, which we break down in detail in our comparison of N26 vs. Revolut.
Note: I recently reviewed SafetyWing insurance, the $37/month comprehensive travel & medical insurance subscription, which is worth checking out as well.
How To File An Insurance Claim With N26
To file a claim, log into the N26 app, go to My Account and select either N26 You or N26 Metal. Then you'll find:
A guide to submit your claim (eg. flight or luggage delay, stolen mobile phone, extended warranty, or travel cancellation)
Your account and contract information, including your N26 You or N26 Metal ID
The option to contact Allianz directly in the case of a medical emergency
In emergencies, you should have the following information ready:
The full address and telephone number of your current location
Names of all official contacts (doctors, hospitals, and/or police)
A concise description of the situation
#6 Comparing N26, N26 You and N26 Metal
| | | | |
| --- | --- | --- | --- |
| | N26 Standard | N26 You | N26 Metal |
| Monthly Fee | €0 | €9.90 | €16.90 |
| Free ATM withdrawals in Euros | ✔ | ✔ | ✔ |
| 0% Foreign Payments Fee In Any Currency | ✔ | ✔ | ✔ |
| Worldwide ATM Withdrawal Fees | 1.7% | 0% | 0% |
| Travel Insurance | | ✔ | ✔ |
| Extended Warranty | | ✔ | ✔ |
| Cash Protection | | ✔ | ✔ |
| Mobile Phone Theft Insurance | | ✔ | ✔ |
| Access to MasterCard World Elite Benefits | | ✔ | ✔ |
| Dedicated Customer Support | | | ✔ |
| Partner Offerings | | | ✔ |
| Tungsten Card | | | ✔ |
Note: N26 also offers N26 Business, an account designed for freelancers and small business owners.
#7 N26's Fee Structure (Simplified)
N26's fee structure, which they call their Price List, is eight pages long and fairly dense, so here's the important stuff.
All N26 bank accounts are free.
N26 You costs €9.90/month, while N26 Metal costs €16.90/month.
Withdrawing foreign currency (any currency but Euros) anywhere in the world: Free for N26 You and N26 Metal users, or 1.7% for regular N26 users
CASH26 withdrawals and MoneyBeam transfers: Free for all users.
#8 Is N26 Metal Worth It?
From a purely quantitative standpoint, there is a clear breaking point: when you withdraw €994 of a foreign currency in a given month. Why €994? It's simple.
N26 Metal saves money for everyone withdrawing €994 or more of a foreign currency in any given month.
If you are a regular N26 user, you pay 1.7% on foreign cash withdrawals, which is a withdrawal of any currency other than Euros. If you're an N26 Metal user, you don't pay any fee for those foreign withdrawals, but you do pay €16.90/month. So, if we divide €16.90 by 1.7%, you get €994, the monthly breakeven point that makes it financially worth it to you to get N26 Metal.
Of course, there are a lot of other factors that play in here as well, most notably the travel, medical and purchase insurance coverage that comes with N26 Metal. The travel insurance alone is worth hundreds of Euros per year if you compare it to similar plans from other providers, so for me upgrading to N26 Metal (or at least N26 You, which offers the same insurance policy) is a no-brainer.

#9 How To Sign Up For N26 Metal
With its impressive insurance policy, fee-free foreign cash withdrawals, and the app's ease of use, I really couldn't be happier as a member of N26 Metal. It's made banking a lot easier and cheaper for me, and solving a lot of the messy problems I had before, mainly expensive and vague travel/medical insurance policies plus spending nearly $100/month in subtle ATM and currency exchange fees.
To sign up, you just need to provide standard personal information (name, date of birth, etc.), a valid ID or passport, and an address within one of N26's supported European countries. As I write this, the list includes Germany, Austria, Ireland, France, Spain, Italy, Netherlands, Belgium, Portugal, Finland, Lithuania, Latvia, Luxemburg, Slovenia, Estonia, Greece and Slovakia. Once you've signed up, verified your ID in the app and paired your smartphone, they'll send you your free MasterCard in the mail. Mine took just 2 days to arrive, and it comes in a pretty sleek package. You don't need an N26 promo code to sign up (they've been extinct for months now). Comment below if you have questions about N26 and I'll do what I can to answer them, or you can also reach N26's Support team via their app or website.
#10 N26 Metal Card Design
The N26 Metal card is made of tungsten, a rare, heavy metal that gives the card some serious oomph. The MasterCard logo is engraved on the front of the card, giving it a sense of depth, while the cardholder's name has been moved to the back of the card, keeping the front minimal and clean.
Here are some more photos of the N26 Metal card:

#11 FAQs
Where can I use my N26 Metal card?
Anywhere MasterCard is accepted, which is just about everywhere. With N26 Metal (and N26 You), you don't pay any currency exchange fees on your purchases, either, making them the perfect cards for your travels.
How much does N26 Metal cost?
N26 Metal costs €16.90 per month. N26 You costs €9.90 per month.
What colors does N26 Metal come in?
N26 Metal comes in three colors: Charcoal Black, Rose Quartz and Slate Grey.
Is N26 Metal worth the €16.90 monthly fee?
This totally depends on how you use it. If you travel frequently and can get value from the card's travel insurance, then I would argue that yes, it is definitely worth it. See section #8 above for more details on when upgrading to N26 Metal makes sense.
I'm already an N26 You customer. How do I upgrade from N26 You to N26 Metal?
Upgrading from N26 You to N26 Metal is dead simple: in the N26 app, swipe right until you reach the Upgrade tab. Your new N26 Metal card will take 5-10 business days to arrive. If you made purchases and travel arrangements using your N26 You card, those will still be insured under N26 Metal, of course. N26 stops charging you N26 You fees as soon as you upgrade to N26 Metal to ensure you never pay more than one monthly fee. These are the screens you'll see when you go to upgrade to N26 Metal: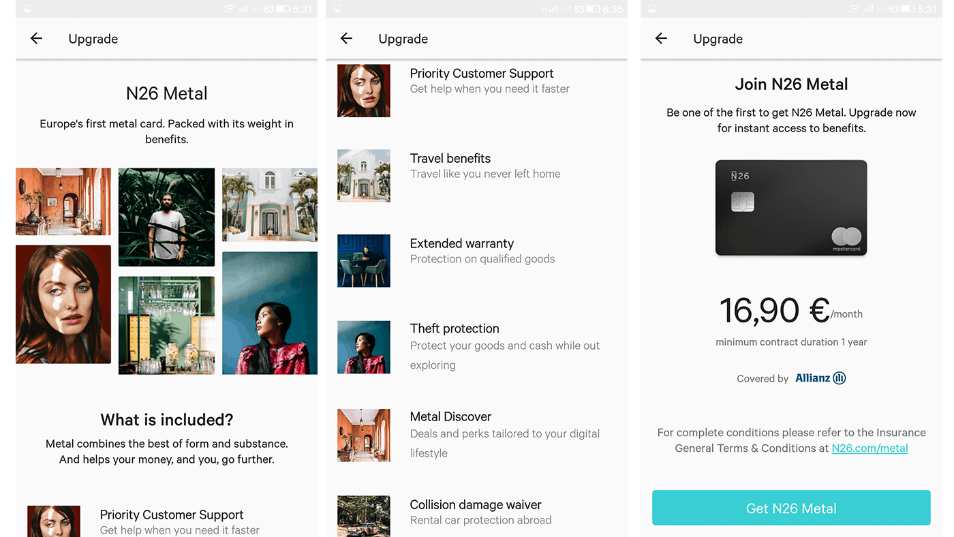 The minimum membership for N26 Metal is one year, and your contract automatically renews if you do not cancel your membership at least 4 weeks before the contract expires. You can cancel your membership within the app under My Account -> N26 Metal -> Cancel.
How do I cancel my N26 Metal membership?
Canceling your N26 Metal membership is as easy as signing up: in the app, just go to My Account -> N26 Metal -> Cancel. Keep in mind that you should cancel at least 4 weeks before the end of the billing period to ensure you aren't charged for any additional time with N26 Metal.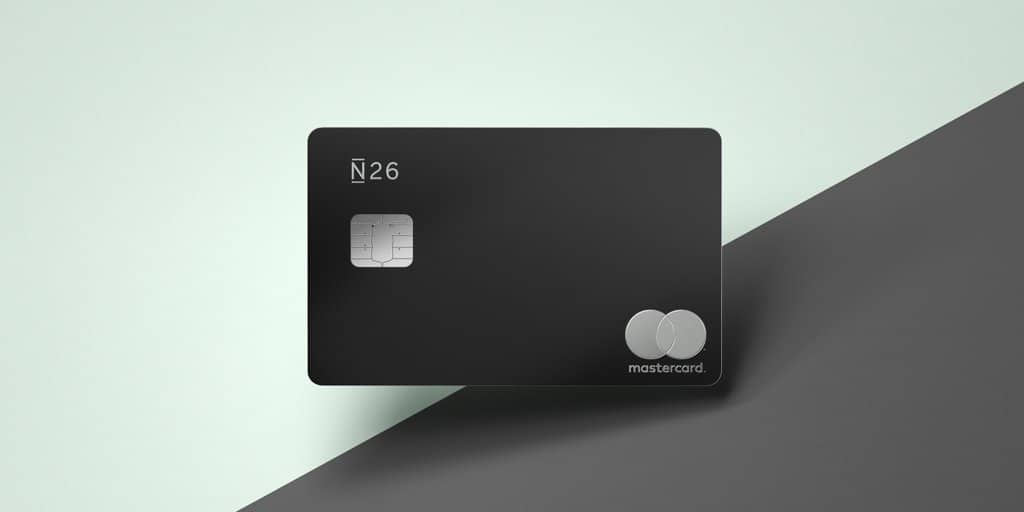 ---
---