With years of experience with a variety of traditional and online-only banks, we've found N26 to be the best, most seamless banking experience with truly impressive benefits and extremely low fees.
With features like free worldwide ATM withdrawals, exceptional travel insurance coverage and an intuitive, extremely powerful app, we believe N26 is the best bank of any kind for most consumers, digital nomad or not.
Welcome To N26 – The Future Of Banking
As I started writing this N26 bank review, I wanted to give as clear and honest of a display of the N26 product collection as I could. After all, it's one of just a handful of services that I very strongly support, and it's fundamentally changed the way I do just about everything related to banking. It's stripped out all of the things I dislike about the clunky Canadian banking system, which, in my discussions with other digital nomads, seems to be very similar to other major banking systems around the world: old technology, high fees that are not clearly displayed or understood, and a huge pain-in-the-ass if you have a problem while abroad (eg. losing your card).
But as I dug into things, I realized there's a lot to cover, even after N26 simplifies a lot of it. So to make this N26 review easier to follow, I've broken it down into twelve sections.
By the way: if you're looking for ways to seriously amplify your wealth, you'll probably like learning how I regularly make 10% daily returns. That's all here.

Note: It's not for the faint of heart!
#1 What Is N26?
I was first introduced to the bank N26 (formerly known as Number26) last summer, in July 2016. I had just moved to Berlin when my friend Alex was raving about his new bank account that was making everything about the banking experience easier. "Free ATM withdrawals all around the world," he told me. "You can send money to your friends completely free. The lowest currency exchange fees." The list went on and on, and frankly, I listened to him with awe.
He was describing everything I needed in my life.
"Free ATM withdrawals all around the world," he told me. "You can send money to your friends completely free. The lowest currency exchange fees." The list went on and on, and frankly, I listened to him with awe.
Of course I did. It's the perfect banking solution for nomads or any type of frequent traveler, because at its core, N26 is a technology company that's applying modern tech to worldwide banking.
Related: What Is Maestro?
Yet there are two main products to N26 – their regular account and N26 You – and the differences are worth looking into. Personally, I'm a huge fan of N26 You, and you'll see exactly why below. But first…
Let's Talk About Withdrawing Money From ATMs.
Frequent travelers find themselves using one of two common approaches to getting cash:
Whenever you're in your home country, withdraw a large amount of cash and exchange that at local banks or currency exchanges along your travels. This is normally how you get the most favorable exchange rate (we'll see very soon why this rate actually isn't very good), but there's a glaring problem: you have to carry thousands of dollars in cash while you travel, often through low-income nations. That's far from ideal, and I personally know people who have had their backpacks stolen with more than a thousand dollars of cash inside. Not fun.
Withdraw cash abroad using your debit card or credit card. This is less risky than holding huge wads of cash, but the exchange rate you actually get is much worse than most people expect. You end up paying fees in 3-4 different ways:

The 1.5-2.5% foreign currency exchange fee that your bank charges.
The additional ATM withdrawal fee of $2-5 that your bank charges.
The 20-24% annualized cash advance fee if you withdraw using a credit card, which averages to about 2% out of your pocket if you pay your statement every 30 days.
The $2-10 withdrawal fee that ATMs charge.
When that's all said and done, you end up paying 5%+ just to withdraw your cash! Put another way, everything is 5% more expensive than you think it is. That doesn't sound like a huge difference, but even if you travel modestly and only burn $1000-2000 per month, that's an extra $50-100 you didn't account for, or $600-1200 per year.
Imagine that – $1200/year just in banking fees!
So what's the solution?
#2 Free ATM Withdrawals Worldwide With N26 You
N26 You is N26's premium banking product, which costs €9.90/month. It's currently available in Germany, Austria, France, Italy, Spain and Ireland, and they're rapidly expanding to reach all of Europe. I upgraded my Current account to N26 You as soon as they released You because I was so excited about their new offering. My two favourite features of N26 You are:
Free ATM withdrawals worldwide (zero foreign currency fees).
Their impressive insurance policy, which includes unlimited insurance coverage for foreign medical insurance, trip cancellation insurance, flight delay and baggage delay insurance, mobile phone theft coverage and cash theft coverage, extended warranty on purchases and more.
Let's look at both of them in more detail.
Free ATM Withdrawals Worldwide (Zero Foreign Currency Fees)
N26 partners with TransferWise to offer fee-free foreign currency withdrawals all around the world. What does that mean? It means that you can withdraw cash at the real exchange rate, which is the up-to-the-second exchange rate that banks use when sending money back and forth across borders. In other words, it's the most accurate – and also the most favourable – exchange rate you'll get anywhere in the world. And you can get it at any ATM that accepts MasterCard, which is just about all of them.
Related: Need to get your anmeldung in Berlin? Here's how.
This alone has saved me an insane amount of money. As I described above, before N26 I had been paying about 5% per transaction when using any of my other debit or credit cards, which added up to nearly $100/month for me.
It took me years to realize how much I was paying in ATM and currency exchange fees, but now that I see it, I'm ashamed that I didn't make the switch earlier.
In contrast, here's a screenshot showing the recent withdrawal of 7,220 Thai baht that I made from an ATM in Bangkok, alongside the real exchange rate from xe.com. Since my withdrawal occurred at 7:36pm Thailand time (7 hours ahead of UTC), the closest historical exchange rate I could find was from 24 minutes later, though you can clearly see that I'm paying the mid-market rate.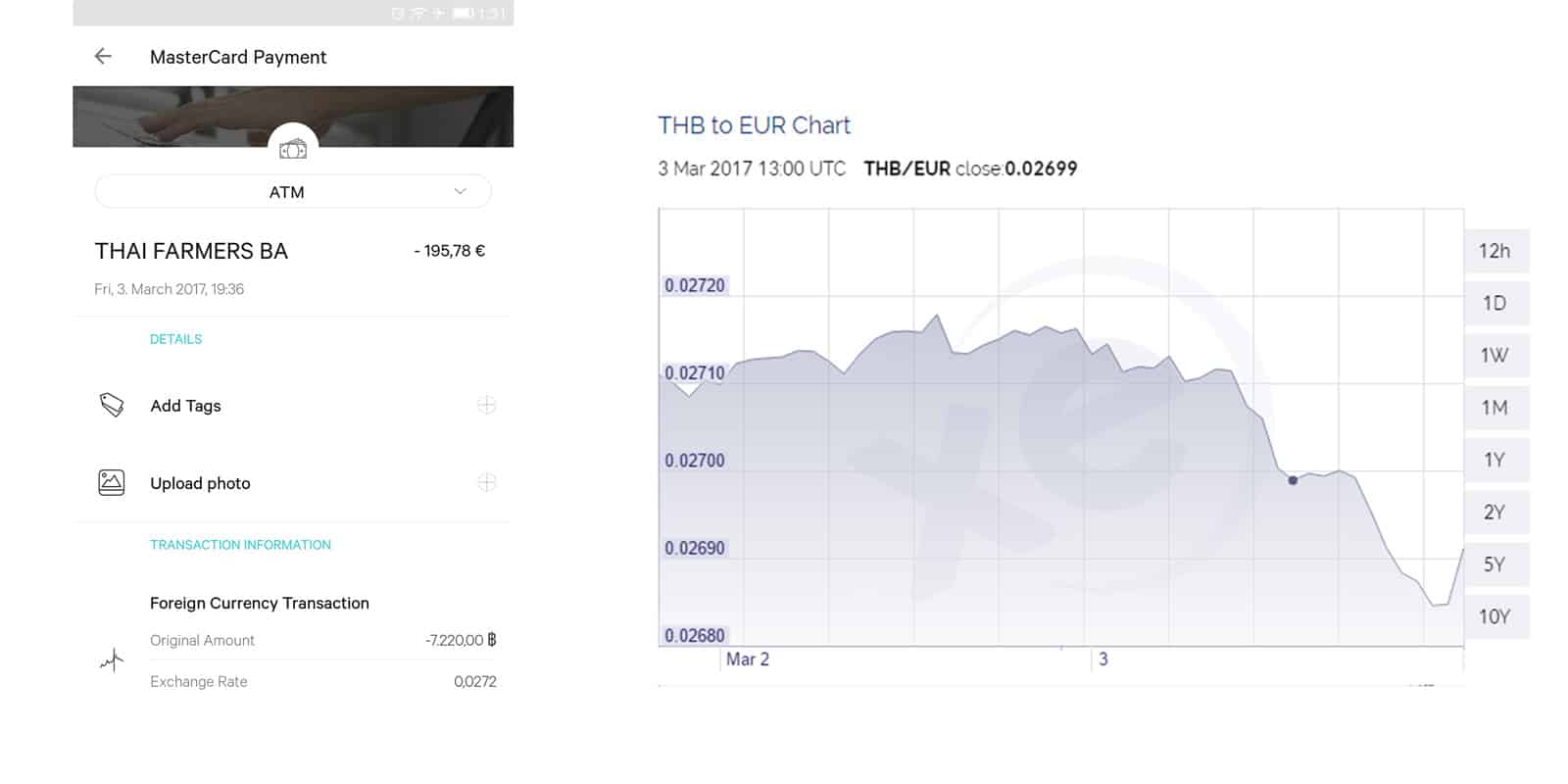 It's also worth noting that, with both the N26 regular account and N26 You, you pay the real exchange rate on every foreign purchases too, so paying by card is a great option anywhere in the world that accepts MasterCard.
Did I mention the card is pretty sleek? They feel nice in your hand too, since the black upper part of the card is a smooth matte finish.
Read our in-depth comparison of N26 vs. Revolut here, or take a look at some other N26 alternatives here.
N26 You's Travel, Medical & Purchase Insurance Coverage
N26 You comes with some pretty impressive insurance coverage. Here's what they'll cover:
Medical expenses up to an unlimited amount if you have a medical emergency while abroad (No deductible).
Expenses you incur due to a flight delay of 4 hours or longer, up to a maximum of €400 (No deductible).
Expenses you incur if your luggage arrives more than 6 hours late, up to a maximum of €400 (No deductible).
Reimbursement for a stolen mobile phone that was purchased with your N26 You account, up to a maximum of €300 (€50 deductible).
Reimbursement for stolen cash if you get mugged up to 4 hours after withdrawing with your N26 You card, up to a maximum of €500 (No deductible).
Extended warranty of up to one additional year on items purchased directly with your card and all payment methods associated with your card, such as a linked PayPal account, up to a maximum of €500 (€50 deductible).
Travel cancellation insurance on every trip before the trip commences, up to a maximum of €5,000 per trip (10-20% deductible).
Car rental insurance and public transportation accident insurance.
Unlimited medical insurance policies are almost unheard of, and they never come without a hefty, hefty price tag, except with N26: here it is alongside everything else for €9.90 per month. And in case you don't already see the value in all of this, hear this: medical expenses, flight delays and luggage delays are covered for the first 90 days of your trip. Most credit cards cover up to maximum of 30 days if you have a premium card, so 90 days is an absolutely incredible coverage period.
Note: I recently reviewed SafetyWing insurance, the $37/month comprehensive travel & medical insurance subscription, which is worth checking out as well.
If you already have your card, here's how to file a claim or read more about the terms and conditions of the insurance policy.
#3 Seven More Cool Features Of N26
N26 is both a technology company and a bank, which puts them in a pretty unique position to make the banking experience better. Here are some of the things they're doing that most traditional banks don't: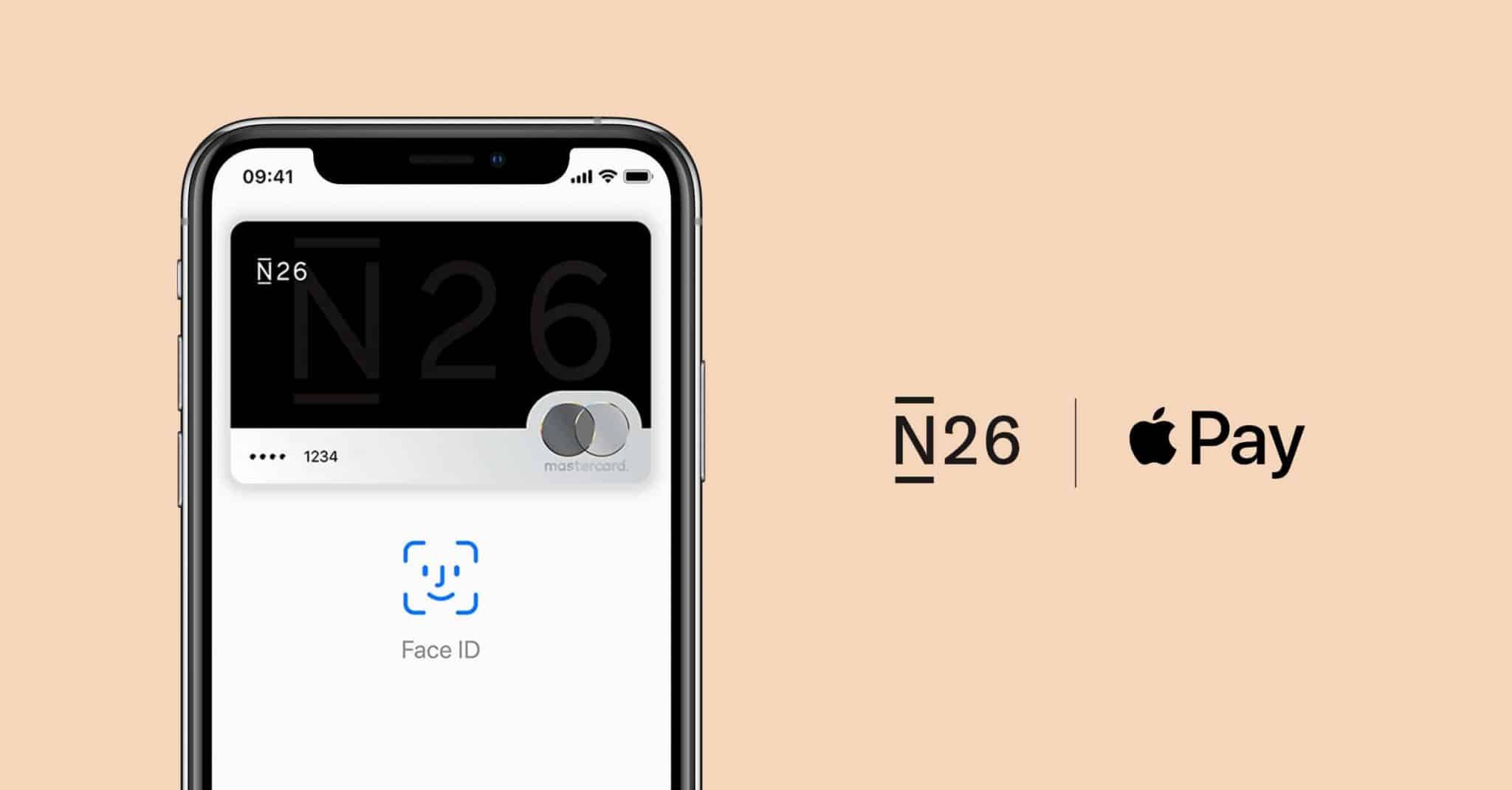 Apple Pay. That's right – as of December 11, 2018, Apple Pay is in Germany, and N26 adopted it right away. You can now pay anywhere in Germany that accepts Apple Pay with your N26 card. Google Pay works, too.
Real-time transaction notifications. Whenever money goes in or out of your account, whether it's a transfer you've initiated or a pre-authorized payment, you'll get a notification.
Transaction categories. Every transaction is assigned a category like "Bars & Restaurants" or "Travel & Holidays" to keep track of your spending that way. Just another benefit of having a banking tool built by coders, rather than a piece of technology built by bankers.
PIN resets. Resetting your PIN at any time is as simple as logging into the app and changing it. No calling N26, no trips to the ATM, etc etc. 30 seconds and it's done.
Locking your card. Just like resetting your PIN, locking your card to make it unusable for a period of time is as simple as logging in and pressing the button. Unlocking it is just as easy.
Payments abroad, online payments and cash withdrawals. For your security, you can toggle these on and off at any time.
Spending and withdrawal limits. Another security feature that you can choose and change in the app at any time.
N26 doesn't currently offer Bitcoin/cryptocurrency support yet, though it's expected they will add it as a feature in 2019.
#4 CASH26 – Withdraw & Deposit Cash From Over 7,000 Shops
CASH26 is only available in Germany right now so I won't spend much time on it, but the concept is so clever that it definitely warrants a mention. Any time you're buying something from one of N26's 7,000+ retail partners across Germany (think grocery stores, drug stores, and other high-traffic places), you can select to either withdraw or deposit cash from the app. The barcode that's generated for you gets scanned by the cashier in the shop, and then they act as an ATM, either giving you cash or accepting it as a deposit into your account. How cool is that?
Cash26 withdrawals are always free, while with Cash26 deposits the first €100 per month is free, and there's a 1.5% fee after that.
#5 INVEST26 – N26's Dead-Simple Investing Platform
I won't go too deep here, since I have never used INVEST26 myself, though it is a neat feature worth mentioning: you can invest money into an investment fund directly in the N26 app. This is cool for two reasons. First, it's already set up for you with your N26 account, so you don't need to jump through any additional hoops like you would with a traditional investing account. Second, you can deposit and withdraw money at any time with no delays, which is also completely at odds with just about every other place you would invest your money. Plus they give a cool little diagram that shows what you can expect from your investment depending on whether you choose their Bold, Balanced or Cautious plan.
#6 N26 MoneyBeam
MoneyBeam is N26's service that allows you to send money to other people without knowing their bank details, with just their phone number or email address. If the recipient is also an N26 user, they'll receive the money immediately, or if they're not, it will take 1-2 business days to arrive. If they don't accept the MoneyBeam within 7 days, the transfer will be returned to your account. MoneyBeam is completely free, both to other N26 users and non-users.
#7 N26 Metal
Note: After publishing this N26 bank review, I also wrote an entire 2,000-word post on N26 Metal.
N26 Metal, the bank's ultra-premium offering, was launched in late 2017. All things considered, it's fairly similar to the You with a few additional perks, my two favorites being dedicated customer support for Metal members and partner offerings for special discounts with companies like WeWork, Hotels.com, IHG, Outfittery and more. You can find the full list of N26 Metal member benefits here.
That said, though, I haven't yet felt the impulse to try Metal. The biggest perk of the card, of course, is the shock factor that your friends and others have when they see/hear you drop a metal credit card on the table to pay. The ego boost sounds appealing to some, but I don't think it's for me – from an economic/pragmatic perspective, the N26 You is still the big winner here, so the rest of the post will be about that.
If you do want to try N26 Metal, you can always try N26 You first and then upgrade to N26 Metal within the N26 app.
#8 N26 Business
N26 Business is exactly what it sounds like: the business equivalent of N26. It's available in all European countries where N26 already operates. As I write this, the list includes Germany, Austria, Ireland, France, Spain, Italy, the Netherlands, Belgium, Portugal, Finland, Lithuania, Latvia, Luxembourg, Slovenia, Estonia, Greece and Slovakia.
It's designed for self-employed and freelance users doing business under their own name, which means that you can't have your company's name on the account or card.
There are two restrictions to know about when it comes to N26 Business:
You cannot have two N26 accounts at the same time. This means that if you have an N26 Business account and want to charge personal expenses not related to your business, you should sign up for an N26 Maestro Card, which allows you to create an N26 joint account (sort of).
You cannot change your N26 account from a business account to a personal account, so you'll want to be sure that N26 Business is right for you before choosing it on your N26 application.
N26 Business offers all the features of a standard N26 account and also gives you 0.1% cashback on every purchase. It's completely free.
#9 N26's Fee Structure (Simplified)
N26's fee structure, which they call their Price List, is eight pages long and fairly dense, so here's the important stuff.
All N26 bank accounts are free.
N26 You costs €9.90/month
Withdrawing foreign currency (any currency but Euros) anywhere in the world: Free for N26 You users, or 1.7% for regular N26 users
CASH26 withdrawals and MoneyBeam transfers: Free for all users.
#10 Is N26 You Worth It?
From a purely quantitative standpoint, there is a clear breaking point: when you withdraw €582 of a foreign currency in a given month. Why €582? It's simple.
N26 You saves money for everyone withdrawing €582 or more of a foreign currency in any given month.
If you are a regular N26 user, you pay 1.7% on foreign cash withdrawals, which is a withdrawal of any currency other than Euros. If you're an N26 You user, you don't pay any fee for those foreign withdrawals, but you do pay €9.90/month. So, if we divide €9.90 by 1.7%, you get €582, the monthly breakeven point that makes it financially worth it to you to get N26 You.
Of course, there are a lot of other factors that play in here as well, most notably the travel, medical and purchase insurance coverage that comes with N26 You. That's a bit tougher to quantify, though, since you can't predict when you'll need to use it, so this €582 breakeven point is a good reference.
#11 How To Sign Up For N26
With its impressive insurance policy, fee-free foreign cash withdrawals, and the app's ease of use, I really couldn't be happier as a member of N26 You. It's made banking a lot easier and cheaper for me, and solving a lot of the messy problems I had before, mainly expensive and vague travel/medical insurance policies plus spending nearly $100/month in subtle ATM and currency exchange fees.
To sign up, you just need to provide standard personal information (name, date of birth, etc.), a valid ID or passport, and an address within one of N26's supported European countries. As I write this, the list includes Germany, Austria, Ireland, France, Spain, Italy, Netherlands, Belgium, Portugal, Finland, Lithuania, Latvia, Luxemburg, Slovenia, Estonia, Greece and Slovakia. Once you've signed up, verified your ID in the app and paired your smartphone, they'll send you your free MasterCard in the mail. Mine took just 2 days to arrive, and it comes in a pretty sleek package. You don't need an N26 promo code to sign up (they've been extinct for months now). Comment below if you have questions about N26 and I'll do what I can to answer them, or you can also reach N26's Support team via their app or website.
#12 FAQs
Can I use N26 if I'm not a European citizen?
As you can see here, you can open an N26 account from any of the following countries: Germany, Austria, Switzerland, Ireland, France, Spain, Italy, the Netherlands, Belgium, Portugal, Finland, Luxembourg, Slovenia, Estonia, Greece, Slovakia, the UK, Poland, Sweden, Denmark, Norway, Liechtenstein, Iceland, and the United States.
For example, I'm Canadian, but I signed up for N26 as soon as I moved to Berlin.
If you live in one of the countries above AND are a citizen of one of the 164 countries below, you can sign up for N26:
Is TransferWise safe to use?
YES. Millions of people, including myself, use TransferWise (the currency conversion platform that N26 has partnered with) to send money to international friends or businesses every month. They're a completely reputable money transfer service, and unlike other banks, you receive regular updates on the status of your transfer as it's being sent. Due to their unique approach to currency conversions, you pay about 8x less in fees than you would by sending money through a traditional bank. There have been zero reported cases of TransferWise fraud. Based in London, we reviewed TransferWise here.
Also, since so many of you have been asking us for them, here's our full list of country-specific posts outlining how to ship anything from Amazon to any country in the world. Our 2-step method makes it as simple as humanly possible, and takes about 3 minutes total: Austria, Bahrain, Belgium, China, Cyprus, Denmark, Finland, Greece, Hong Kong, Hungary, Indonesia, Israel, Kuwait, Japan, Malaysia, New Zealand, Norway, Oman, Philippines, Poland, Portugal, Qatar, Russia, Saudi Arabia, Singapore, South Africa, South Korea, Sweden, Switzerland, Taiwan, Thailand, Turkey, Asia as a whole, Europe as a whole and the United Arab Emirates.
And here's another post on how to log out of Amazon.
While you're at it, international travelers should read our N26 review for the best way to get free ATM withdrawals the best rates on currency conversion - anywhere in the world.
Take Control Of Your Financial Future
Get the 5 personal finance tools every frequent traveler needs in 2020.

Today's Five Most Popular Posts: