TransferWise Review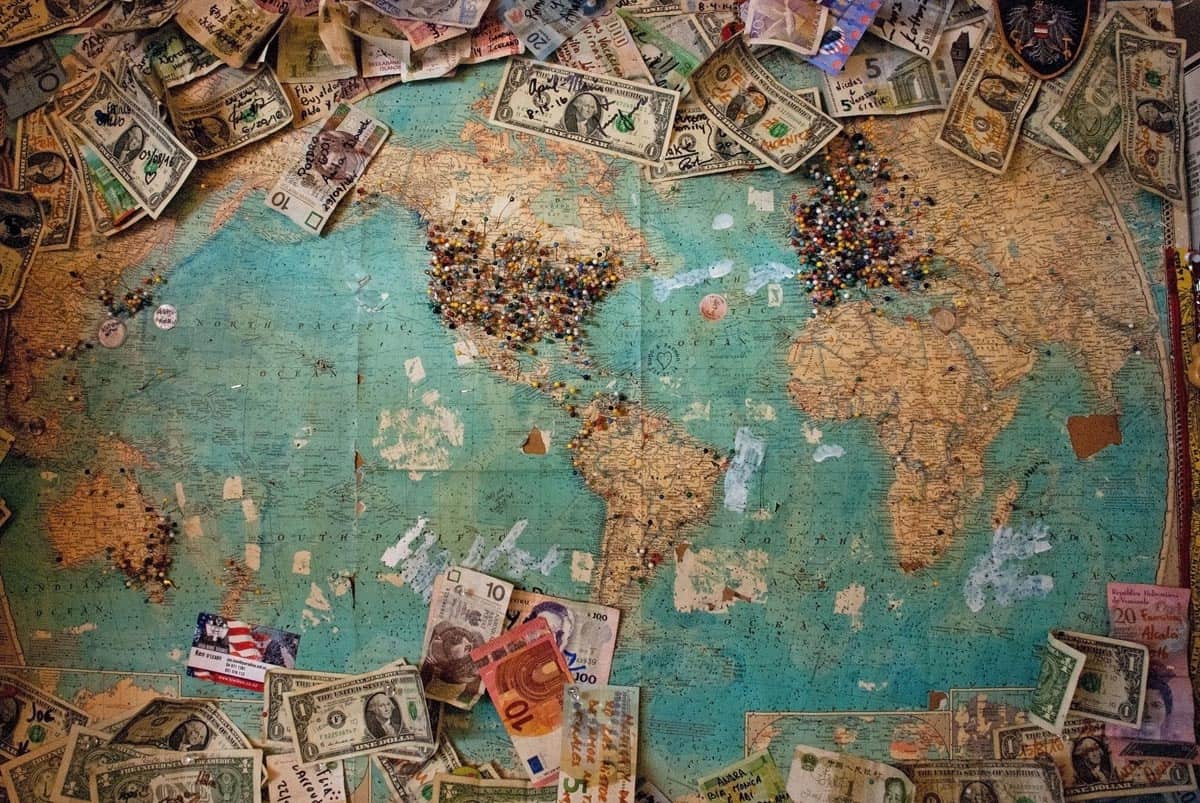 After sending hundreds of international money transfers with the big banks and other online services, we've found TransferWise to be the best, least expensive international money transfer service on the market.
With fees up to 8x less than the banks, an easy-to-use app and web interface and excellent customer support, we believe TransferWise is the best way for most people to move currency across borders.
As I started writing this TransferWise review, I had a single goal in mind: to expose the modern traveler, digital nomad, and anyone else living an international lifestyle to what I believe is one of the best technologies of the last decade: TransferWise. There are plenty of reasons why TransferWise is one of an extremely small handful of services that I very strongly support—see my recent N26 review to learn how they've saved me well over $1,000 in the past year—and it's fundamentally changed the way I transfer money abroad, send money to international friends, or do anything banking-related across international borders. TransferWise has made international money transfers exceptionally easy, totally transparent, and shockingly cheap (fees average around 0.5%). When compared to your traditional bank, TransferWise is faster, easier to use, and saves you a lot of money. As you can tell, I'm a big, big fan.
Yet as I started writing, I realized there's a lot to cover, even after TransferWise has simplified much of it. So to make this review easier to follow, I've broken it down into these nine sections:
How Does TransferWise Work?
Who Uses TransferWise?
How To Avoid Bad Exchange Rates (The Traditional Method Of Exchanging Money)
How To Get The Best Exchange Rates In The World (The New & Improved Method Of Exchanging Money)
The Ultimate International Traveler's Banking Combination
How Does The TransferWise-N26 Combo Make ATM Withdrawals Better?
TransferWise Fees
How To Sign Up For TransferWise
FAQs About TransferWise
#1 What is TransferWise?
TransferWise is the best way to send money internationally. TransferWise is the future of international banking. TransferWise is the cheapest, most transparent method for exchanging and transferring currencies anywhere in the world. And, luckily for us, TransferWise is just getting started. Here's a 90-second explainer video showing how they work:
Since being founded in 2011, TransferWise has helped international travellers, digital nomads and anyone else sending money internationally to save up to 90% of the fees involved in sending money across borders. Their unique approach to currency exchange has completely cut out the middle man and allowed them to charge much, much less than anyone else. In the banking industry, where getting anything done is notoriously slow and expensive, TransferWise can offer the best exchange rates due to its unique method of exchanging money:
No Money Crosses Borders. TransferWise's not-so-secret advantage is that they've got big pots of money all over the world. Rather than actually exchanging your $1,000 USD when you send it to someone in Europe, they just add your $1,000 to their USD pot and pay the recipient the equivalent amount of Euros out of their Euro pot. This eliminates most of the legwork of the transaction, as well as the costly intermediaries, allowing them to offer a much better exchange rate. In fact, your transfers happen at the bank rate (also known as the mid-market rate), which is the best possible rate anywhere in the world at the time of your transfer.
Every TransferWise transfer happens at the mid-market rate, which means you pay up to 90% less in fees.
Fully Transparent Fees. You'll know exactly how much your fees are every time you make a TransferWise transfer, and for most currencies, TransferWise also guarantees the exchange rate, so you also know exactly how much your recipient will receive. Other banks can guarantee exchange rates, too, but they charge a significantly higher rate in order to offer that. In other words, they're guaranteeing you a really bad rate, while TransferWise guarantees you the market rate. Paying by credit card generally incurs an additional fee of 0.3-1.5%, but assuming you're in a Western nation, making a bank transfer is nearly as quick as paying by credit card, so you won't need to do that.
#2 Who Uses TransferWise?
You might be thinking, why would I ever transfer money abroad? I'm too clever to fall for those "Nigerian Prince down-on-his-luck" email scams. Well, here are the four most common use cases our readers often find themselves in. Of course, there are many, many more:
You receive an income from abroad and need to keep a bank account in the country you're receiving the income from. Rather than keep your funds in that account, you prefer to have them all in your main bank account, so you use TransferWise to send a transfer to yourself.
You have an N26 Black account so that you can withdraw cash from any ATM in the world for free, but you need to add money into that account, so you use TransferWise to send a transfer to yourself.
You have family or friends living abroad, and you plan to transfer money to their foreign bank account.
You're making an international investment and don't want to get crushed by an unknown exchange rate that the receiving bank will apply to your funds.
Would you look at that – TransferWise is starting to seem pretty compelling!
#3 How To Avoid Bad Exchange Rates (The Traditional Method Of Exchanging Money)
Here's how a traditional currency exchange transaction goes:
The Non-Sneaky Fee: The One-time Fixed Exchange Fee: This is a fee your bank or the exchange kiosk will charge you. You should know what this fee is upfront, but it can range wildly, from about $2 to upwards of $50 if you're using a service like Western Union to transfer money abroad. Many currency exchange houses have done away with this fixed exchange fee altogether, opting instead to make 100% of their profit from Sneaky Fee #2: A Bad Exchange Rate.
The Sneaky Fee: A Bad Currency Exchange Rate: This is the rate you see on the flashing boards outside any currency exchange kiosk. If you've been at a busy international airport like JFK or London Heathrow, you know that they all show slightly different rates, and it's up to you to locate the best one to get the best bang for your buck. The best rate you can get is the bank exchange rate, also known as the mid-market rate, which is the rate that large banks use for their millions of back-and-forth transactions.
There's no such thing as a fee-free currency exchange.
Here's where problems arise: plenty of currency exchanges advertise "Fee-Free Currency Exchange!" In fact, nothing could be further from the truth. All this means is that they've forgone Fee #1 and have decided to get all of their profits from Fee #2: A Bad Exchange Rate.
A few years ago, on my first day in Europe, I stopped into a currency exchange in central Milan. "Fee-Free!" it advertised, so I was optimistic. I needed to exchange $300 USD for Euros, but when they told me how much I would receive, the math didn't check out. I did a quick Google search for the current USD-EUR exchange rate and, as it turns out, the exchange rate they wanted to charge me was going to take a remarkable 30% of my money along the way, leaving me with just 70% of what I started with. Lesson learned.
#4 How To Get The Best Exchange Rates In The World (The New & Improved Method Of Exchanging Money)
If you follow the traditional method of exchanging money, you're a sucker. There's no beating around the bush. You're throwing money away out of sheer laziness, and you're probably losing a lot more than you think. Let's take a look at how much you could be saving by using TransferWise, assuming you're an American with your current banking setup in the USA:
Scenario 1: Sending Money To A Friend Abroad
You have a friend in Europe that you owe €500 from a recent trip. You could send her money via PayPal, which costs 2.9% of the amount sent plus a fixed fee of $0.30. That means, at the exchange rate as I write this, you'd need to pay $602.91 to ensure she gets the full €500 after fees. That looks like this:


On the other hand, if you sent the money with TransferWise, you'd only pay $587.59 for your friend to receive €500:


So you save $15.32, or about 2.6% by using TransferWise over PayPal. But what if you're comparing not to PayPal, but to sending money with your bank? Then the savings start to add up shockingly quickly: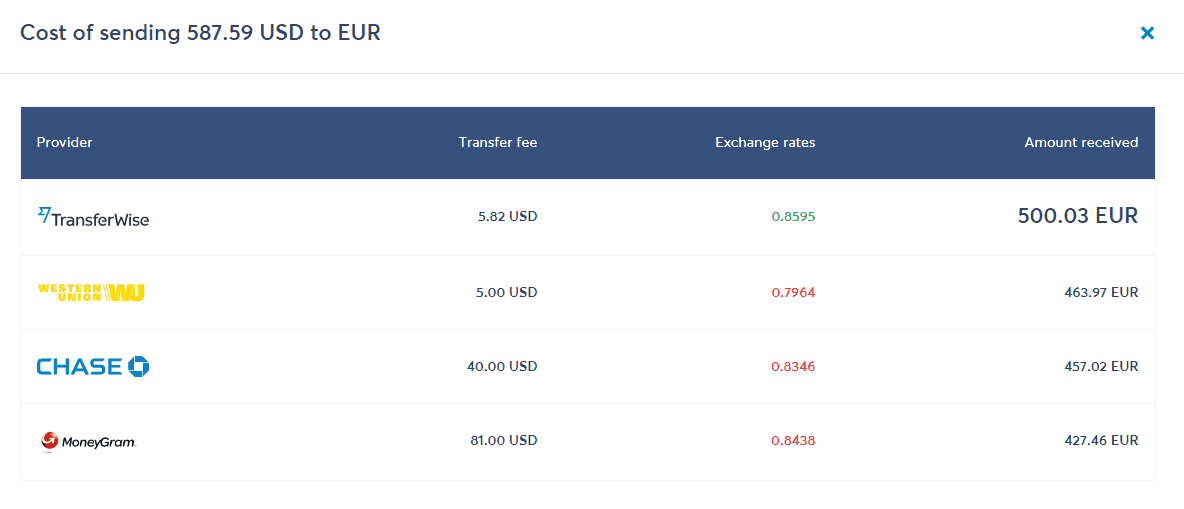 Scenario 2: Withdrawing Money From A Foreign ATM
These are the fees you normally pay when you withdraw money from a foreign ATM, whether you know it or not:
The 1.5-2.5% foreign currency exchange fee that your bank charges.
The additional ATM fee of $2-5 that your bank charges.
The 20-24% annualized cash advance fee if you withdraw using a credit card, which averages to about 2% out of your pocket if you pay your statement every 30 days.
The $2-10 withdrawal fee that ATMs charge.
When that's all said and done, you end up paying 5%+ just to withdraw your cash! Put another way, everything is 5% more expensive than you think it is. That doesn't sound like a huge difference, but even if you travel modestly and only burn $1000-2000 per month, that's an extra $50-100 you didn't account for, or $600-1200 per year.
Imagine that – $1200/year just in banking fees!
Luckily, I'm handing you the solution on a platter. Introducing: The Ultimate International Traveler's Banking Combination.
#5 The Ultimate International Traveler's Banking Combination: N26 + TransferWise
I'm absolutely certain that the best personal banking setup, if you spend more than 30 days of a year abroad, is a combination of N26 and TransferWise. The two of them work together seamlessly, and they'll end up saving you much more than you'd ever expect.
By now, you know that TransferWise makes international transfers, both to yourself and to others, much, much better. But did you know that N26 can completely eliminate those pesky ATM fees, which we've just established can easily surpass $1,000/year when you consider all of the fees, not just the obvious ones?
Here's how.
#6 How Does The TransferWise-N26 Combo Make ATM Withdrawals Better?
Simple: with TransferWise, you withdraw money at the bank rate, which means you pay zero exchange fees. It's the exact same with online purchases.
But wait—TransferWise doesn't have a bank account you can deposit and withdraw money from, right? That's right, so that's why you need N26. N26 is an online bank based in Germany that I adore. Thanks to the partnership between N26 and TransferWise, I save at least $1,000 every year just in currency exchange and ATM withdrawal fees (N26 offers free ATM withdrawals around the world).
For example, here's a screenshot showing my recent withdrawal of 7,220 Thai baht that I made from an ATM in Bangkok with my N26 Black card, alongside the real exchange rate from xe.com. N26 uses TransferWise for all of their foreign withdrawals, currency exchanges and foreign transactions, so the rate you see here is exactly what you get with TransferWise. Since my withdrawal occurred at 7:36pm Thailand time (7 hours ahead of UTC), the closest historical exchange rate I could find was from 24 minutes later, though you can clearly see that I'm paying the mid-market rate.
#7 TransferWise Fees
TransferWise's fees are perfectly transparent, and always clearly displayed to you before you send a transfer. Here's the first step of sending a transfer from US Dollars to Canadian Dollars. As you can see, when sending $1,000 USD, the fee is $9.90 USD, or 0.99% of the transfer.
I took a screenshot of the current mid-market rate as provided by Google to show you that the rates are the exact same: 1 USD = 1.26960 CAD. You only pay the $9.90 USD transfer fee, nothing else.
Take a look at their Pricing page to see exactly how much you'll get for your next transfer.
#8 How To Sign Up For TransferWise
Create An Account: Sign up with TransferWise here, verify your identity online with your passport or ID, and you're set to go.
Initiate A Transfer: Select the amount you want to transfer, provide either the recipient's bank details or their email address (so they can provide their own bank details), and then process your payment. Transfer time varies based on the payment method you select, though most transfers take 2-4 business days to reach the recipient. Depending which currency you're paying with, you'll have 3+ payment options, including a direct bank transfer, credit card payment, and additional regional options like SOFORT, Trustly or iDEAL. Most payment options have no fees attached, except credit card payments, which cost 0.3-1.5%.
#9 TransferWise FAQs
What Currencies Does TransferWise Support?
TransferWise supports money transfers between the following currencies:
Euro (EUR), British Pound (GBP), US Dollar (USD), Australian Dollar (AUD), Swiss Franc (CHF), Canadian Dollar (CAD), Polish Zloty (PLN), Swedish Krona (SEK), Norwegian Krone (NOK), Danish Krone (DKK), Hungarian Forint (HUF), Czech Koruna (CZK), Bulgarian Lev (BGN), Romanian Leu (ROL), New Zealand Dollar (NZD), Brazilian Real (BRL), Singapore Dollar (SGD), Japanese Yen (JPY), South African Rand (ZAR, SWIFT only).
You can also send a TransferWise money transfer to these currencies (but not starting from these currencies):
Indian rupee (INR), Hong Kong Dollar (HKD), Malaysian Ringgit (MYR), Philippine Peso (PHP), Pakistani Rupee (PKR), Moroccan Dirham (MAD), Thai Baht (THB), Emirati Dirham (AED), Ukranian Hryvna (UAH), Indonesian Rupiah (IDR), Colombian Peso (COP), Georgian Lari (GEL), Turkish Lira (TRY), Mexican Peso (MXN), Russian Rouble (RUB), South Korean Won (KRW), Chinese Yuan (CNY), Sri Lankan Rupee (LKR), Bangladeshi Taka (BDT), Vietnamese Dong (VND).
TransferWise adds new currency options regularly, so you can expect transfers from these currencies to all other supported currencies, as well as additional supported currencies, soon.
TransferWise vs. PayPal
PayPal is about 2.5-3.0% more expensive than TransferWise (As we showed in Scenario 1 above), and it's not as secure. A simple Google search will uncover thousands of PayPal transfers gone wrong, mainly because PayPal tries to enforce a very strict Buyer' Insurance on sites like eBay. That's great if you're paying someone you don't know and you want to be protected, but it also means that PayPal can reach into your account and take your money, then freeze your account and leave you with few options to get it back. This happened to me once before and unfreezing my account and getting my money back took over a month, plus a lot of time spent on hold with PayPal's customer support team. So given that it's significantly cheaper, easier and more secure, I recommend TransferWise.
Is TransferWise Safe To Use?
This one's pretty much the most important question. Short answer: yes, it's extremely safe. Long answer: TransferWise is fully authorised by the UK's Financial Conduct Authority (FCA). This means that the business is subject to European rules (the Payment Services Directive) designed to protect customers who use payment services. As part of these rules to protect customers, TransferWise have to keep customers' funds separate from their own. They also have to demonstrate that they're financially healthy and that they have strict anti-money laundering procedures in place.
How Did TransferWise Start? A History
Like many burgeoning technology companies, TransferWise was created because of a genuine frustration at the status quo and the desire to place agency back in the hands of the consumer.
TransferWise was founded in London in 2011 by Taavet Hinrikus and Kristo Käärmann. The two friends were being paid in currencies different to what they needed for living expenses, so they decided to set up an informal system between themselves to exchange money at the current market rate. In essence, they were the world's smallest currency exchange arrangement, and all things considered, it worked well.
But they knew that they weren't the only ones experiencing such currency woes, so they set out to change the way the world exchanges money. Just a few years later, they're doing just that. Today, TransferWise customers send over £1 billion each month using the service, and they aren't showing any signs of slowing down.
All photos courtesy of TransferWise.
---
---